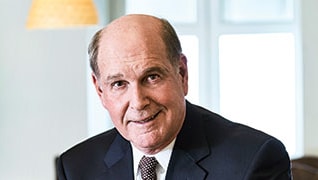 Photo by: Luigi Ciuffetelli
Swift Justice
Thirty years later, Bob Swift's first-ever human rights class action lawsuit still influences the law
Published in 2018 Pennsylvania Super Lawyers magazine
By Matt Amis on May 18, 2018
Bob Swift recalls the shouts of protest outside a courthouse in Manila, Philippines, where, inside, he faced a contempt hearing levied by the country's solicitor general. 
He remembers the almost expressionless manner in which witnesses recalled kidnappings, torture, bondage and beheadings —the calling cards of exiled President Ferdinand Marcos, whose  1970s and '80s reign ushered in an era of brutality against citizens. He remembers the deposition that needed to be postponed after the court reporter broke down while transcribing a witness' account of the murder of her four children. 
But mostly he remembers the handwritten sign an old woman raised as she sat outside a rural village. It read "Thank you, Mr. Swift."
Swift, a longtime partner at Kohn, Swift & Graf, has helped repair the lives of thousands of Filipinos while blazing new trails in human rights litigation. In 1986, the firm made history when it filed the first-ever human rights class action lawsuit—Hilao v. Estate of Marcos—against the Marcos regime. The mother of Liliosa Hilao claimed that her daughter, a college newspaper editor, was murdered when military thugs poured muriatic acid down her throat.
For Swift—a follower of the Quaker faith—finding justice for these victims became an all-consuming quest. He pursued the case for more than 30 years, navigating not only a litany of legal and logistical tangles and threats of violence, but fierce resistance from the Filipino and U.S. governments.
"It's so much easier doing personal injury work in Philadelphia," Swift says. "Think about it: If you're in a right-angle collision on your drive home, and you're injured, you would expect you're going to get compensated. If you're tortured in a third-world country, your chances are zero. The question is, will that ever change?" 
Swift, 71, doesn't seem optimistic. A veteran who majored in history, he looks out onto today's political landscape with knowing eyes. "It reminds me of the nationalism that took place in the 1920s," he says. "This notion that yeah, well, I'll make this country great and we're going to show these other countries who's boss and forget about foreign aid. That's not my approach."
Prior to HILAO, Swift focused primarily on class action, corporate and commercial cases. But in 1970, he was drafted. Although he opposed the war, Swift didn't seek deferment. "I had a good education and I was physically fit," he says, "so why should someone, let's say from the inner city, go in my place?"
The horrors of war imbued Swift with a window into the lives of the victims of government-sanctioned ruthlessness. The experience provided a renewed focus on human rights.
By the early '80s, Swift had been following the "Bloodless Revolution" in the Philippines, which saw a national uprising remove Marcos from power. In 1986, the dictator and his family fled to Hawaii. 
"That gave me the idea to put together a case to obtain compensation for all the victims, from a guy who was supposedly one of the richest people in the world—a multibillionaire, who had now come to the United States," Swift says.
So he boarded a plane and spent two weeks in a fractured foreign land, where military vehicles stalked nearly every street corner. After conferring with Filipino lawyers and human rights organizations, Swift began to understand the enormity of what happened, and his strategy shifted to a class action. He drafted most of the complaint on the plane ride home. 
One problem: Never before had a former president of a foreign country been brought to trial in the U.S. To establish jurisdiction, Swift unearthed the Alien Tort Statute, which was passed by the country's first Congress in 1789. The statute gave noncitizens the right to sue in U.S. courts for violations of international human rights. 
Marcos died in 1989, but his wife and son defended the suit. Swift compiled a massive computer database of nearly 10,000 claimants that fell into three categories: 'T' for torture, 'D' for disappeared, and 'S' for summary execution. He requested, and the court granted, that the liability, exemplary damages and compensatory damages be tried separately. For the liability case in 1992, he leaned on a rarely used legal doctrine that can be traced to the Middle Ages.
"How do you hold a former president of a country liable for individual instances of abuse? The concept was to have a single trial using the concept of command responsibility—that he's responsible for the abuses at the hands of his troops," Swift says.
Swift convinced a jury that by directing human rights abuses as head of the Philippine military, Marcos was personally liable. By 1994, that same jury considered whether to award exemplary damages. It ultimately returned a verdict of $1.2 billion against Marcos' estate. The compensatory damages phase posed new complexities: "How do you prove compensatory damages for 10,000 people who were abused at different times and places?"
The district court allowed for a computer-guided and statistician-approved method of random statistical sampling of the class, whittling it to 137. Then Swift and his team had five weeks to collect testimony.
While collecting depositions, the solicitor general of the Philippines slapped Swift with an injunction, claiming he was violating their sovereignty. If not for the protest of nearly 1,000 human rights activists that gathered during Swift's hearing, the case may never have made it to trial.
"The solicitor general didn't want me to get a judgment because then I'd be trying to collect money from the Marcoses, when he was trying to," Swift says. "The idea was to prevent the depositions … and maybe deport me. But the judge backed down."
Finally, in 1995, Swift brought before a jury harrowing stories of rapes, murders and beheadings. 
"It's here that Bob becomes a stage manager," says Doug Davis, a longtime friend and a professor emeritus at Haverford College. "With people who have been tortured and whose relatives have been kidnapped or killed—you can bring an American jury to a level of such grief and horror, that they can't think straight."
On February 3, 1995, the class was awarded almost $2 billion, but the Marcos family spent years muddying collection efforts. It wasn't until 2011 that funds were distributed. 
 Swift made sure to handle it personally: He hand-delivered around 7,500 checks in 2011 and 2014. Davis went with Swift in 2014. 
"For an American attorney at that level, to want to personally look into the eyes of the victims, these were immensely powerful moments," says Davis. "I'd like to think I'm going to live long enough to see [Swift] win the Nobel Peace Prize."
The jurisprudence that grew out of the Marcos case gave rise to new class action lawsuits, including a historic 1996 filing on behalf of Holocaust victims whose Swiss bank deposits were never returned. The cases resulted in Swiss, German and Austrian companies settling for $7.5 billion. 
The firm is currently litigating in Korean courts against 69 Japanese corporations on behalf of over 1,000 Korean victims who were forced into slave labor during Japan's World War II-era colonial rule. As usual, the case has seen foreign diplomats and lawmakers up in arms, judiciary roadblocks, a brutal travel schedule—and Swift persevering. 
"I don't tap out," he says. "I keep pursuing it and maybe more importantly, keep coming up with new ideas. It's the creativity that I've brought to this field that I think has been the hallmark of what I've done."
In 1995, the National Law Journal named Swift one of the 10 best trial attorneys in the U.S. Five years later he was a finalist for the Journal's Trial Lawyer of the Year Award. "David Boies got it that year," he says with a laugh.
"Quakers use the term leading—you figure out, if there were a god, what god would want you to do," Davis says. "I think that's a good description for what's going on here with Bob."
Search attorney feature articles