The Big Talker
Rick Grimaldi has opinions and isn't afraid to share them over AM radio
Published in 2009 Pennsylvania Super Lawyers magazine on May 21, 2009
Updated on October 2, 2019
Talk radio hosts can't expect every on-air guest to be a surefire hit. And when a lackluster guest tanks, live over AM waves, it's not hard to imagine the hosts dissing the poor sap behind closed doors. But what happens when a host forgets to push that all-important "off" button on his mic before launching into his tirade?
"Guilty," says a laughing Rick Grimaldi, managing partner at Jackson Lewis' Philadelphia office who moonlights as a host on "The Big Talker 1210." "I was going on about how lousy this guest was before I realized I was on air. I'd say it was a 'rookie mistake,' but I make mistakes all the time."
Grimaldi got into radio thanks to former station manager Mike Baldini and old pal Steve Cordasco, host of "The Big Money Show" on 1210. "He would ask me to call in to his show to weigh in on how the things I deal with in employment law are impacted by the bad economic times," Grimaldi says. "That evolved into coming in the studio for half-hour interviews, to a regular spot, to fill-ins for other hosts, and eventually, to my show."
Grimaldi has always had an interest in media and politics. His gregarious nature helped, too. "I knew it would complement my practice," he says. "And I really love doing it, connecting with people."
A solo Saturday morning gig has evolved into "Grimaldi and Williams," a no-holds-barred digest of the hot-button headlines of the week. For the show, Grimaldi teams with co-host Dr. Chuck Williams weeknights from 10 to midnight, although the show is pre-empted when 1210 carries live Philly sports.
"Chuck challenges me," he says. "I'm a married white guy in my 40s, relatively conservative, Republican. He's a single, 30ish, African-American educational psychologist who's a moderate to liberal Democrat. In being so opposite, we force ourselves to hear both sides."
The issues they dissect cover everything from the city's reaction to the 2008 World Series champs to the Republican National Committee's lavish spending on Sarah Palin's clothing.
No exchange on Williams vs. Grimaldi is typical:
Grimaldi: "What exactly is a 'neat little-waisted' jacket?"
Williams: "Like a little jacket that comes to the waist. I don't know. Honestly, sometimes I think [Palin] looks whack."
Grimaldi: "I feel like Mr. Blackwell today."
"That's the beauty of Grimaldi and Williams," Grimaldi says. "It's an eclectic show by design. We're not pigeonholed, so we can talk about Mr. Blackwell or anything else. My wife says I have a lot of useless knowledge, and I've finally found an outlet for it."
Grimaldi enjoys doing radio, but his true love lies in his 9 to 5 at Jackson Lewis, a firm that exclusively represents management in workplace law. He was drawn to the firm because of its emphasis on preventive strategies and because it has a very deep national presence. "I like employment law because we deal with real, everyday issues that matter to people," he says. "I work with clients to solve difficult problems that could impact their everyday business, their ability to attract quality employees. We work hard to ensure problems down the road are prevented."
Although he says it's an ongoing struggle to balance the law, the radio and spending time with his wife—his high school sweetheart—and three daughters, he's up to the challenge. "It's time-consuming, but I'm a passionate person, in the law and radio," he says. "Both arenas let me connect and listen."
Oh, and would-be radiophiles take heed: If you find yourself in a situation similar to Grimaldi's on-air slip, a piece of advice: "Just pretend it never happened," he says. "It's really the only thing you can do."
Other Featured Articles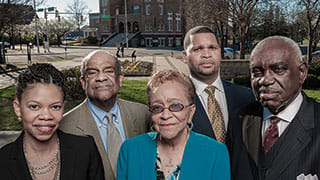 'We've Come a Rather Remarkable Way'
An oral history of civil rights and the African-American bar 60 years after Montgomery Featuring Kendall C. Dunson, G. Courtney French, Fred D. Gray, , Derrick A. Mills, Kenneth O. Simon, Stephanie Mays, Danielle Ward Mason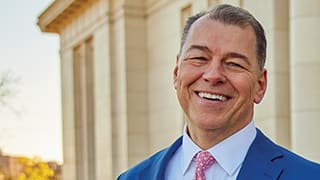 Providence Over Coincidence
Paul Sinclair's life and practice are guided by his LDS church principles Featuring Paul Sinclair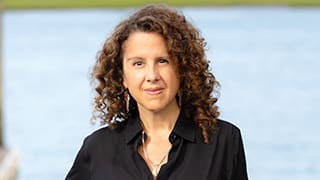 The Complete and Total Badass
Nina Pirrotti on fighting the good fight Featuring Nina T. Pirrotti