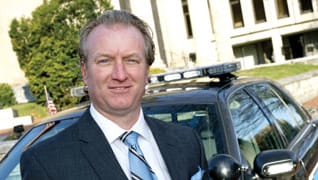 Photo by: Luigi Ciuffetelli
The Honor of the Force
State trooper-turned-attorney David J. MacMain now serves and protects his former comrades
Published in 2011 Pennsylvania Super Lawyers magazine
By Michael Y. Park on May 19, 2011
In November 1986, Pennsylvania State Trooper David J. MacMain was on duty on the rural outskirts of the town of Chatham when he noticed a Mustang zoom by above the speed limit. He hit his siren and attempted to pull the car over. It seemed like a routine stop. MacMain fully expected to be home that evening in time for his 23rd birthday dinner with his wife, Lisa.
Then the Mustang roared off. The birthday dinner would have to wait.
MacMain slammed the accelerator pedal to the floor and gave chase in a high-speed pursuit. After about 10 minutes, the Mustang screeched to a stop by a cornfield in the middle of nowhere. Four men leapt out and disappeared among the cornstalks.
As one of the few state troopers spread thinly across the mostly rural Chester County, MacMain had been patrolling without a partner. The isolation of the area meant he was out of radio contact with the nearest station. Nobody knew where he was or what had happened. He had no idea if the men were armed or if they might be lying in wait just beyond that first row of cornstalks.
For just a moment, he hesitated. That's when he noticed that one of the men had gotten caught in the door trying to escape the Mustang. MacMain pounced on him, handcuffed him and got him into the back of his patrol car. He re-established radio contact and took his suspect in.
As it turned out, the man MacMain had nabbed was part of a ring of car thieves that had been stealing cars from Delaware and transporting them to Lancaster and Chester counties. The other three suspects were collared soon after. State Trooper MacMain had cracked a car-theft ring.
And he eventually got to have that birthday dinner.
"I was supposed to be home, and she had the meal all set. But the time came and went, and I wasn't home, and she was scared," MacMain says. "She was real relieved when I did call from the station to tell her I was safe."
Even now, the split second that could've changed everything—when he wasn't sure whether to chase the thieves into the cornfield or not—resonates vibrantly.
"I hesitated," MacMain says now. "Who knows? It could've saved my life."
Nowadays, MacMain serves and protects in a different way: as an attorney who focuses on defending law enforcement officers. And that moment in the cornfield? It's part of what makes him great at what he does.
"He's very comfortable [with] standing with police officers even when it looks like they may have done something wrong," says Joseph Stine, a 25-year veteran of the Philadelphia police and former New Britain Township chief of police who now testifies as an expert witness in police-related cases. "He's good about being able to show how difficult police work is, how dangerous it is, the intricacies of making split-second decisions in life-and-death matters. He has a police officer's respect because he was a police officer himself."
The transition from police officer to lawyer wasn't easy, though.
MacMain, the son of a minister and a housewife, became a trooper after majoring in criminal sciences at Indiana University of Pennsylvania and interning with Delaware County detectives. Trooper academy in Hershey was rigorous, but he blossomed on the job in rural Chester County.
The Chester station, like many others in the state, functions as the local police department for nearby rural areas. State troopers at the station perform the functions of local cops in the 27 townships and not just highway enforcement. The experience helped MacMain learn to communicate with a wide range of people.
"You saw the complete span of socio-economics. In the course of a given shift, I may be trying to explain to a family why they couldn't have an 11-month-old living in a car with them, to going to a mushroom camp, to a domestic in some executive's million-dollar home in Chadds Ford."
"At Avondale, you learned real fast," says retired Lt. Mike Gillelan, who rode midnighters—late-night patrols—with MacMain when they were both rookies.
"Police work in many respects is something that you have to have done and experienced yourself to grasp the responsibility and difficulty," MacMain says.
It wasn't the challenges of the job that persuaded MacMain to seek another profession after three years on the job. It was the time that being a trooper demanded of the young newlywed who wanted to start a family. (They now have three sons and a daughter, ages 16 to 23.) His wife suggested he consider law school.
"My initial reaction was, 'No way,'" he says. "I didn't like lawyers. They were self-important, kind of arrogant. As police, the lawyers you're dealing with are criminal lawyers, and a lot of times you go on calls and the people who are involved are telling you they're going to sue you."
He took the LSAT to mollify his wife, but the idea grew on him, and he enrolled in law school at Temple University.
"I was shocked, because he was so good at what he did," Gillelan says of learning of MacMain's decision to leave the force.
After law school, MacMain started as an associate at Montgomery, McCracken, Walker & Rhoads, where he dove into corporate and commercial litigation. His law enforcement past seemed firmly behind him.
A year later, he was asked to help out with the cases involving a municipality's police department. He was a former law enforcement officer, after all. By his third year at the firm, he helped represent the municipality and police-related cases had become a burgeoning part of his caseload.
"I find that I have credibility with the officers I represent," he says. "I also find I can take this unique role of policing and put it in a way that citizens can understand while they're sitting on a jury."
His bosses agreed: He made partner in 1997.
"He's won the case for us every time. I can't think of one thing he's lost," says Jack Garner, executive director of the PA League of Cities & Municipalities.
Three years ago, MacMain represented a cop in Reading in a lawsuit questioning his use of deadly force. The suspect in a case was backing up his car, potentially crushing the officer between two cars, so the officer shot into the vehicle.
"Dave did a great job of finding expert witnesses and crafting a case, and the case won before a full jury," says Reading Police Chief William M. Heim. "It made the officer feel good about continuing on in his career."
"The best part is that the officers are tremendously grateful because they feel that they don't have a horrible accusation over their head anymore," MacMain says. "For the people I'm representing, in most cases, it's not about the money. It's [about] upholding the reputation."
But if an accusation against a client has merit, he won't blindly fight a legal battle.
"There've been cases where, after I've gotten the background, gotten the reports, [I've] felt as though my officer was wrong, and those cases I frankly tried to get settled," MacMain says. "I feel we ought to do the responsible thing."
MacMain's trustworthiness isn't just about him once wearing a badge, his colleagues and clients stress.
"It gives you commonality off the bat, but that doesn't mean you're going to like the guy or get along and have respect for him as an attorney," Heim says. "Dave makes sure all the bases are covered, he's very thorough, and, with us, he's low key. He doesn't come off as being hard-charging, trying to steer you in a certain direction. He asks questions. You don't feel he's pressuring you."
As if he were once used to being the "good cop" in an interrogation room?
"I think he probably was," Heim concedes, chuckling.
The secret to MacMain's success isn't hard to decipher, Garner says. "He's a regular guy. He's a very skilled attorney with a deep understanding of the law, and can skillfully navigate difficult cases, but it's a gift to be able to communicate with people in terms they understand," he says. "He can walk into City Hall and talk to the mayor of Philadelphia, and then put on jeans and polo shirts and have a hamburger or cheesesteak with you at a barbecue."
Opposing counsel, such as civil rights attorney David Rudovsky, also praise MacMain's preparedness, intelligence and civility.
In 2009, MacMain left Montgomery McCracken, his home of 20 years, for an office in West Chester with Lamb McErlane. It was a firm he'd worked with a lot over the years, and he liked its easygoing style.
Plus, it brought him back to Chester County, where a moment of hesitation may or may not have saved his life, and paved the way for a new career defending the defenders.
"It's corny, but I think maybe God had a plan," MacMain says.
Search attorney feature articles