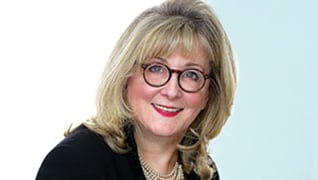 Photo by: Luigi Ciuffetelli
Turning Corners
As a nurse, Bobbie Pichini cared for her patients' physical health. As a lawyer, she aims to put lives back together
Published in 2016 Pennsylvania Super Lawyers magazine
By Matt Amis on May 13, 2016
Roberta "Bobbie" Pichini knows suffering. She's seen it up close. 
Before going to college, Pichini spent 10 years as a public health nurse, nurturing injury-stricken families around Chester and in northern Virginia. She made house calls to housing projects in Chester; she treated patients in intensive care. The things she saw stuck with her.
"Paralysis. A child with brain damage. That affects everyone in the family," she says. "Now, when I'm putting cases together, and when I am communicating to a jury, I can say what it really means to have permanent injuries."
It's a quiet, snowy night high above Philly's Rittenhouse Square, and Pichini's career as a medical professional seems a lifetime ago. But at Feldman Shepherd Wohlgelernter Tanner Weinstock & Dodig, where she's been a partner since 2004, Pichini is still seeing some of Pennsylvania's most vulnerable and compromised citizens. It's just that now she's representing them.
"Long ago, Bobbie learned that by transferring her skills to a different platform, she had the capability of making a difference for a much wider group of people," says the firm's co-managing partner, Alan Feldman. "While nursing was very rewarding for her, as an attorney she could now change the lives of families, extended families, or impact products that could improve the lives of hundreds or thousands."
Pichini, 68, represents a broad cross section of personal injury and medical malpractice clients, from adult victims of surgical negligence to infants injured by improper hospital care. She also handles products liability and negligence actions. In one of her signature cases, she took on a major manufacturer of children's cribs after a defective product resulted in the deaths of several babies. 
Pichini secured a $15 million verdict for Linda Ripa—the sister of TV host Kelly Ripa—after a surgeon improperly set the broken bones in her ankle following a car accident. She also secured a $5.8 million settlement for a client injured by a defective hunting product, and $5.7 million on behalf of a newborn child who sustained brain injuries in a hospital nursery after doctors didn't notice an infection.
As a nurse, she could treat wounds, but she couldn't make families whole again. 
"As a lawyer," she says, "I can't change what injured my clients, but I can help provide all the funds they need for the best care going forward, and also help improve their lives in other ways."
Her clients also serve as a constant reminder of the importance of resilience and determination, two things Pichini knows something about. 
Pichini was raised in Branford, Connecticut, part of the Long Island Sound just south of New Haven. Her mother died when she was young, and her father—an old-fashioned, blue-collar Italian—didn't want his daughter enrolling in college. He forbade Pichini from taking college-prep courses in high school, telling her to take secretarial classes. 
"He didn't value education for women," she says. "It came from his own upbringing, and a fear of the unknown."
But aided by a sympathetic school guidance counselor and encouraging teachers, Pichini forged her father's signature on a permission slip and found her way into the more challenging courses. Her father didn't find out until she was in 11th grade, when he noticed his daughter didn't know how to take shorthand notation. By then it was too late.
After high school, Pichini earned a scholarship to the University of Pennsylvania School of Nursing "with the idea that, if I could find a way to support myself long enough, I could get the kind of education I wanted."
The things she saw as a nurse in the 1970s weren't always pretty. There was the surgeon who nicked a blood vessel during a procedure, but never bothered to tell the patient. They wrung her through three surgeries in 13 months to correct the mistake. "She kept thinking the doctors were wonderful," Pichini says. "Nobody told her otherwise."
While working at a private hospital in Virginia, she assisted a doctor who performed tonsillectomies on children. "He was an alcoholic. And his hands shook. He was so known for his habits that nurses would prepare the hemorrhage tray for his surgeries," Pichini says. "Nobody warned the parents."
Later she was in and out of homes all day in hardscrabble Chester. She lived and worked among the city's housing projects where, she says, even police didn't like to tread. "You felt that you could contribute," Pichini says. "You didn't put these people in this bad position, but you can contribute to the direction they took away from that bad position. … I have this overall philosophy that there are points in everyone's life where there's an opportunity to turn a corner, and if you don't turn the corner you go off in a wrong, or different, direction. But sometimes, with help, that person can turn the corner and be on their way."
The high school guidance counselor who turned a blind eye to Pichini's forged permission slips helped precipitate such a turn for her. Next came Neumann College, which allowed her to pursue a bachelor's degree while working as a nurse and caring for her newborn daughter, Christine. "For women in their 20s and 30s who never got degrees and may have their own families, they went out and actually recruited women like me—provided childcare and flexible scheduling—and allowed us to get degrees," she says. 
Then there was Eastern District of Pennsylvania Judge Donald West VanArtsdalen, who took Pichini on as a clerk in 1981, and Gerald Litvin, who gave Pichini a chance as an associate at his renowned firm in 1983. 
Now Pichini relishes the chance to help others turn their own corners, such as clients like Joanna House of Collegeville, whose husband, Frederick, and 14-year-old son, Paul, drowned on a May afternoon in 2000 while canoeing on the Perkiomen Creek. The pair apparently paddled too close to an unmarked lowhead dam, an all-too-common hazard in rivers and creeks in Pennsylvania. Pichini not only secured a wrongful death settlement for the family, but lobbied successfully for the dam's permanent removal. 
"I always tell people nothing is wasted, and those 10 years working as a nurse are invaluable to what I do now," she says. "If you draw on the strengths that you've gained over time, nothing is ever wasted."
During her 21 years at Litvin, Blumberg, Matusow & Young, Pichini gained experience on a number of high-profile cases—including litigation stemming from the infamous Pier 34 collapse in 2000, when three women died and dozens more were injured after a nightclub housed in a 91-year-old structure toppled into the Delaware River. Litvin Blumberg represented three clients affected by the incident, with Pichini taking on the brunt of the legal writing and serving on the steering committee of cooperating plaintiff firms with some of the state's biggest legal names. After more than four years, Pichini and company secured a $29.6 million settlement.
Her work in that case caught the notice of Alan Feldman, and, in 2004, as Litvin Blumberg began dissolving, Feldman was eager to scoop her up. "Bobbie was someone I respected and admired for years," he says. "She is a perfectionist in a way that most lawyers are not. She reviews medical records, documents, testimony over and over again so that she knows it cold and no nuance escapes her. When she has a case, she works the hell out of it. We know that it's being handled perfectly."
To Pichini, it's simply the only way. "I've always been an obsessive worker," she says. "I look for problems so I can anticipate them." 
She was the first woman in Pennsylvania to be invited into the prestigious International Academy of Trial Lawyers, and was elected the organization's first woman officer in 2003. In 2011, she became the organization's first female president.
"She's achieved the very pinnacle of her profession," says friend Jami McKeon, who chairs Morgan Lewis. "And the one thing everyone agrees upon is the best way we can promote the cause of women in the profession is to have examples like Bobbie."
Pichini mentors young lawyers at a relentless pace. At least once a week, she meets or chats with someone confidentially to offer advice. Judges, colleagues, friends—all refer clerks or young lawyers to Pichini. In 2006, the Philadelphia Bar Association honored her with the Sandra Day O'Connor Award, which is given annually to a top female lawyer who has furthered the advancement of women in both the profession and the community. 
"If you, as a woman, have managed to work your way up in this profession," Pichini says, "you don't want to pull the ladder up behind you." 
For her part, Pichini looks to the examples set by her former patients and clients.
"Things don't always work out the way you want," she says. "So you feel bad, do whatever you have to do. Then you pick yourself up and figure out what to do next. I've learned that from my clients. They've had tragedy and suffering a hundred times more than I could ever dream. After such hardships, they move forward with grace and resiliency." 
---
Pichini's Advice for Young Lawyers
In the courtroom, she says, "the theatrics don't work for women. Histrionics don't work. Adjectives and adverbs don't work. When you present the facts the right way, the result appears obvious to the jury. They come to the decision before you have to tell them what it is. That teaching came to me from Gerry Litvin, my first mentor."
Pichini urges young attorneys to be proactive in their careers, to grow their skills by volunteering, getting involved in professional activities or by offering to take on chunks of meaningful cases—one witness here; two on the next. "Find ways to show that you can take on the work," she says, "and that you can bring in new business."
Search attorney feature articles