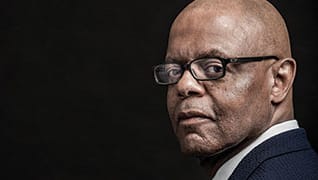 Photo by: Stan Kaady
Focused
When Brent O.E. Clinkscale decides on a goal, he makes it happen
Published in 2018 South Carolina Super Lawyers magazine
By Susan Shackelford on April 30, 2018
Six years ago, the future of the Phillis Wheatley Association looked bleak. The Greenville nonprofit's funding and staff were sparse; and its programs, especially new ones, languished. For decades, the organization helped people from underserved neighborhoods, particularly young people, through summer and after-school programming. Bobbie Jo Madison Clinkscale worked there for more than 40 years as financial director. She also raised four boys, the youngest of which is Brent O.E. Clinkscale—whom she fondly referred to as "my little lawyer."
When Wheatley faced potential closure in 2012, Clinkscale, its board chair, wouldn't hear of it. He challenged the board and executive director, Darian Blue, to step up and save the organization. Then he led by example. 
"He once raised $19,000 just by sending emails," says Blue, who is also a pastor at Nicholtown Missionary Baptist Church. "Brent refused to let it die. He willed it with his strength."
It's just one example of a situation in which Clinkscale, a business attorney who focuses on federal court litigation and arbitration, dug in—not unlike when he was a three-sport athlete at Greenville's J.L. Mann High School or, in the early '80s, a 6-foot-4-inch quarterback at Duke.
"He's very goal-focused," says Charlotte attorney Frank Emory, a mentor and fellow corporate litigator. "Once he decides he's going from here to over there, that thing is going to happen."
Today, the Phillis Wheatley Association continues to serve more than 200 families with recreational, academic and arts programs. It has partnered with Greenville County to renovate its facilities, launch new programs and boost its financial sustainability and reach. Next year, it will celebrate its centennial. 
Clinkscale credits his mother for getting him through the doors of Duke University. "She pushed us to be very busy," he says. "She wanted to occupy our time with positive things, to keep us out of trouble." 
Those activities included sports—he played football, basketball and track through high school. Clinkscale's brothers all played for Willie Jeffries at South Carolina State (and Clinkscale's older brother Dexter went on to play for the Dallas Cowboys), while Clinkscale got a football scholarship at Duke, where he majored in political science and graduated from law school in 1986. 
The high point of Clinkscale's playing days, he says, came on Sept. 21, 1980, when he threw for 232 yards and three scores against 19th-ranked Auburn. As for his academics, Clinkscale distinguished himself by becoming president of the Duke Bar Association and serving on the Moot Court Board. 
His first job was working for attorney and fellow Duke undergrad Robert J. Sheheen, then-speaker of the state House. The two-year stint taught him "planning, preparation and advocating for a particular position," Clinkscale says. He then spent two years as clerk to U.S. District Court Judge Matthew J. Perry, who made his name representing plaintiffs in desegregation lawsuits and later became the first African-American federal judge in South Carolina. 
"I got to see very good lawyers and how they presented cases in federal court," Clinkscale says, noting he learned a lot about courtroom decorum from Judge Perry. "[He believed] people should have the right to speak and their cases be heard. He also felt you should treat people with respect—not only fellow lawyers, but the complainants bringing the cases and the defendants, as well."
From there, Clinkscale went into private practice with a firm in Greenville, now known as Haynsworth Sinkler Boyd. He took on insurance defense, intellectual property and other business matters while learning the ins and outs of litigation. His clients included the soccer company Umbro, then based in Greenville. 
When Womble opened its Greenville office in 1999, Clinkscale joined up. "I had worked with great lawyers at Haynsworth, but I wanted a bigger platform … to move into more national and international work," he says.
And he has. As part of an international arbitration team, Clinkscale defended a major insurer in a month-long arbitration case in London. Representing a telecom company based in Scandinavia, he dealt with licensing and arbitration agreements in about a half-dozen European countries, as well as competing arbitration clauses and the prospect of billion-dollar litigation in the U.S. 
Clinkscale did employment work for U.K.-based Compass Group, when Phil Wells was corporate counsel at its U.S. headquarters in Charlotte. "He did a super job," says Wells, now corporate counsel at Mitchell Gold + Bob Williams in Hickory, North Carolina. "Brent is a brilliant attorney, but what really set him apart was his ability to understand our business … and use that knowledge to help drive the business. He thought like a business partner as much as a legal adviser."
Another pleased customer is Wilfried Niederkofler, who hired Clinkscale to help him defend Austrian owners building a golf course community in Bertie County, North Carolina. The owners of the Scotch Hall project had purchased about 2,000 acres in the rural county not far from the Outer Banks, with plans to build a golf course and up to 400 houses on about 900 acres. In 2007, Scotch Hall had been under construction for several years when the owners asked Niederkofler, a friend and retired CEO living in the U.S., to look into the project's unexpected costs and delays. 
Over about two years, Niederkofler says he found a lack of accountability in the project. As a result, he reorganized the construction and leadership of the project. Both the former contractor and former president/lawyer of the companies filed lawsuits against the Austrian owners claiming breach of contract. Defending the owners required Clinkscale to do some extensive legal detective work.
"I had never seen as complicated a case as this, and Brent unraveled it," Niederkofler says. "There was no paper trail. We had to find everything."
The contractor suit went to arbitration and lasted several years. The separate case with the lawyer, a cousin of the Austrian owners, went to court. Clinkscale countersued on issues such as fraud and racketeering, and, after a year, got the case moved from the U.S. District Court for the Western District of Pennsylvania to the Eastern District of North Carolina, where it would be easier to secure witnesses and documents. "Discovery was a big issue," Clinkscale says.
The owners won the day. Chief U.S. District Court Judge James C. Dever III granted partial summary judgments on the breach of contract claims. Dever also ordered mediation on the owners' counterclaims. "Simply speaking, Brent saved the project," says Niederkofler. "He really took the case as if it was his own company, his own money."
Today, the Scotch Hall project is alive and well. "He is the best, most dedicated, professional, competent and engaged lawyer I have ever known," Niederkofler says. "As a lawyer, I've never met a better lawyer than him. But his human side—this whole nightmare that was going on—he took such care to help us. In my book, that is his biggest achievement: He's such a great human being."
Clinkscale's colleagues are likewise impressed with his drive to diversify law firms and boardrooms. "A lot of people are jumping on the bandwagon now, but Brent was always there," says Wells. 
Being the only African-American at his first firm and one of 11 from his graduating class inspired in Clinkscale "the obligation to serve the community and profession," as he puts it. And he has done just that, through organizations like the Human Rights Campaign, Thurgood Marshall College Fund and Washington Ballet's Diversity Committee.
He also chaired Womble's Diversity Committee for seven years and is proud of the strides it made. "Pushing the firm to do more," Clinkscale says of his efforts. "We have to get more women to be partners and into positions of leadership. We have to recruit and train to retain a larger group of people of color. We have to have places where LGBTQ individuals can come and be successful. We have to be welcoming so they will thrive. And we've done some of that."
Then there's his willingness to mentor. "He is very generous with his time and money, particularly helping other people go forward," says Emory.
This willingness isn't exclusive to summer clerks, new associates or even people at his own firm. "A lawyer of color may not have a partner of color at their firm or in their practice area," Clinkscale says. "So you need to make professional relationships with those at other firms." 
And Clinkscale is happy to oblige.
"He gives a tremendous amount of his time to better the profession, both in improving the procedural rules to make law more efficient and just, but also investing in younger lawyers so they can follow in his footsteps," says former Womble partner Mike Cashman. "Great guy, great lawyer, great leader in the legal community. He is the kind of person that makes people feel bad about lawyer jokes." 
Search attorney feature articles