Smack Dab in the Middle of Writing and the Law
Jo Hackl finds a way to balance, and succeed, in both pursuits
Published in 2019 South Carolina Super Lawyers magazine
By Amy White on December 27, 2019
When Jo Hackl commits to something, she goes all in.
So when Cricket, the tween heroine of Hackl's middle-grade fiction debut, Smack Dab In The Middle of Maybe, got lost in the woods and had to figure out how to survive, Hackl thought she oughta know how to do the same. She took several outdoor survival classes (see photo of her class below; Hackl and her daughter are on the left), where she learned how to make a weed salad, get water out of a birch tree and build a fire.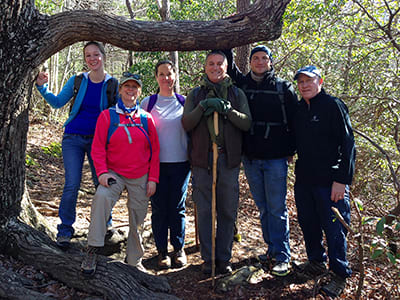 "I spent a lot of time growing up exploring the woods, so I did have my own sort of anecdotal knowledge of things that I had done as a child," says Hackl, a corporate lawyer with Greeneville, South Carolina's Wyche. "But if my character was going to actually survive in a treehouse in an overgrown ghost town, I needed to make it realistic."
Realistic she could do. The ghost town Cricket flees to in search of an absent mother is Electric Mills, Mississippi. Hackl grew up on the outskirts of Electric Mills, which was once a booming timber town.
"It was once called the brightest town east of St. Louis," says Hackl. "It boasted an enormous virgin forest, so a timber company came in and built an entire town around it; my parents were tree farmers. The company brought in a factory, a theater, a school, beautiful homes—I grew up in one of them. The folks I've talked to who grew up in the height of that told me it didn't have the flavor of a company town; instead, there was a real pride that came through."
When the timber ran out, the lights went down on Electric Mills. But for a young, curious Hackl, there was a story written on every decaying pillar.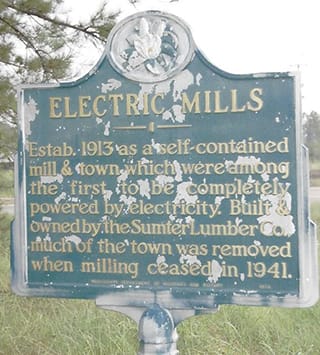 "I would go and explore the woods and the ghost town, and I could just walk forever on these thick, overgrown concrete sidewalks that took me past what used to be beautiful houses and a factory and shops and all these wonderful things," she says. "You could see the toppled-over pillars that had once held up these gigantic buildings. That was just a purely magical experience that sparked a lot of imagination."
In Smack Dab in the Middle of Maybe, published in 2018, Cricket is reeling from her mother's disappearance. The death of her father doesn't help. Once Cricket discovers she's going to be sent to live with a great aunt of whom she isn't too fond, Cricket runs off to the woods, where she stumbles upon a mystery that only she can solve to bring her mama home. Part treasure quest and part survival story, Smack Dab touches on some pretty hefty issues, like mental illness, once Cricket starts piecing together curious things about her mother: mood swings, medications and erratic behavior.
Hackl's cure for navigating hefty issues? "Woods time," she says. "This is when you go out and spend time in the woods, to really think about a problem, or before you make an important decision. It's about being in nature, and what that can do for young people, particularly today, when there are so many digital distractions."
Not just for young people, it turns out—Hackl is putting on a session at the Greenville County Bar's annual CLE on using the power of nature to increase productivity and reduce stress, "Which every lawyer needs," she says.
Hackl has always felt a dual call. "I grew up in Mississippi, and I think every Mississippian has a writer in them," she says. "But I also was really drawn to the law for the logic side. The thing that I really enjoy about corporate work is you're relying on logic to create value. While I'm a left-brain, right-brain person, I have learned to not try to use both at the same time."
When Hackl decided she was going to write the book, she was too embarrassed to tell people. "It's such an audacious thing, to think that you might possibly have a book published one day," she says. But then she looked around her. "I am so fortunate at Wyche to be surrounded by very brilliant, creative, and awesome community-oriented colleagues who, as a group, have many, many interesting hobbies outside of the law that they're passionate about," she says. "That made me realize, 'OK, I can have both of these things.'"
Now she makes it a point to share that message with other lawyers. "What I say to other lawyers is that it's time to start taking chances on yourself—that if you don't do the thing that's in your gut that you know you want to do, that will make you happy, nobody else can do it for you," she says. "There is an enormous satisfaction and pride in knowing that you bet on yourself."
Hackl doesn't identify as either lawyer or writer. She calls on both to add meaning to her life. "I'm very transparent with clients and colleagues, to ensure they see me as a lawyer and as a writer. And they support me in all of my endeavors, as I support them in theirs," she says. "So it's really a very happy life, smack dab in the middle of all it."
Search attorney feature articles