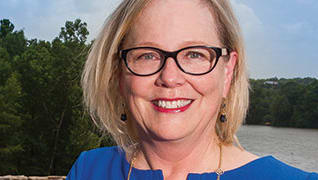 Photo by: Jeremy Enlow
Sweet Deals
Jane Snoddy Smith handles complex, high-stakes real estate transactions—without the high anxiety
Published in 2015 Texas Super Lawyers magazine
By Alison Macor on September 1, 2015
Jane Snoddy Smith goes by in a flash of red as she dashes up the marble-and-glass staircase connecting the four floors of Norton Rose Fulbright in downtown Austin. Head of the firm's U.S. real estate practice group, Smith is in the midst of closing a deal that involves joint venture and acquisition.
One party is in Philadelphia, another in New York. Smith and her team were at the office until 11 the previous night, back by 4 this morning. Now it's midday, and she ducks into a conference room off the firm's reception area on the 11th floor.
"I've got all my machines going," Smith jokes as multiple land lines and mobile phones begin to ring simultaneously, after she smooths the front of her tailored shirtdress and takes a seat.
"This particular deal we're doing, I'm calling it 3-D chess," she says. It involves multiple moving parts, including two closings and, essentially, two loans. "The 3-D piece of it is that you close the loan piece, but then you've got to come along and convert part of that to equity. So then the relationship changes: You go from lender to part owner. You're seeing it from all different angles, and it's multiple layers."
It can be exhausting—and not just because she's running up staircases. "It's a very physical sport," she says. "You have to be all invested the whole time, so you'd better not lose your energy. That surprised me. It wasn't something someone told me."
But don't confuse high energy with high stress. "I subscribe to the Harvard Method, which is really listening a lot and seeing if there's a deal. 'You've got needs, I've got needs. How do we structure it that we're both getting what we need?' And if you do that, it's not adversarial at all. It's very collaborative and very creative. Because there's not one way to do anything."
Smith began her legal career after she had earned a master's degree in special education and spent time teaching. "I wanted to have more power. I wanted to be more effective, so I thought I'd go to school for [representing] the legal rights of the handicapped. That got me there," she says of law school at Emory University, where her husband, Tom, a physician, was teaching in the medical school.
While in law school, she began working at Alston & Bird, one of Atlanta's largest firms, with real estate attorney Ralph Williams, who had a major influence on her early career. "He just opened the door," Smith says. Williams, now retired, is a former college football player, served in the U.S. Navy, and was prone to swearing. During one particularly tense negotiation in which the other side's attorneys were behaving "badly," Smith watched as Williams stood up, leaned across the conference table, and shouted in the face of another lawyer. "I thought what he did was appropriate, but it was just not something I could do and be believed," she says. At the time, Smith considered leaving the firm. When she expressed her reservations to Williams, he told her, "You don't strike me as a person who doesn't know how to say no. So you just have to have a 'no' that somebody will believe." Not only was that helpful advice for Smith in developing her own negotiating style, but it also impressed upon her the value of having multiple mentors. "I actually think it's important to work with someone who's totally different from you, just like it's important to work with someone who's like you. You get a good comparison."
Born in Virginia, Smith has lived in six states. Her father, Bill Snoddy, sold residential real estate and often wouldn't return home until late in the evening. Smith would sit with him while he ate his dinner, listening to stories about this person or that client and how he dealt with various challenges. His stories conveyed the dynamics of the negotiation process, including the importance of treating people with respect.
"A position that someone would take might be reasonable for them from where they sat," says Smith. One day, her father came home with a client's freezer because the homeowner wouldn't sell his house unless the potential buyer paid for the appliance. But the buyer didn't want it. "My father just buying the freezer made his client sell the house. Sometimes the small things end up mattering the most. If you can find out what that 'small thing' is, it can make the whole deal."
Smith credits an undergraduate minor in psychology with giving her another helpful tool. And after a former client approached her for advice on personal matters, with which Smith felt ill-equipped to help, she decided to enroll in a short course offered by the Stephen Ministries, a non-denominational worldwide program that trains people as caregivers. Lay ministers such as Smith are assigned to people who need help working through particularly tough situations such as divorce or unemployment. Smith liked the experience so much that she underwent more intensive training and has been volunteering as a Stephen minister for 15 years. The meetings occur on a weekly basis for as long as the client needs them. "Your job is to listen," says Smith. "It's not to supplement any professional guidance that they need and are getting, but it is supposed to be a place where they can talk. Because when you talk out loud, you solve your problem. What I love about it is that you're supposed to hope for them when they can't hope. It's very powerful."
Ronald Gern, general counsel of Pyramid Management Group, serves with her on the board of the International Council of Shopping Centers. "Jane has a great reputation," he says. "She's a quality real estate lawyer with high integrity. She understands the other side of the table, and she gets what she needs in a deal." In 2011 Gern recommended Smith and her team to EPN Group, based in Illinois, for a deal that resulted in the sale of 46 open-air shopping centers in 20 states to Blackstone Real Estate Partners and DDR Corp. The fast-track deal, which closed in less than a month in 2012, was valued at $1.4 billion. Years ago, Gern and Smith were on opposite sides of the table, and he credits her "measured" style with getting deals done.
"Jane is calm and projects a sense of confidence that's very reassuring to the parties involved," says Melanie Barnes, secretary and co-founder of Austin's Waller Creek Conservancy, one of Smith's ongoing projects. Barnes met Smith when Barnes was practicing as a transaction attorney in Austin. In 2008, they were part of a group of 50 attorneys who founded the Center for Women in Law at the University of Texas School of Law.
The Waller Creek project is a public-private partnership between the city of Austin and the conservancy to develop and maintain 28 acres of public facilities and parkland along a creek that begins just south of the UT campus and runs into Lady Bird Lake. "A lot of what I get to do is urban infill, so it's taking something old and making it new or better. It's improving the city in areas that may need redevelopment," says Smith, who credits the reputation of Norton Rose Fulbright's tax and bond attorneys with bringing the Waller Creek project to the firm.
Barnes praises Smith's role in the complicated negotiations between the conservancy and the city of Austin, which was represented by staff members from nearly every city department. "We started with a very long laundry list of details to be included in the master agreement in addition to an overarching concept," she says. "Jane had multiple clients, if you will, wanting to make sure that their interests were well protected; but she was forceful in representing our clients without at all becoming hostile. We all were able to stay collaborative throughout."
For Smith, this kind of negotiation is at the heart of any transaction. "I don't consider it a game. I don't see it as power. I just see it as making it happen," she says. "I have had a couple of times when I've walked out of a room, but I've mostly sat in the room when other people have left. And I've made the deal."
Search attorney feature articles