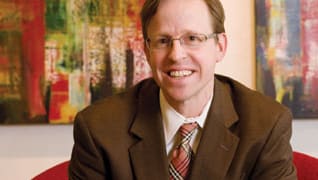 Photo by: Evin Thayer
Travis Crabtree's Second Dream Job
He's already had his first one, as a sports reporter. Now he has his second, as a media lawyer
Published in 2011 Texas Rising Stars magazine
By Betsy Graca on March 11, 2011
When Travis Crabtree left behind a sports journalism career to begin practicing law at Houston's Looper Reed & McGraw, his new colleagues thought he was crazy. "They had visions of being a sports journalist as the greatest job ever," he says. "I got a lot of questions about why in the heck would you give that up to come practice law and hang out with us?"
It didn't take long for him to be convinced that he had made the right decision. 
"It got back to my dream originally [that I] was to be a professional basketball player, not to cover professional basketball players," he says. "I was getting tired of covering the events and I wanted to be more active as a part of the events." As a reporter, he discovered that he enjoyed covering government and law as much as sports. So if he couldn't make his way onto the basketball court, he could at least make it into the courtroom.
Today, his practice focuses on online media, Internet marketing, First Amendment issues and business litigation. He's an avid blogger, a frequent contributor to local radio station KRLD and columnist for Visibility Magazine, which focuses on online marketing strategies. In essence, Crabtree's found a fusion of journalism and law while establishing himself as an expert on both.
The 37-year-old Houston-native grew up dreaming he'd one day play for the NBA. Although once he accepted that he was "vertically challenged" and would never be a professional athlete, he turned to his second love: writing. He figured if he could get paid to write about the games he'd be watching anyway, why not?
After completing a journalism degree at the University of Missouri and gaining on-air experience with the local NBC affiliate, he found his waterloo covering, well, Waterloo, at KCRG-TV 9, a station based in Cedar Rapids, Iowa.
Crabtree sets the scene when, after six months on the job, his ambitions switched gears. After shooting some highlights of a boys soccer team, there he was, his news van bounding down the freeway at 85 mph to get back to the station before deadline. "I'm thinking, 'I can't believe I'm sort of risking my life to get 35 seconds of soccer highlights that, really, probably 20 people cared about in the whole state.'"
On a whim, he took the LSATs. After getting his scores back, Crabtree decided on the University of Houston Law Center, his ticket back home to Texas. Before graduating in 2000, he served as associate editor for the Houston Law Review and met his future wife, Karla. He calls it the first "Westlaw marriage" because the two met in Westlaw training when Karla's computer stopped working and he invited her to work with him on his computer. The two married after graduation and now have a son and a daughter.
Crabtree began his legal career, but his passion for journalism never left the picture. "When I went to school, it's sort of the same thing as being the eighth-grader [who thought I] would immediately jump to the star reporter for ESPN, I immediately thought I was going to come out of school and argue First Amendment cases for newspapers and TV stations to the Supreme Court," Crabtree says. "But then reality set in."
He quickly found, however, that litigation was not too different from journalism. "[In broadcast news] you start at 9 o'clock in the morning, you get your assignment, and by 5 o'clock news or 6 o'clock news, you have to turn around this complex problem and explain it to [viewers] in a minute and a half in a way that they can understand. And for the most part, trial lawyers are no different. … Luckily we have [a few weeks] to do our trial, but we take complex issues and explain them in a way that everybody can understand, in a way that's interesting and it tells a story. It's the same thing a TV journalist does every day."
He spent his first few years developing the foundation to become a good lawyer. Looper Reed introduced him to multiple industries and granted him experience in the courtroom. Then Crabtree began looking around the Houston market and wondering how he could differentiate himself from the thousands of other business litigators.
Around that time, Crabtree began representing a childhood friend, Jeffrey Montgomery, who had just started a company called TopSpot Internet Marketing. Crabtree learned that the company, like many other online outlets getting off the ground in the early 2000s, was dealing with the same First Amendment issues and defamation lawsuits that the news industry had grown accustomed to for decades. That's when Crabtree had his "aha" moment.
"I'm in Houston where energy is king," he says. "There are not a lot of social media companies—there are some Internet companies—but Houston is not a hotbed like the Silicon Valley is for these types of industries … but even if I don't generate the next big dot-com company, even our traditional, valve making, brick and mortar company is facing these issues."
Montgomery, senior vice president of TopSpot, says Crabtree's role was significant in the company's early development and success. "When you're in touch with an attorney, sometimes it can be heated and emotional," he says. "Travis helps us take some of that emotion out and just focus on the end result. [He] allows us to … focus on growing our business while he focuses on some of the things that obviously aren't our specialty."
Cary Gray, managing partner at Looper Reed, notes that many media attorneys focus on First Amendment, libel and slander issues; but he says Crabtree was the first one he knew who developed an expertise in electronic media."We didn't start out with the idea of 'Let's bring Travis in and develop some kind of an e-media law practice area.' Because, truthfully, 10 years ago who'd've thunk that would even be something that would be really necessary. It's amazing how fast things have changed in that regard."
Looper Reed set Crabtree up with a blog, eMedia Law, where he shares his knowledge of topics like net neutrality, Internet marketing contracts, social media's role in the hiring process and major lawsuits in the news.
 Defamation online, Crabtree says, is one of the most common issues that gets to everyone, not just the web-based companies. "I think the next biggest issue is probably in the context of copyright," he adds. "People just grabbing stuff—they think because it's on the Internet, I can just copy it and do whatever I want with it; putting it on the Internet doesn't make it any different than putting it in a book and having that book at the library."
Crabtree says he doesn't have any regrets about giving up on ESPN and is happy his journalism career led him to practicing law. "I think every lawyer is supposed to have their Atticus Finch moment and I feel bad because there's not a tragic story of a grandfather who was evicted from a house wrongfully or something like that," he says. "My story is that I was in Waterloo and I enjoyed [reporting] … but it wasn't something I wanted to necessarily do for the rest of my life."
He reflects on that day in the news van when he was speeding back to the station. That's when he realized he wanted the freedom for other things, especially to have a family. Law allowed him to do just that. "At my stage in life," he says, "it's 95 percent about my kids. I am 37. With a 6-year-old and a 4-year-old, that's pretty much my weekend." And he's found a way to continue his passion for sports: He's coaching his son's soccer and basketball teams.
Search attorney feature articles