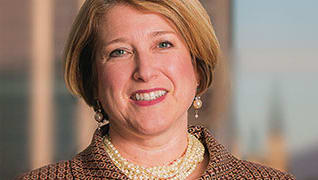 Photo by: Sam Dean
Scalpel, Please
Trial attorneys get to build cases. Gentry Locke appellate lawyer Monica T. Monday delights in slipping on doctor's gloves to dissect them
Published in 2015 Virginia Super Lawyers magazine
By Amy White on March 15, 2015
Q: You have a great comic book heroine name. Do people comment on it?
A: They do. But I've always thought it sounds like a weather girl. Like, "Monica Monday, reporting live, and it's very sunny today."
Q: More like, "Monica Monday: Oral Argument Junkie." That's what you call yourself, right?
A: You've read my article. Yes. I'm absolutely addicted to oral argument. I remember in law school, the very first time that I saw an appellate argument demonstration. Immediately it was something that I wanted to master. Except one thing: I hated public speaking.
Q: You wanted to be a lawyer but hated public speaking?
A: Yeah. I grew up as one of those people. I was very quiet, and even by the time I got to college and was less quiet, I did not speak out in class. I just was not the person who was raising their hand and wanting to speak. I'm still nervous when I argue, but I find it to be an adrenaline rush.
Anyway, the Virginia Supreme Court started releasing its oral arguments almost a year ago, and I have a very long commute—2½ hours, round trip. I can just go on my iPhone, bring up the website and listen to the arguments in the car. I just love the exchange between the court and the attorneys, and seeing how oral argument flushes out the direction of the case. I know I'm listening, but it's like I can see the disposition of the case evolving or jelling during the court's questioning.
Q: What have you learned from listening to the tapes?
A: I only listen to ones [where] the subject interests me or I've heard about the case. But I really hear—which is different than when I'm actually arguing—the justices talking to one another.
When they're asking a question of me, in many instances, they're asking a question, or raising a point, with someone else on the court. When they're arguing with me, they're using their question and my answer to advance what they're thinking about the case, or to further flesh it out.
I think this underscores the importance of oral argument itself: that [the justices] are really trying to work out the case in real time.
Q: What brought you to the law?
A: It was an interest sparked by early American constitutional history. I was fascinated by the role of the judiciary. I was an English major. I played with the ideas of becoming a lobbyist, or going into communications, publishing, things like that. Then ultimately, it just seemed to make sense to go to law school.
Q: Did you have an idea what kind of lawyer you wanted to be?
A: It was not until I saw that demonstration in law school that I knew I wanted to be an appellate attorney.
Q: What makes a good one?
A: Number one would be candor with the court. If a lawyer's not being truthful, or is not being fully accurate in his or her representations to the court, that's going to hurt the argument. So being credible with the court, and providing the court with accurate representations of the record, accurate representations of the law, that's the foundation.
The next most important thing is to be very passionate and genuinely concerned about the issues that you're advocating for—the court will sense if you're not passionate about it. You certainly can't expect them to be if you're not.
Q: Is it hard to be passionate about every single thing?
A: No. Of course, there are some appeals where it's going to be a very new, exciting area of the law. Even when that's not the case, simply being fully conversant with the record, and understanding what's happened in the case, makes me a passionate advocate for the client.
There are times then I really have to dig in because the area might be unfamiliar. Then I also rely upon and work with trial counsel to understand the nuances of the area of law.
Q: What's an example of an area that was tougher for you to navigate?
A: Maritime law.
Q: And the easiest area for you?
A: Tort law and workers' compensation. I've handled over 75 workers' compensation appeals and a fair number of torts, whether it's Virginia medical malpractice or wrongful death. Regardless of areas, there are just cases that stick with you.
Q: Such as?
A: Taboada v. Daly Seven.
It's a nightmarish narrative. Mr. and Mrs. Taboada, they were driving into town, and in the middle of the night, they stopped right here in Roanoke, just a matter of miles from my office, to stay in a hotel. The husband parks the car in the parking lot, and goes in to check into the hotel, but [after walking out] he is shot in the parking lot by a random assailant. He is lying in the parking lot, and his wife and son get out of the car and try to run into the hotel. The wife gets in, but the son is standing outside, and the assailant comes up to him but doesn't hurt him. Instead, the assailant gets in the car and drives off, and in the back seat is their other child, an infant girl.
Believe it or not, everything turned out OK. The car was recovered, the daughter was safe and the husband survived.
We represented Mr. Taboada in a claim against the hotel for failing to provide a safe premises. The facts basically were that there had been lots of criminal activity in that parking lot, that the hotel knew about it, and in fact, they even had a security guard whose responsibility was to patrol the parking lot during those hours, but they had terminated that arrangement shortly before this attack. It was a question about what kind of duty of care a hotel owed to its guest. Or in Virginia, they call it an innkeeper. We were successful in that appeal, and I remember the Taboada family coming to the [state] Supreme Court and attending the oral arguments.
There was another case that I handled just last year. I think it's remarkable because of its facts. It was a defamation case, and it involved two different doctors. One accused the other of euthanizing a patient. That got pretty heated. The trial court dismissed the defamation action, and we appealed that and were successful.
Q: What's the best part of your job?
A: I really like the analysis. Trial lawyers put together all the facts, but appellate lawyers take it all apart. I consider myself to be the medical examiner of the law, because you're dissecting the case. Whether it's to find legal error if you're the appellant; or to argue that there wasn't reversible error if you're the appellee.
Q: You're a female managing partner—is that an anomaly in Virginia law?
A: I think so. I've not done any kind of an independent analysis of how many there are. I know that in some smaller firms in Virginia, there are absolutely a number of women who are running their law offices, or serving as managing partner. But I don't think that there are many of us in Virginia in a medium- to big-sized firm.
Q: What do you want to accomplish?
A: Basically, I'm trying not to screw anything up. The firm is doing very well, and we have been blessed with excellent management before. We do try to make collective decisions, so I do try not to run off and make significant decisions that would benefit from some discussion.
Q: Do you remember your first argument before the Virginia Supreme Court?
A: I do. It was a discouraging moment because the opposing party was actually pro se. I got up and I argued, and the pro se appellee had failed to properly file a brief. So the Supreme Court had sent her a notice saying, "You will not get oral argument." That's the penalty.
I finished my argument, and then the chief justice of the court says, "Well, where is Mrs. Webb?" I'm thinking, "Well, she's not supposed to get an oral argument." Up in the audience pops Mrs. Webb. She says, "Oh, here I am, your honor."
He's like, "Well, why don't you just come up here and tell us what you think?"
So she marched right up to the front, and I lost.
Q: What's the most valuable lesson you've learned along the way?
A: Well, I will tell you: I think that rebuttal argument can be very dangerous.
When I was doing moot court in law school, when you were the appellant, sometimes you'd be just like, "Oh, I waive oral argument. I don't even need to respond to that argument."
I think there was some merit to that. But I think that, for the appellant who feels that the argument is going very well, you have to be very careful, on rebuttal, that you don't open a can of worms.
Q: You've done that?
A: I can think of one case where that happened. I'm the appellant, things have gone well. I'm getting up for rebuttal, and I feel like the case was lost, based upon the way the questioning went on rebuttal. I felt the case slip away, right at that moment.
Q: What can you do?
A: Not much. Because you're at the end of your time, you may only have a matter of seconds left. Some judges will wait until rebuttal to get into a meaty issue. Or sometimes, something that the appellee has said will raise some new issue. My best advice to others: Proceed with caution during rebuttal.
Search attorney feature articles