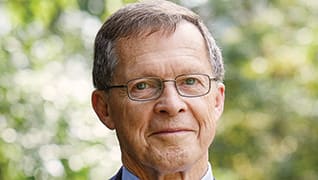 Photo by: Hanna Agar
An Uphill Battle
Fighting medical malpractice isn't easy, but Mike End is up to the task
Published in 2019 Wisconsin Super Lawyers magazine
By Andrew Brandt on November 14, 2019
Among the numerous medical malpractice cases that have come and gone from his plate over the past five years, Mike End has one that just won't, well, end.
In 2011, his client, a woman in her 40s, had lower back surgery. After the operation, the surgeon left the operating room to tell the family how well the procedure had gone, leaving in place the two drainage catheters—which simply drain blood by gravity—at the site of the incision. The surgical assistant, upon sewing up the wound, hooked the catheters up to a Cell Saver machine, which recycles the blood back into the patient, should they need it. 
"He hooked up the drains to the machine, and in one minute it suctioned out 1.4 liters of her blood," says End. "She ended up paraplegic, with a brain injury, because her heart stopped and she didn't get enough blood to the mid-back. She can walk a little bit with a walker, but that's all."
End sued the hospital, and the surgeon testified that the assistant, employed by the hospital, was in the wrong. Also helpful, End later discovered that the hospital received a recall letter for the Cell Saver machines, stating they were dangerous.
"I thought, 'This is going to be the easiest case I've ever had,'" End says from a third-floor conference room in downtown Milwaukee. "But we now have 50,000 pages of documents. And the hospital isn't offering much; the total offer so far has been $400,000. The medical bills and impairment costs alone are more than $3 million."
These sorts of roadblocks aren't out of the ordinary for End. Whether it's Wisconsin's non-economic damages cap of $750,000, or the way the state manages its compensation fund, med-mal cases rarely go smoothly for plaintiffs. 
But End, 73, persists.  
"He's the Sisyphus of medical malpractice," says Dan Rottier, a plaintiff's attorney in Madison who has known End for 35 years. "He is pushing the rock up the hill, and when it rolls down the other side, he's getting himself together to push it back up again."
The son of a doctor, End grew up in Fox Point, caddying each summer with his three brothers and enjoying sports and school while off the greens. A self-described "3Mer," he attended Marquette University High School before graduating from Marquette University in the spring of 1968 and enrolling in Marquette University Law School the following fall.
His legal studies, however, were interrupted when, in January 1969, he was drafted into the Army, where he scored well on the language aptitude test and got the OK to learn Vietnamese. He would serve as an interpreter. 
"When I first got to the airbase in Saigon, I bumped into a soldier who was re-upping," says End. "He was a sniper, and he would go up in the trees, tie himself in so he wouldn't fall, and shoot the Viet Cong soldiers who came walking down the Ho Chi Minh Trail. That was a wake-up call for me; I figured, 'I don't want to be this guy a year from now—re-upping so I can go up in a tree and kill.' So, I decided I wasn't going to carry my weapon."
End wound up in psychological operations, working out of a truck with a partner and a Vietnamese soldier who spoke English. They would ride into hamlets and play recordings from a loudspeaker, "telling the people to give up if they were Viet Cong and join the good guys," he says.
For the second year of his tour, End taught English to nuns at three Catholic convents, as well as residents of Hue one night per week. And he kept his promise: He never carried a gun in Vietnam. 
When he returned stateside, he married his college sweetheart, Joan, and finished his three remaining semesters of school. During that time, he clerked at an insurance defense firm and, upon graduating in 1973, joined up with lawyers Terry Gray and Jim Barton, who primarily dealt in real estate. 
"Terry had six personal injury cases in his inventory at the time, and he said: 'Mike, as far as I'm concerned, I never want to step into a courtroom again,'" says End. "'You can take these cases.'" 
Later, a law school classmate referred a medical malpractice case his way. "When people learned I had actually stepped into court and tried a medical malpractice case, they started referring cases to me," End says. "I jumped in with both feet and found out how things were."
In the late 2000s, End began teaching one lecture per year at University of Wisconsin-Milwaukee on med mal plaintiff's work. He accumulated various kinds of data to prepare, and has been keeping tabs on the numbers ever since.
"The decrease in the number of cases filed is phenomenal," he says, noting that there were 294 cases filed in 1999 compared to 93 in 2018. "In 2003, 122 people received compensation in Wisconsin. In 2016, there were 16—in the whole state—and last year, 24. It's just a sin."
Throughout the past eight years, based on med-mal payments per person, Wisconsin has ranked 49th out of 50 states four times, and 50th the other four. "The insurance industry has kind of forced lawyers not to get into it," says End. "You don't have to lose a whole lot of cases where you've spent $100,000 before you figure, 'Maybe I shouldn't get into this.' It's a depressing time for people who are injured by medical malpractice in Wisconsin, because they can't find a lawyer."
There aren't many lawyers on the other side, either. One of them End has faced off against numerous times over the past three decades is Lori Gendelman. In fact, she opposed End during her first med mal jury trial in 1990. "We settled it in the middle of the trial," she notes. "He was a gentleman then, and he still is. It was a tough case for the defense, and yet he was kind in my defeat."
A wrongful death case nearly 15 years earlier was what entrenched End into the work. His client was a secretary at his firm, and her baby had died at birth. End looked into it, and determined it was a case of negligence on the part of the obstetrician. 
Back then, the state used a panel system to screen cases. A lawyer would file a complaint against a doctor, take depositions and then present at the hearing. The losing side could appeal by filing with a circuit court, but the panel's findings were admissible as evidence. Quite simply, says End, it was difficult to overcome an adverse panel finding.
"When I took [the obstetrician's] partner's deposition, he admitted his partner had been negligent in not getting to the hospital as quickly as he should have," he says. "We tried that case to the panel, and won it, and the total award—the maximum award at that time—was $10,000."
Though the state legislature replaced the panel process with a mediation-based system in 1986, he's had a difficult time getting the results he says his clients deserve. In the current structure, a plaintiff and their lawyer will meet with an attorney, a doctor of the same specialty as the defendant, and a layperson. The defense side does the same, separately. "There's nothing in writing, no formal decision," says End, who notes that insurance companies don't take the procedure seriously. "I've probably had 180 mediations, and I've had money offered at one of them."
Though End is quick to bring up his losses, he hasn't been without some major victories. He won a case for a boy who was blinded because an ophthalmologist failed to realize a tumor was pressing on his optic nerve; a woman whose leg had to be amputated because a physician failed to realize she was not getting adequate blood flow; and an infant who didn't get enough oxygen shortly after birth, causing injuries that prevented him from being able to walk, talk or feed himself. 
At any one time, he's working on up to three cases, and his work entails frequent travel. "If we get involved in a case, we're in it for the duration," he says. "There's a good likelihood there will be no settlement, and it's also going to be exceedingly expensive. I've had a bunch of cases where we've spent more than $100,000 for the expert witnesses, hotels, airfare, court reporters. It's a very time-consuming, expensive proposition."
On top of the costs, there are the odds. Physician Insurers Association of America has compiled the results of medical negligence trials since 1985. For the first five years, plaintiffs won 21.5% of cases. In the past five years, they won 9.4%. In other words: Insurers won 90.6%.
"If you're going to be paying $150,000 pursuing a case, and putting in hundreds of hours of time, you can't afford to be among the 90%," he says. "They like it when plaintiff's lawyers are spending money like crazy, because they have billions of dollars stashed away. They're going to outspend you anytime they want. They're going to make it hurt as much as they can."
Nonetheless, Don Prachthauser—a plaintiff's attorney in Milwaukee who often refers clients to End, and vice versa—says that End takes cases no one else will. "I have, at times, thought that Mike views his work as a religious calling," he says. "He helps people with complex legal and medical issues because they are in need of help, and he has the ability to provide that help. Law, to Mike, has always been an honorable profession—not a business."
In 1975, at the start of End's practice, the Wisconsin Legislature introduced the Injured Patients and Families Compensation Fund, a pot of money into which each doctor pays annually on top of his or her $1 million insurance policy. Per state law, the fund cannot compensate any victim until the primary insurer has paid the entirety of that doctor's $1 million of coverage. "The insurer looks at this," says End, "and says, 'If we win 90 percent of the time, we're going to be in clover. Why not try 'em?'"
According to End, the fund's stash is currently upwards of $1.4 billion. And in the past five years, only five people have received money from it. "The Injured Patients and Families Compensation Fund—that's part of his advocacy, and he can be very persuasive about it," says Gendelman. "He feels that it's an injustice that the fund has so much money and settles so few cases."
On top of the fund's lack of usage, End laments the fact that Wisconsin enacted a $750,000 non-economic damages cap for medical malpractice cases since 2006. In 2018, a case, not involving End, challenged the constitutionality of the cap, but the state Supreme Court upheld it. "That was not only a bad decision, but a horrible blow to the people," End says. "Who's going to take a case? When lawyers are looking at the 90% loss number, hundreds of hours of work, and this cap … it's pretty tough, even for badly injured people, to find a lawyer to take their case.
"It's really hard when people have horrible injuries that will affect them for the rest of their lives, and they won't be able to do things because of some dumb mistake a doctor made," he continues. "It's sad when I have to say, 'I can't take your case. I've got too much on my plate already.' People call us every day … and there's three of us at this firm. We can't be handling 4,000 cases."
Still, when he can, End takes on the cases of the unjustly injured—even though he's unsure if the scales will ever tip in their favor.
"He's committed to the client, and he's committed to legislatively and judicially trying to change the Wisconsin system—which is very much weighted against victims of malpractice," says Rottier. "It takes a lot of courage and persistence to fight what is, essentially, an uphill battle for so long."
"When I go to trial, I know we're right," adds End. "I've talked to the experts and I know that, if justice prevails, my client will be covered by compensation. Oftentimes, it doesn't work. You just have to keep at it and do the best you can." 
Search attorney feature articles