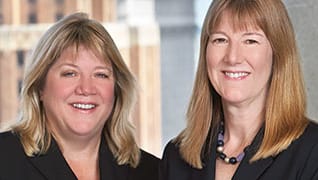 Photo by: Corey Hengen
The Bookends
How sharing a room as kids helped turn Heidi Vogt and Linda Vogt Meagher into top litigators
Published in 2015 Wisconsin Super Lawyers magazine
By Josh Karp on November 10, 2015
In 1962, when Wess Vogt was a medical student at Marquette University, he bought a small home in the Washington Heights neighborhood of Milwaukee for himself, his wife and their four children. The house was so small that all the kids had to sleep in a converted sewing room.
Nine years later, the family moved to a house in Mequon that was big enough to accommodate separate bedrooms for the oldest daughter and the baby brother. The two middle children, though, Linda and Heidi, continued to share a room. In some families, living in such close quarters with a sibling would lead to eternal squabbles. The opposite proved true here. Linda and Heidi, who are less than two years apart, became so tight that their father called them "the bookends"; you rarely saw one without the other.
"We stuck together," says Heidi L. Vogt, today a shareholder at von Briesen & Roper.
Sharing a room did more than turn the sisters into best friends; it also provided an early education into some of the skills they'd need as attorneys. Fights broke out, sure, but they learned the value of forgiveness. They also learned the lesson of Atticus Finch: that there's more than one perspective and it's important to see things through the eyes of someone else. Sharing a bedroom was, essentially, an extended course in negotiating and finding mutually acceptable solutions.
"It taught us how to compromise," says Linda Vogt Meagher, a shareholder in the litigation group at Gonzalez Saggio & Harlan in Milwaukee, whose office is only four blocks from her sister's.
They share many qualities. People who know one sister often use the same adjectives to describe the other: hard-working, creative, down-to-earth, knowledgeable, trustworthy. Both are graduates of Marquette Law School and both top-flight Milwaukee litigators.
Then there are the differences. Heidi is a civil litigator with an emphasis on insurance coverage, Linda practices personal injury defense. Linda is more outgoing ("If a social event needs to be organized, Linda will do it," Heidi says), and inclined to use humor to get her point across. Heidi is more reserved.
Advocating while being nice
The co-chair of von Briesen & Roper's litigation and risk management practice, Vogt can find herself handling cases with more than 50 parties and multiple insurance carriers, often over a span of decades. In such a complex landscape, everyone is looking for the answer to one complicated question: Who will be legally obligated to pay how much to whom?
"Insurance coverage law is on the far end of the complexity spectrum," says Jeff Davis of Quarles & Brady, who has worked on the opposite side of some of the same coverage cases as Vogt. "You are dealing with highly dense and complicated policies that are written with 40 to 50 pages of fine print where you have to understand every word."
Vogt often takes the lead role in managing a case, which requires constant communication. She fields countless emails while spending all day on the phone. She talks so much, she says, "I have a nerve thing in my throat that they only see in opera singers—and me."
Yet for all this, it's cutting to the chase that defines her.
"One of her strongest areas is the analysis of insurance coverage," says Randall Crocker, president of von Briesen. "She's able to read an insurance policy and quickly determine where coverage lies and where it doesn't lie. She can just cut right through it … and give an answer not only based on the language but that goes right to the heart of the issue."
In many coverage disputes, the key is which state's law will control the case. Joe Goldberg, assistant general counsel at Sentry Insurance, recalls one such dispute where several states had ruled differently on an important legal principle, but it seemed only one state's law would be applied to the case. Many lawyers, Goldberg says, would have figured out how to deal with the situation from that perspective, but when he spoke to Vogt she had already looked at the laws of the other states, analyzed their differences and understood potential counter-arguments.
"The answer triggers other questions that will need to be answered," Goldberg says. "Heidi anticipated the problem, looked it up and was prepared to discuss the less obvious answers."
"That's a really important talent," Crocker adds, "to project where this thing will end, what the options are along the way, and what's the most effective and practical line to take."
As Vogt puts it, "Some people get stuck in a quagmire and can't seem to get out. I can take a case and … see where I need to go and how I need to get there."
Those who've worked with Vogt describe someone who is pleasant, easy to deal with, yet extremely tough when necessary.
"Typically, lawyers think that in order to zealously advocate for their clients they need to be difficult and occasionally obstructionists," Davis says. "[My] desire is not to go to court and beat others' brains out but to reach resolution. [Heidi] is of the same mindset. That's usually more in the clients' interests."
Linda is Linda
Early in her career, Linda Meagher was mentored by Jim Doyle of Schellinger & Doyle, who shared the following advice as she prepared for her first trial: "Always be yourself in front of a jury. If you act like someone else, the jury will know it." Meagher, it seems, has never deviated from that guidance.
"Linda is Linda," says Joseph Fasi II, a partner at Gonzalez Saggio & Harlan. "What you see is what you get, and she never tries to be something she's not."
Meagher's former colleague Molly Lavin, now with Habush Habush & Rottier, says that Meagher is hilarious, easygoing, diplomatic and extremely level-headed. "All the characteristics of a great trial attorney," she adds.
She has the ability to cross swords without losing her cool. During a recent malpractice case, Meagher found herself in a contentious deposition with an abrasive attorney who screamed objections throughout. Meagher remained calm, putting everything on the record and reminding him that the judge was a phone call away. That helped. More, during breaks, she engaged him about his recent vacation to Mexico and where he liked to ski in the Midwest. Afterwards, she says, "It was as if his outburst had never occurred."
According to Fasi, Meagher also has a "give me a break" demeanor that resonates with jurors. "Juries know who's trying to feed them a line of BS," he says. "With Linda, they're comfortable with what she's telling them. She comes across as a normal human being. People like her."
Like her sister, Meagher has the ability to focus on the important issues in a case and not get bogged down in minutiae.
"If you raise an issue and look at it from one perspective, Linda will be able to tell you what the specific cases and statutes that apply are," Lavin says. "But she's also a very creative thinker who can see a situation or problem and just come at it from a different angle that will steer your thinking."
Over the years, Meagher has represented both plaintiffs and defendants, which has helped her develop a panoramic view of cases. She knows not only what the other side might argue, but where they are coming from. This is incredibly valuable, Fasi says, in a world where some defense lawyers think nobody's ever been injured and some plaintiff's attorneys believe every defendant is evil.
"Linda is fair-minded and has the ability to see the big picture," Lavin says. "It gives you an advantage if you can really see the case from both sides."
"You can go to Harvard and find lots of smart lawyers," Fasi says. "But Linda has common sense, which isn't found in vast abundance among most lawyers I know."
According to Fasi, this has given Meagher enormous credibility with opposing counsel. On more than one occasion, for the same client, she has evaluated damages, reviewed case law and then simply convinced the plaintiff's counsel to dismiss the case.
"The client jokes that sending cases to Linda results in a disappearing act for that case," Fasi says.
Bob Angeli remembers when Meagher represented his family in a dispute with a contractor who'd done shoddy work on his home. Her demeanor in front of the judge created a relaxed atmosphere.
"It has to do with her confidence," Angeli says. "Sitting in front of the judge I could tell the difference between her relationship with him [and that of opposing counsel]. It seemed more respectful. He respected her knowledge of the law and how to behave in court without making anyone intimidated or uncomfortable."
Angeli's 11-year-old gamer son was more succinct in his praise. "She pwned it!" he told his father.
Always arguing
The closeness between Vogt and Meagher has only grown stronger over the years. They don't do lunch, nor do they discuss work much as they did earlier in their careers, but they see each other most weekends and at a family home on Lake Wisconsin. They're still best friends.
"Heidi is the first one I call to share something—good or bad—and her advice is always well thought out and insightful," Meagher says. "Heidi has been at my side through a lot of ups and downs of life. If I ever need anything, Heidi is there."
Heidi's response is nearly identical.
"Linda has a wickedly good sense of humor and always makes me laugh," Vogt says. "She is there for me all through the ups and downs in life. She has been my confidant since we were little girls. No matter what the circumstance, I know I can count on her. … I don't know what I'd do without her."
As well as the diplomatic skills they developed sharing a room, Meagher and Vogt learned by watching the example set by their parents, both of whom are good listeners and hard workers. Wess Vogt worked three jobs as a med student, while their mother, Sally Alexander, a nurse, got two college degrees while raising four kids.
Meagher says their father also set them on their current path by engaging them in discussions about politics and current events.
"He was always arguing with us," Meagher says. "I like to tease him that he got two lawyers for a reason."
Search attorney feature articles