When to Consider Mediation in a Business Dispute
ADR specialists share insight on what makes a successful mediation
By Trevor Kupfer | Reviewed by Canaan Suitt, J.D. | Last updated on July 3, 2023 Featuring practical insights from contributing attorneys Jerome F. Rock and Gene J. Esshaki
Use these links to jump to different sections:
Mediation and other forms of alternative dispute resolution (such as arbitration) have been growing in popularity for years—and the vast majority of cases are now resolved this way.
But Gene Esshaki recalls doing it before it was cool—or formally recognized.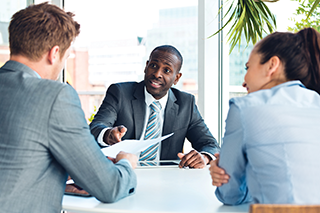 "A judge would call me up and say, 'Look, this case has got a real problem. You know the two lawyers. Would you sit down and talk to them to see if you can't help me out on this, get it resolved?'" recalls Esshaki, an ADR attorney at Abbott Nicholson in Detroit.
"That's how we used to do mediations. Now it's formally certified by the courts." 
How Mediation Works
The approach is simple: The disputing parties and their attorneys agree on a neutral third party to be a facilitator, then take a seat at the negotiation table in good faith.
"Both sides have to accept that they must negotiate and compromise, and agree to a settlement," says Jerome F. Rock, a mediator and arbitrator in Grosse Pointe Park.
"There are perhaps hundreds of permutations of involving a neutral third party in a conflict. But with mediation, specifically, I've seen the shift in attitudes toward it since the first formal training in Michigan back in 2002. Since then, it has really become high on the radar of not only attorneys but businesspeople. Certainly, anyone who has been in litigation is anxious to pursue alternatives."
Esshaki says business conflicts are especially well-suited for mediation. Commercial contracts have commonly called for binding arbitration, Rock adds. But the American Arbitration Association has a provision to divert cases to mediation, and businesses are increasingly calling for mediation in their contracts.
The Benefits of Mediation
The biggest advantage, Esshaki notes, is "tremendous cost savings."
Time is money, and mediation commonly saves both—although, it can vary. This makes the mediation process especially appealing to business owners, since this type of conflict resolution and problem-solving often ends in a win-win.
"When I start a case, I never know how long it may take. Is it going to take three hours? Is going to take eight hours? Will we have to come back another time? I simply do not know," he says.
How it shakes out often depends on the type of case, Rock says. "The no-fault auto cases are really down to a streamlined pattern. Both sides have learned the game, and usually have it done in two to four hours. Business cases tend to be more specialized," he says.
Both Rock and Esshaki say the majority of cases can be resolved in one mediation session, "but you can't be 100% on anything," Rock says. "So if not, we don't want them to give up hope, so we assess what needs to be accomplished before we reconvene. A breather might be needed—high emotions need to be cooled. It might be more facts or resources are needed. There are a host of reasons why it might not conclude in one session, but that's the expectation."
The other big advantage, says Esshaki, is risk management.
"If you've been sued for a million dollars and you're going to take it to court and there's a jury, the jury is going to make the determination that you owe $1 million, or zero, or anything in between. These are strangers to your business—just ordinary residents of the community who are going to decide. That's not good risk management. Once you turn it over to a jury, you have no impact whatsoever on the results."
Tips for Finding a Qualified Mediator
As for how to find a good mediator, Esshaki says an experienced attorney will know several to suggest. Commonly, one side will suggest some names to the other and pick one; or, if they don't like the list, they'll provide a list of their own. "Generally, there's never any problem for good lawyers to pick a good mediator," he adds.
Other than experience and reputation, clients are increasingly looking for subject matter expertise in a mediator.
"In 2002, the training protocol did not acknowledge the advantage of specialized skills or knowledge of the mediator, but now they do," says Rock. "Over the past 19 years, I've seen the needle change dramatically. Now people are looking for mediators with subject matter qualifications—in the IT field, in construction, and in different industries like automotive, for example."
In the end, the concept sells itself.
"Litigation is likely to end in dissatisfaction and disappointment by both sides," says Rock. "A lot of times, businesses are looking to minimize the total cost, so they don't have to win on every issue. It's often more important to have a quick resolution, and mediation is just that."
Get an Experienced Business Mediator
Traditional litigation is typically time-consuming, expensive, and contentious. Court proceedings also leave all the big decisions to a judge or jury, outside the parties' control. In mediation, the disputing parties drive the decision-making and negotiate the settlement terms with the help of a mediator.
If you're interested in using the alternative dispute resolution process to reach a settlement agreement, contact an attorney who does mediation for legal advice about next steps. For business disputes, look for an ADR attorney with a background in business law.
For more information on this area of law, see our overview of alternative dispute resolution.
What do I do next?
Enter your location below to get connected with a qualified attorney today.
Attorney directory searches
Find top lawyers with confidence
The Super Lawyers patented selection process is peer influenced and research driven, selecting the top 5% of attorneys to the Super Lawyers lists each year. We know lawyers and make it easy to connect with them.
Find a lawyer near you