How to Prepare for Business Bankruptcy
Georgia attorneys give their advice
By Kenna Simmons | Last updated on August 25, 2022
Anticipating a company's restructuring or bankruptcy can mean the difference between survival and collapse.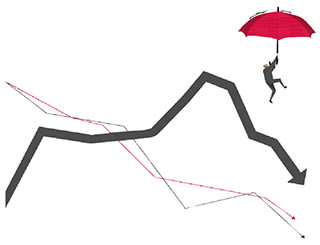 "Bankruptcy is expensive and, to some extent, you cede control of the company," says Todd Meyers, chair of Kilpatrick Townsend's bankruptcy and financial restructuring team in Atlanta. "Even in Chapter 11, while the management stays in control of the company, you need to disclose things to the court that a private company would not otherwise need to make public."
Shayna Steinfeld, who specializes in bankruptcy practice at Steinfeld & Steinfeld in Atlanta, says a judge once referred to it as having "financial underwear on display." That's one reason attorneys suggest exploring alternatives before turning to bankruptcy. "To me, it's a last resort," Steinfeld adds. "It's not the easy answer that many people think it is."
With Chapter 11, a company can sell some or all of its assets, or restructure financially, with a court-approved reorganization plan. Out-of-court restructurings are also possible.
"You have a business and it's not going to be able to restructure on its own," says Mark Maloney, a partner in the financial restructuring practice at King & Spalding. "You may need to sell the business assets to a third party. A lot of parties aren't going to be willing to pay anything close to full value for a business unless they have assurances they are buying the business free and clear of any legacy claims. Bankruptcy allows you to do that."
And most people do opt for a sale, says John Isbell, a partner in the business restructuring, creditors' rights and bankruptcy practice group at Thompson Hine in Atlanta. "They do what's called a 363 sale, which is a sale of the company that's not in a reorganization plan. Almost all Chapter 11s today—I'd say 90 percent—result in a sale rather than a plan that converts that to equity or brings in new investors. It's just faster, easier and cheaper, and typically creditors don't want to become equity holders."
Even if the owner's desire is to restructure, creditors may believe the best resolution is a sale, says Meyers. "You can expect that the business may be in play once it's in bankruptcy," he says.
Either way, preparation is key.
"If you don't have it planned pretty precisely on the front end, you're very likely to fail," says Maloney. "You can't go in and just see how things go." One of the first things to ascertain, he says, is the level of cooperation the company is likely to receive from its lender.
Isbell tells his clients that every day of preparation before they file Chapter 11 is the equivalent of two days in bankruptcy. After filing, company leaders will confront questions right away: first-day motions "to keep the doors open for business, keep employees and suppliers paid," he says. Then they get the big questions: "'Are you going for a sale process in 90 or 120 days? Are you going to try to stabilize the business, then do some sort of reorganization with a debt for equity swap?' So you have the immediate flurry of activity, then you've got to start making the hard decisions."
Some clients choose a pre-packaged bankruptcy, in which a financial reorganization plan agreed upon by creditors is filed close to the same day as the Chapter 11 filing. In those cases, says Steinfeld, a client could be in and out in 60 to 90 days. In other cases, it could take many months, or even years. "There are so many variables, depending on the main creditors involved, what your debt is, how aggressive your chief creditor is going to be, whether you can get financing," she says. "Are you dealing with the IRS? Are you working with a judgment creditor? It's so different depending on the case."
That's one reason these attorneys suggest hiring a financial expert with experience in distressed companies. "Especially if you are a medium-sized business or larger, you need to consider hiring a chief restructuring officer to guide you through the process," says Meyers. "It allows the CEO and CFO to run the company and not be distracted with what could be a full-time job running the bankruptcy."
Adds Maloney: "A successful restructuring is really a marriage between experienced legal professionals and experienced financial professionals. You need somebody who knows what's around the next corner, who knows how to look at things from a restructuring standpoint. In my experience, it's almost always worth the cost."
For general information on Georgia bankruptcy, bankruptcy law, Chapter 7 bankruptcy, Chapter 13 bankruptcy, Chapter 11 bankruptcy, bankruptcy court, bankruptcy attorneys (bankruptcy lawyers), bankruptcy cases, filing bankruptcy, the bankruptcy process, and liquidation, see our bankruptcy overview.
What do I do next?
Enter your location below to get connected with a qualified attorney today.
Additional Bankruptcy articles
Attorney directory searches
Helpful links
Find top lawyers with confidence
The Super Lawyers patented selection process is peer influenced and research driven, selecting the top 5% of attorneys to the Super Lawyers lists each year. We know lawyers and make it easy to connect with them.
Find a lawyer near you