How to Win a Brain Injury Lawsuit
Insight into the process of bringing a brain injury lawsuit
By Canaan Suitt, J.D. | Last updated on May 5, 2023 Featuring practical insights from contributing attorney Jason M. Lichtenstein
Use these links to jump to different sections:
Thousands of people suffer traumatic brain injuries (TBI) every year. TBIs can result from many everyday incidents, including sporting accidents, auto accidents, and slip and falls.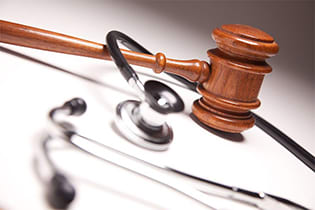 "The brain controls a lot of different functions of your body," so the impacts of a TBI are potentially severe and wide-ranging, says Pennsylvania personal injury lawyer Jason M. Lichtenstein. TBIs can cause permanent cognitive impairment, memory loss, and other disabilities in addition to expensive medical bills, lost wages, and loss of enjoyment in life.
If someone is responsible for causing the brain injury, it's possible to bring a personal injury lawsuit against them in order to recover money damages for injuries and expenses.
This article will explain what generally must be proven in a brain injury case and when it's a good idea to get an experienced personal injury attorney to take your case.
Liability in a Brain Injury Lawsuit
Traumatic brain injuries range from mild TBIs such as concussions to severe TBIs that involve objects impacting or penetrating the skull. TBIs require immediate medical care and may have short and long-term health impacts.
Depending on what caused your injuries, there are different things you'll need to prove to win a brain injury lawsuit. Below are some of the common types of brain injury claims:
Negligence
Many brain injury cases involve a negligence claim, meaning that your brain injuries were caused by someone acting negligently. There are four elements to a negligence claim:
Duty
We expect others to act with an appropriate level of caution when going about daily activities, such as driving a car or using a machine like a lawn mower. Legally speaking, this expectation is called the duty of reasonable care.
What's considered "reasonable" varies from one context to another—there are different expectations about safety in the construction industry or medical profession versus everyday life. People in specialized industries are expected to act the way other professionals in that industry would act, and to be familiar with safety guidelines and rules.
Breach
A breach occurs when someone fails to exercise reasonable care in their actions—for example, a worker didn't follow safety procedures when operating a machine.
Causation
Causation means that the person's breach of duty is what caused your injuries. There are two types of causation:
Actual causation. This simply means the person's actions (as opposed to some other random factor) are what caused your injuries.
Proximate cause. The injuries you suffered were a foreseeable result of the person's negligent action. For example, getting a severe headache is a foreseeable result of a head injury, whereas getting a toenail infection is not.
Damages
The last thing you must prove in a negligence case is that you were harmed by the person's negligent actions. For example, you must show that because of the person's breach of duty, you suffered brain injuries that resulted in medical expenses, lost wages, or other economic harms.
In other words, your damages are what you are seeking compensation for in a lawsuit.
Medical Malpractice
Most medical malpractice claims are simply negligence claims applied against doctors or other medical professionals. The four negligence factors analyzed above—duty, breach, causation, and damages—apply straightforwardly in medical malpractice cases.
Examples of negligence in the medical context include:
Negligently prescribing medication or the use of medical devices
Negligently failing to get informed consent
Failing to exercise reasonable care during surgery or another medical operation
If a doctor's negligent actions resulted in brain injury or some other injury, speak with a lawyer about suing the doctor for malpractice.
Workers' Compensation
If your brain injury occurred while working for your employer, you may be able to bring a workers' compensation claim for lost wages, lost earning potential, and medical expenses.
It's important to note that workers' compensation claims function as an alternative to a lawsuit. That is, an injured worker accepts workers' comp instead of filing a lawsuit against their employer.
It's worth speaking with a lawyer if you or a family member has suffered a brain injury on the job to figure out if a workers' comp claim or other legal action is the best strategy for getting a satisfactory settlement.
Brain Injury Symptoms and Statutes of Limitations
What if you only notice the negative effects of a brain injury years after it occurred? Can you still take legal action even though a lot of time has passed?
This answer depends on two things:
Exactly how much time has passed since the incident
Your state's statute of limitations and discovery rule
A statute of limitations is a law that says how long people have to bring a lawsuit after an incident occurs. Timeframes vary from state to state and can be as little as a year or as many as several years.
In addition to how long the statute of limitations is, states also differ on when the clock starts ticking:
Infant Brain Injuries
For infants who are injured, the statute of limitations doesn't start counting down until their eighteenth birthday in Pennsylvania, says Lichtenstein. The statute of limitations for infant brain injuries will vary depending on where you live.
Regardless of the timeframe, "if you have a child involved in an accident who may have sustained a brain injury, you should not be settling that case until you're absolutely sure that you have qualified opinions saying the child has not sustained any developmental damage," he says.
Adult Brain Injuries
For adults, brain injury "symptoms usually begin right away," says Lichtenstein. However, "sometimes people hit their head and sustain an injury but don't think it's a problem or do anything about it, and it gets worse."
For example, this can happen in "cases where an initial trauma causes a slow-acting brain bleed and the plaintiff has no idea until the pressure from the blood causes some new symptom, which can be weeks after the initial accident," he says.
"It's imperative to get medical attention as soon as possible to rule out things such as a brain bleed, which if left undetected can become a very serious issue for life."
To avoid missing deadlines in bringing a lawsuit, it's essential to talk with a lawyer about your state's statute of limitations and how long you have to file a lawsuit from the time of your brain injury.
Preparing for Success in a Brain Injury Case
If you plan to bring a lawsuit, it's important to compile evidence showing the cause of the brain injury and its effects on you. Helpful evidence includes:
Medical records
Testimony from medical experts
Witness testimony
"From a legal perspective, it's very helpful for plaintiffs to see medical professionals as soon as possible after an accident to determine whether the accident caused their injuries," says Lichtenstein.
Establishing the connection between an accident and injuries is essential. A common way defense lawyers argue against brain injury claims is by saying: "The plaintiff didn't complain about their injuries until a week after the accident, and we think these complaints are unrelated." Defense lawyers may then conclude that their client "was not negligent," he says.
To prove brain injury claims, the plaintiff's lawyer "works with the plaintiff's treating physician to delineate exactly how the trauma from the accident exacerbated an underlying condition or caused a new condition," says Lichtenstein.
"If I have a client with a history of depression at the time of the accident, I'm going to make sure that the client's doctor believes and is comfortable saying the head injury exacerbated the underlying baseline conditions that pre-existed the accident," he says. "Otherwise, the jury will hear private, personal information about the plaintiff's emotional background, which may be detrimental to the claim."
A personal injury lawyer with experience in brain injury lawsuits will be able to help compile the evidence and have medical experts testify on your behalf.
What You Can Recover in a Lawsuit
When it comes to brain injury settlements, damages can include:
Medical bills
Earning capacity
Lost wages
Attorneys' fees
Punitive damages
It's a good idea to speak with a lawyer before accepting any settlement offer from an insurance company.
Often, insurance adjusters who evaluate brain injury claims will push for a settlement value below what you can get through further negotiation. An experienced attorney can ensure you get the best possible settlement.
Insurance companies might say to a consumer who has no knowledge or experience: "Hey, you were involved in an auto accident and sustained X, Y, and Z injuries—I'm going to give you X amount to settle your case," says Lichtenstein.
"To most people that amount might sound like a huge sum of money," he says. However, "once a seasoned personal injury attorney who works with the plaintiff's doctors handles the case, and realizes there may be ongoing effects, that value is a pittance for what most lawyers get for the case."
"A good plaintiff's lawyer will not only help maximize financial recovery—they will ensure that the injured plaintiff gets the proper medical attention and care," says Lichtenstein. An experienced lawyer will also "take into account how the brain injury will impact the person's ability to make a living in the future and how much future follow-up medical care will be needed."
Questions for an Attorney
If you or a loved one has experienced a brain injury, it's important to get legal advice from a personal injury attorney as soon as possible. An experienced brain injury attorney can help navigate you through the legal process and ensure you get a fair settlement.
Many attorneys give free consultations to prospective clients. These meetings are an excellent resource for both attorney and client because it allows the attorney to hear the facts of the case while the client can determine if the attorney and law firm meets their needs.
The best way to decide whether an attorney is the right fit is by asking informed questions. Here are some good questions to ask during your initial conversations:
What are your attorneys' fees?
What is the statute of limitations for bringing a traumatic brain injury case?
What kind of lawsuit should I bring?
What are the chances of a brain injury settlement in my case?
Once you speak with a lawyer, you can decide whether to hire them and begin an attorney-client relationship.
Finding the Right Attorney for Your Needs
It is essential to approach the right type of attorney—someone who can give you legal help through your entire case. You can visit the Super Lawyers directory and use the search box to find a lawyer based on your legal issue or location. 
For brain injuries, look for a personal injury lawyer with experience in brain injury cases.
What do I do next?
Enter your location below to get connected with a qualified attorney today.
Additional Brain Injury articles
Attorney directory searches
Helpful links
Find top lawyers with confidence
The Super Lawyers patented selection process is peer influenced and research driven, selecting the top 5% of attorneys to the Super Lawyers lists each year. We know lawyers and make it easy to connect with them.
Find a lawyer near you