How to Hold a Business Owner Personally Liable
Creditors can pierce the corporate veil of shady New Jersey businesses
By Doug Mentes, Esq. | Last updated on January 11, 2023
Use these links to jump to different sections: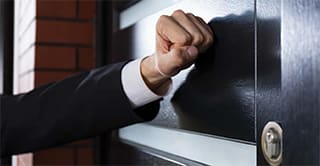 Liability protection is the most significant benefit to incorporation or forming a limited liability company (LLC). However, that protection can be lost if owners take advantage of the corporate entity and business structure. New Jersey case law contains a lengthy list of examples of the various ways corporate owners have attempted to use the corporate entity to skirt their legal obligations. That conduct then allows creditors access to the personal assets of the business owners. To determine if a business entity you are doing business with is at risk of losing its personal liability protection, creditors should understand the factors courts watch out for.
What Is Piercing the Corporate Veil?
Corporations are created to exist separate from their owners. Incorporation provides owners protection—or a veil—against personal liability for business debts and claims. However, owners can lose that protection if they take advantage of the corporate form for their own personal gain, allowing the creditor to pierce the veil. New Jersey law requires a creditor to demonstrate a debtor corporation or LLC was used to perpetrate fraud, evade its legal obligations, or, in general, defeat the ends of justice. A common example is a creditor attempting to collect its debt from ABC Corporation. Instead of paying the debt, the owners of ABC close the business and restart another similar new business, XYZ Corporation. That maneuver puts the business assets out of reach from the creditor. This is an attempt by the owners of ABC Corp. to take advantage of the corporate form to avoid a legal obligation. The creditor has a clear claim to lift the corporate veil and access the owners' personal assets. Courts will evaluate whether an owner of a corporation so dominated the corporation that it had no separate existence, but was merely a conduit for the owner. Over the years, some obvious factors have developed that tend to show the corporation was, in essence, just an alter ego of the individual.
There is little separation between owner and corporation. For example, owners pay personal bills with corporate bank accounts or make important corporate decisions on behalf of the company without documenting those decisions.
The entity failed to observe corporate formalities like holding board meetings, keeping minutes, and adopting bylaws.
The entity was grossly undercapitalized, meaning it had inadequate funds or assets to operate the business.
The corporation rarely pays out dividends to shareholders.
No single factor will show the corporation is a sham, undivided from its owners. Creditors need to demonstrate that multiple factors, taken together, weigh in favor of finding the corporation is a façade. The same may be found with a parent corporation and its subsidiaries. If the factors above point to the subsidiary being a sham, its corporate veil can be pierced to get to the parent corporation's assets.
How To Protect Your Business From Veil-Piercing
Shareholders and members of corporations and LLCs can take steps to prevent their business from being at risk of veil-piercing. Fortunately, these are all simple steps, including:
Observe formalities: Follow New Jersey law on corporate or LLC requirements by creating bylaws, issuing stock, maintaining up-to-date corporate minutes, using proper accounting methods, filing annual reports, and holding regular board meetings with all directors.
Avoid co-mingling: Do not comingle corporate assets with assets of owners or shareholders; all corporate assets should be titled in the corporate name. The business should have its own separate banking accounts. Loans and other transactions between owners and the business should be properly handled and documented.
Capitalization: Appropriately capitalize the business—meaning have the necessary assets and revenue to pay obligations, often demonstrated through the purchase of liability insurance.
Multiple corporations: Avoid identical stock ownership of several corporations. Avoid having similar officers and directors. Use different business addresses, telephone numbers and employees.
Employment agreement: Owners should have one if they are employed by their business.
Labeling: Identify the business as a corporation or LLC by using its status, "Inc." or "LLC" on all communications.
Whether you are a creditor attempting to recover from a corporation or LLC or a corporate owner looking to protect your personal assets from being exposed to creditors, you should consult with an
experienced New Jersey corporate attorney
. A business law attorney can provide legal advice to owners and the best course of action for your type of business. For more information on this area, see our
business litigation overview
.
What do I do next?
Enter your location below to get connected with a qualified attorney today.
Attorney directory searches
Helpful links
Find top lawyers with confidence
The Super Lawyers patented selection process is peer influenced and research driven, selecting the top 5% of attorneys to the Super Lawyers lists each year. We know lawyers and make it easy to connect with them.
Find a lawyer near you