How to Sue If You're Assaulted by Police or Prison Guards
Your civil rights when it comes to police brutality in Massachusetts
By Katrina Styx | Reviewed by Canaan Suitt, J.D. | Last updated on May 4, 2023 Featuring practical insights from contributing attorney Howard Friedman
Use these links to jump to different sections:
Unfortunately, police brutality and prison abuse remain serious problems in Massachusetts and throughout the United States.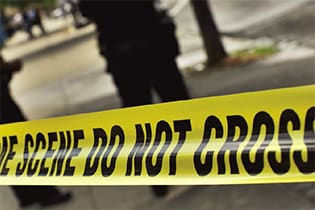 While aggressive (even deadly) law enforcement tactics may be deemed legally justified in some cases, officers have a duty to respect the rights of individuals.
If you were assaulted by a police officer or a prison guard, you may have a viable civil rights lawsuit. Below, you will find an overview of the most important things you need to know about police brutality and prison guard abuse claims in Massachusetts.
Excessive Force and Prison Abuse: Civil Rights Lawsuits
Enacted as part of the Civil Rights Act of 1871, Section 1983 of federal law protects victims of police misconduct. Under the statute, any individual can hold government employees and government entities—including local governments and law enforcement agencies—liable for civil rights violations.
"It's a good statute in that you can collect money damages; you can get injunctions; the other side can be made to pay your attorney's fees; and you can get punitive damages," says Howard Friedman, a civil rights attorney in Boston.
What is required for a Section 1983 lawsuit to succeed? Specifically, plaintiffs in an excessive force or prison guard abuse civil rights lawsuit must prove two key things:
The assault, abuse or misconduct occurred under the "color of state law," or while the official was working for the government
The victim was deprived of their constitutional rights, privileges or immunities
Federal civil rights law differs from most other areas of law when it comes to holding a government entity accountable. "The employer is not required to pay a judgment just because an employee did something and was found liable," Friedman says. "And so, in order to hold a local government entity responsible … you have to show that the constitutional violation was caused by a policy or a custom of the city."
The Difference Between Police and Prison Abuse Cases
While both prison guard and police abuse cases are tried under the same law, there are some differences. The Prison Litigation Reform Act limits prisoners' ability to bring cases. You must have a physical injury, and you cannot bring a case while you're in custody at a federal or state prison.
"If you're illegally strip-searched and you have no physical injury, you cannot bring a case while you're in custody," Friedman says. "But if you're in jail and you're released, whether it's the next day or six months, as long as it's within the statute of limitations, the Prison Litigation Reform Act does not apply."
Police brutality cases can be complicated because plaintiffs often have been charged with a crime and are already working with a criminal defense attorney. "If you have a criminal case pending, the [civil rights] lawyer should be coordinating with the criminal defense attorney," Friedman says.
In cases involving police, one of the most common defenses governments will raise is qualified immunity. "The general idea is supposed to be that police officers should be liable if the law wasn't clearly established so a police officer would know it," says Friedman. "But it gets very complicated. So the courts will say 'Well, there hasn't been a case exactly like this one,' and sometimes limit it to very, very specific facts."
Three Steps to Protect Your Rights
Whether dealing with police or prison staff, there are a few things you can do to protect your rights.
Get Any Necessary Medical Attention
Law enforcement officer or correctional officer assault can lead to very serious—potentially even life-altering—injuries. If you or your loved one was hurt by an officer, immediate medical attention is a must. Make sure you get yourself evaluated by a qualified doctor. If you have been injured in prison, it's best to request a hospital visit. "If you can get them to send you outside to get medical treatment in a hospital, that is likely to be better," Friedman says.
However, Friedman says, it's not a good idea to see a doctor just to build a case. "What's important is, if you need treatment, you get treatment," he says. "But you don't go for treatment because you want to bring a lawsuit. If you go into a hospital and say, 'I'd like you to examine me because I'm thinking of suing the police,' they will write that down."
Secure and Organize All Relevant Evidence
It must be made clear that excessive force/police brutality lawsuits are complicated legal cases. To prevail in a civil rights lawsuit, a plaintiff needs supporting evidence. To the best of your ability, try to secure all evidence relevant to the assault or abuse. This includes everything from witness statements to social media posts, physical evidence, phone calls, cellphone video and video recorded by the agency. "These videotapes are often destroyed within a month," Friedman warns. "It varies from place to place, but getting a preservation letter out is very important."
Contact a Massachusetts Civil Rights Attorney
Do not go up against law enforcement or governments on your own. "[You] need to have a lawyer who knows the area of law," Friedman says. "It's not an easy area of law."
If you or a family member was the victim of police brutality or jailhouse abuse at a department of corrections, contact a law firm, and an experienced Massachusetts civil rights lawyer will be able to review your case, advise you on your options, and help you take action to protect your rights. For more information on this area of law see our civil rights overview.
What do I do next?
Enter your location below to get connected with a qualified attorney today.
Attorney directory searches
Helpful links
Find top lawyers with confidence
The Super Lawyers patented selection process is peer influenced and research driven, selecting the top 5% of attorneys to the Super Lawyers lists each year. We know lawyers and make it easy to connect with them.
Find a lawyer near you