The Compensation Types in a Medical Device Lawsuit
Your potential compensation in a successful Arkansas mass tort case
By Super Lawyers staff | Reviewed by Canaan Suitt, J.D. | Last updated on May 4, 2023 Featuring practical insights from contributing attorney Christopher D. Jennings
Use these links to jump to different sections:
Patients should be able to trust that prescription drugs and medical equipment they receive are safe. Medical device manufacturers have a legal responsibility to ensure that their products are properly tested, designed, and manufactured. Profits should never come before people.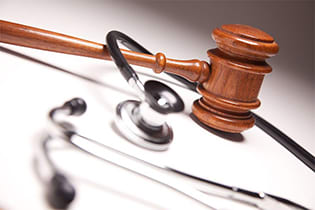 When a patient is injured or made ill by a defective medical device, a negligent manufacturer may be held legally liable for the resulting damages. Under Arkansas's statute of limitations, a plaintiff has three years from the date of discovering that their injury/illness may have been caused by a defective device or drug to bring a product liability claim against a negligent medical device maker.
Many Defective Medical Device Claims are Mass Tort Lawsuits
Medical device cases, such as hip implant or hernia mesh cases, are often thought of as class action product liability cases, but commonly fall under mass torts, says Christopher D. Jennings, a personal injury attorney at Johnson Firm in Little Rock.
"In a class action setting, such as a consumer product or data security breach, the damages are largely economic and there is a formula that can be derived for figuring out the actual damages," Jennings says.
"So, most of the affected people's damages will be fairly close together—for example, with overdraft fees based on improper charges, you can see what people actually paid to determine their damages."
Calculating damages is different in mass tort cases, continues Jennings. "In the mass tort settings, where defective devices or drugs are concerned, it depends on the individual circumstances of each case and how each person was physically injured. You'll have a spectrum of damages. For example, [say a] person was implanted with a recalled hip that required a revision procedure. [Beyond that], everything was largely OK. That person's situation would be different from a case where the implant itself caused serious injuries or even death. The spectrum is expanded for those types of cases."
Types of Compensation in a Defective Medical Device Claim
For the most part, personal injury compensation, including product liability compensation, is designed to account for the injured victim's actual damages. In Arkansas, injured patients may be eligible to recover financial support for both economic and noneconomic losses in a defective medical device case.
Depending on the nature of your defective medical device claim, compensation may be available for:
Medical Bills: First and foremost, plaintiff can seek compensation to cover the cost of medical care. To be clear, this includes both medical bills that have already been incurred and the anticipated costs of future medical care, medical products and rehabilitative treatment.
Lost Wages: A defective medical device could stop a patient from returning to work in a timely manner. If you suffered lost wages, compensation may be available.
Pain and Suffering: Defective medical devices may cause patients to endure tremendous pain and suffering—potentially including additional surgeries or operations. Through a product liability lawsuit or negligence claim, plaintiff can seek financial compensation for this non-economic loss.
Wrongful Death Damages: Tragically, a defective medical device could have fatal consequences for an innocent person. Close family members of the victim may be eligible to recover wrongful death damages from the negligent manufacturer.
Using Jennings' example, the person with the recalled hip may easily argue for compensatory damages such as the cost of the medical procedure, lost wages, and other outside expenses that stemmed from it. And though their pain and suffering may be less than the second example, it's still worth arguing, "since they shouldn't have had to go through another surgery," Jennings says. "They're spending six weeks to six months to recuperate, and they should be compensated for that."
How Much Is My Case Worth?
While compensation depends on an individual's situation, settlements in defective medical device lawsuits often have criteria that help establish damages.
"Say you were implanted with a device or product, and you didn't have a lot of problems; your baseline might be $50,000," Jennings says as an example. "But if you had different complications, you check the boxes, and your baseline increases for each you satisfy."
Commonly mass torts litigators are paid a percentage of the recovery—Jennings says it typically ranges from 33 to 40 percent in Arkansas. As for when you receive payment, it depends on the litigation, but in settlement programs, it commonly takes six to 12 months before payments are made.
"It depends on lien and other cost issues. So, if you're a Medicare or Medicaid recipient, and different health insurances can factor in, those types of things need to be resolved or satisfied before you receive money," Jennings adds.
In addition to the percentage fees paid to attorneys, other costs may arise as part of developing and arguing your case—say, expert testimony in a trial. These also commonly come out of your reward payment.
Many attorneys will provide free consultations to discuss your claim. Though a defective medical device lawyer will discuss their fees during the initial consultation, what the case will cost and how much you stand to gain can be difficult to predict at the outset. However, a reputable medical device attorney should keep you apprised of your situation and disclose information as it becomes clear.
For more information on these kinds of lawsuits, see our overviews of medical devices and class action and mass torts.
What do I do next?
Enter your location below to get connected with a qualified attorney today.
Attorney directory searches
Find top lawyers with confidence
The Super Lawyers patented selection process is peer influenced and research driven, selecting the top 5% of attorneys to the Super Lawyers lists each year. We know lawyers and make it easy to connect with them.
Find a lawyer near you