Understanding Oregon's Measure 110
Oregonians still face penalties for violations under the new drug policy
By Katrina Styx | Reviewed by Canaan Suitt, J.D. | Last updated on May 1, 2023 Featuring practical insights from contributing attorney Bryan Boender
Use these links to jump to different sections:
In 2020, Oregon voters approved Measure 110, a new law that decriminalizes possession of small amounts of certain "street drugs." It is the first state to take steps on drug decriminalization. The law went into effect Feb. 1, 2021, but that doesn't mean these drugs are completely legal.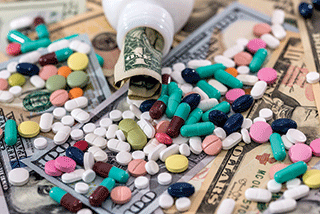 "It is still illegal to possess any controlled substances in Oregon under federal law," says Bryan Boender, a criminal defense attorney in Eugene. "Only Oregon state law has legalized marijuana for adult recreational or medical use. Additionally, under Measure 110, cocaine, methamphetamine, LSD, oxycodone, heroine, psilocybin mushrooms, MDMA, et cetera, have been decriminalized. Those drugs have not been legalized. And I want to repeat that: they have not been legalized."
Rather, Measure 110 reduces the penalties for drug possession for small amounts of controlled substances, reducing from a class A misdemeanor to a class E violation. The new policy makes it similar to a speeding violation: it's still against the law, but in most cases, you won't pay the price in jail.
Decriminalization vs. Legalization
While they might sound like the same thing, decriminalization and legalization are very different. "Legalization [means] I can purchase a product and possess a product and use a product with no criminal consequences," Boender says.
For example, Oregon state law has legalized recreational cannabis for adults. "[Adult] consumers can go into stores that are licensed and regulated by the state of Oregon and consumers can purchase certain quantities of marijuana … and they can use marijuana so long as they use marijuana responsibly and they're of the proper age."
Decriminalization, under the context of Measure 110, means that possession of small amount of a controlled substance is still illegal, but it's not considered a crime in the state of Oregon. "The distinctions are, crimes result in convictions and jail time," Boender explains, adding that convictions may also have to be disclosed on background checks or other documents. Non-criminal violations still have consequences, often in the form of fines.
In the case of Measure 110, also known as the Drug Addiction Treatment and Recovery Act, the fine is $100, but can be waived if the individual completes a health assessment on the phone with an addiction recovery center. The focus with the measure is on behavioral health services for drug use, including harm reduction and other recovery services.
Possession of Larger Amounts is Still a Crime
It's important to note that Measure 110's decriminalization only applies to small amounts of certain controlled substances under state law. "Measure 110 does not change the law much with respect to quantities over 2 grams," Boender says, "and then, when you start getting into larger or substantial quantities, you're talking about what could be a felony… There are still criminal penalties for larger quantities and there's still criminal penalties in the federal system."
Boender notes that possession in small amounts is still a federal crime, and Oregon's law does not change that. "So, for instance, if a person were possessing controlled substances in a national park or a federal property and they were confronted by federal law enforcement, they can expect to be charged with a federal crime," he says.
Possession May Have Collateral Consequences
Beyond the possibility of a fine, those found to be in possession of small amounts of drugs could find themselves facing what Boender describes as collateral consequences.
For example, if you're a university student, it might impact your student aid. "We've represented many college students ranging across the spectrum of criminal conduct," Boender says. "I can tell you that when you're filling out the Free Application for Federal Student Aid (FAFSA), one of the questions it asks you is whether you've been convicted of a drug offense." While he hasn't seen any example of it yet, he says students convicted of possession even under Oregon law "may risk having their eligibility for federal student aid canceled."
Other consequences could include exclusion from employment or housing opportunities. "Employers can discriminate in hiring and promotion in terms of whether or not their employees are free from or have a history of possessing controlled substances," he says, noting that possession of drugs is not a protected class.
Measure 110 does have a protection for those in regulated occupations, such as hair stylists or construction contractors, stating that a violation doesn't make them unfit to hold an occupational license. However, other states where those individuals may seek or hold licensure aren't bound by Oregon law, and may treat the violation differently.
Immigration processes could be impacted as well. "Their background and conduct is at issue, and possessing even small amounts of a controlled substance could be very problematic," Boender cautions.
All that makes it even more important to seek out an experienced lawyer. "Anyone who's facing—whether it's a criminal or just a violation level possession—should seriously consider consulting with an attorney, because there may be far-reaching consequences beyond just the face of that citation or beyond just that conviction," Boender says.
Advice for Those Facing Law Enforcement
If you're being arrested by law enforcement for possession, even for a small amount, Boender has some advice:
Invoke your right to counsel.
Remain silent. "I don't think I've ever seen a case where a person talked their way out of something, but I've seen many, perhaps hundreds, of cases where people talked their way into trouble."
Do not resist, run from or argue with law enforcement.
Do not consent to a search.
"You do not have to consent to a search, you do not have to speak to the police, you have the right to request a lawyer, and that's going to help your lawyer down the road," Boender says. "Because if there was an illegal search and seizure, we'll be better positioned to defend you if you didn't speak to the police and you invoked your rights and refused to consent to search."
For more information about this area of law, read our overview articles on criminal defense and drug and alcohol violations.
What do I do next?
Enter your location below to get connected with a qualified attorney today.
Related topics
Attorney directory searches
Helpful links
Find top lawyers with confidence
The Super Lawyers patented selection process is peer influenced and research driven, selecting the top 5% of attorneys to the Super Lawyers lists each year. We know lawyers and make it easy to connect with them.
Find a lawyer near you