Sexting Can Land You in Jail
Child pornography and age of consent laws in Washington
By Judy Malmon, J.D. | Reviewed by Canaan Suitt, J.D. | Last updated on May 1, 2023 Featuring practical insights from contributing attorney Amy I. Muth
Use these links to jump to different sections:
It's a fact of modern life that we communicate extensively via text messages. An entire generation has grown up with the format, using social media platforms like Snapchat and Tinder.
So, what happens when the natural sexual exploration of being a teen collides with the digital age?
Is Cellphone Sexting Illegal?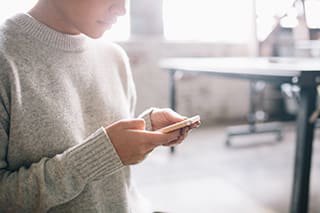 Sexting is an issue that has given rise in many states to a double standard that is difficult to reconcile: Even where it's legal for teens to consent to sex, it may be illegal for them to exchange nude photos, explicit consent notwithstanding. And not just illegal, but felonious—subject to life-altering punishment.
In 2017, the Washington State Supreme Court upheld a criminal conviction of an underage teen for second-degree criminal sexual conduct—requiring him to register as a sex offender—for sending a picture of his penis to someone over 18.
The decision to bring criminal charges was based on a law making it illegal to produce or disseminate child pornography.
The court noted in its brief opinion, "We understand the concern over teenagers being prosecuted for consensually sending sexually explicit pictures to each other. We also understand the worry caused by a well-meaning law failing to adapt to changing technology. But our duty is to interpret the law as written and, if unambiguous, apply its plain meaning to the facts before us."
Under the Washington state law entitled, "Dealing in depictions of minor engaged in sexually explicit conduct," there is no exception for consensual exchange of sexting images between teens, nor any lesser charge as the law is currently written.
On a practical level, it may be unlikely teens would be prosecuted under this law unless activity rises to a level to warrant complaint, but that's not exactly the kind of assurance teens or their parents would like.
The fact is: Sexting when under age 18 is a criminal act, even when the explicit photo is of yourself and even when everyone involved—subject, sender, recipient—agrees to the use of the image.
Sexting and Child Pornography Laws
Seattle criminal defense attorney Amy Muth, who represents clients caught in this situation, says sex crime charges can arise from a variety of circumstances.
"Often, it's because a parent stumbles upon a phone and comes across images and is not very happy about it. I've also seen situations where clients are prosecuted for another offense, and they get a search warrant for their phone that uncovers some of these images."
Muth notes the potential gap between the current law and its goal of addressing child pornography. "I understand and don't discount the pernicious effect of child pornography. But it's one thing when this is a nonconsensual setting and someone is being exploited, and another thing when teens have this communicative device, an extension of them communicating," Muth says.
"Particularly in Washington, where the age of consent is 16, and a minor is defined as under 18, but there is case law that says if it's legal to perform the act, then you can't be prosecuted for talking about it. Sexting has become normative adolescent sexual behavior. These are kids who are digital natives, and their phone is an assistive device in communication."
As to prosecution, it can be a crapshoot whether and how charges might be brought when underage sexual images are found on one's phone. Muth explains, "How these things are prosecuted is really a case-by-case determination, and depends a lot on what jurisdiction you're in. The prosecuting attorney's office has wide latitude in charging decisions. They might not be prosecuted at all, or they might be charged with misdemeanor dissemination of child pornography, with a less serious felony sex offense, or with a non-sex offense.
"Washington needs to figure out how the legal system handles these offenses, and the legislature needs to write a law that is not a felony sex offense that follows you for the rest of your life."
If You've Been Charged with a Sex Offense, Get a Criminal Defense Lawyer
If you or someone you know is facing sexting charges from law enforcement, it's critical to get legal advice from an experienced criminal defense attorney.
For more information on criminal cases and legal issues around sexual offenses, including potential prison sentences and sex offender registries, see our overviews of criminal defense and sex offense criminal law.
What do I do next?
Enter your location below to get connected with a qualified attorney today.
Related topics
Attorney directory searches
Helpful links
Find top lawyers with confidence
The Super Lawyers patented selection process is peer influenced and research driven, selecting the top 5% of attorneys to the Super Lawyers lists each year. We know lawyers and make it easy to connect with them.
Find a lawyer near you