We've Agreed to Joint Custody, But Now What?
How Rhode Island family courts decide placement, visitation and support
By S.M. Oliva | Reviewed by Canaan Suitt, J.D. | Last updated on May 2, 2023 Featuring practical insights from contributing attorney Deborah Miller Tate
Use these links to jump to different sections:
Child custody cases can be a contentious issue for separated or divorced parents, especially when there is disagreement over basic issues like who the child should live with and the non-custodial parent's visitation schedule.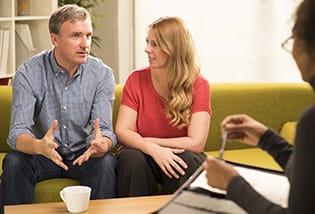 "I would tell a client that custody in Rhode Island has to do with who which parent has the ability to make the major decisions for their child's needs," says Deborah Miller Tate, a Rhode Island family law attorney at McIntye Tate in Providence.
"For the most part, we start out with a presumption that both parents are fit and proper to make those decisions together. The studies find that if both parents are involved in the children's lives, then its best for the children," she adds. "Very rarely is there a situation where there is sole custody just awarded to one parent making all the major decisions."
In many cases, the parents are able to reach a voluntary child custody arrangement.
Factors to Consider in Child Custody Decisions
Sometimes the parents will agree to a joint custody order. If they do not, Rhode Island courts are unlikely to order joint custody on their own initiative.
Indeed, if the parents are unable to agree on any or all custody issues, Rhode Island law requires a judge to act in the "best interests of the child" rather than parental rights.
What exactly does "best interests of the child" mean? There is no simple, fixed definition in Rhode Island family law. The Rhode Island Supreme Court has set out eight separate factors that a family court judge should consider:
The parents' wishes
The child's own "reasonable preferences," provided the judge determines the child has "sufficient intelligence, understanding and experience" to express their wishes
The child's relationships with the parents, primary caregiver, siblings, and any other family member or person who might "significantly affect their best interest"
How well the child is adjusted to their current home, school and community
The overall physical and mental health of the child, parents and family
Whether the child's current home environment is stable (i.e. free of stress and unpredictability)
The parents' "moral fitness" to care for the child, which refers to basic character traits like honesty, rather than adherence to a particular belief system
The parents' ability to cooperate with one another, and in particular each parent's willingness to facilitate the child's relationship with the other parent
Options for Custody, Placement and Support
As noted above, Rhode Island judges seldom order joint physical custody unless the parents agree to it beforehand. The court will more typically grant one parent sole physical custody (or "placement"), meaning the child will live with that parent on a day-to-day basis. Even if one parent has placement, the court may still grant joint legal custody, so that both parents retain decision-making authority over the child's education and health care.
If the court does grant sole legal custody and placement to one parent, it will make sure the non-custodial parent has "reasonable" visitation rights and parenting time. The non-custodial parent may also be required to pay child support. The State of Rhode Island publishes a set of child support guidelines that take into account the non-custodial parent's income and the number of children requiring support.
"We are seeing more and more parents who are either asking or agreeing to sharing placement—where the children essentially go back and forth between both parents' homes," says Tate. "However, I would still say, primarily, there is one parent who is determined to have physical placement of the children, particularly during the school year.
"It's still evolving," she adds. "It's not cookie-cutter anymore." The first step is to ask for legal advice from an experienced Rhode Island family law attorney.
If you'd like more general information about this area of the law, see our custody and visitation law overview.
What do I do next?
Enter your location below to get connected with a qualified attorney today.
Attorney directory searches
Find top lawyers with confidence
The Super Lawyers patented selection process is peer influenced and research driven, selecting the top 5% of attorneys to the Super Lawyers lists each year. We know lawyers and make it easy to connect with them.
Find a lawyer near you