How Can I Legally Smoke Marijuana in California?
Residents and tourists must understand the California laws to avoid legal issues
By Doug Mentes, Esq. | Reviewed by Canaan Suitt, J.D. | Last updated on May 16, 2023
Use these links to jump to different sections:
As of January 2018, it's legal to smoke marijuana or cannabis products for recreational use in the state of California. This is good news for the many residents and potential tourists to the state.
However, there are still many cannabis laws in place that restrict the use of THC in California. Residents and tourists must understand the marijuana laws or they put themselves at risk of not only a bad trip, but arrest.
Who Can Smoke Recreational Marijuana?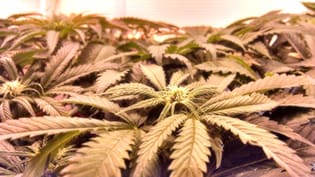 Under current California cannabis law, adults ages 21 years and over, whether a California resident or not, can smoke weed.
An individual can purchase, daily, approximately 1 ounce (28.5 grams of cannabis) of the smokable stuff—as well as small amounts of oils, edibles, concentrate, vape and similar products.
Adults between 18 and 21 years of age can only smoke medical cannabis, with a physician's recommendation, or state of California medical marijuana ID card.
You can purchase marijuana at one of the several hundred marijuana dispensaries located throughout the state; you just have to show a government-approved form of ID, like a driver's license.
Where Can I Smoke Pot?
Perhaps the biggest concern for pot users is where they can get high. The blunt response is that, while pot is legal, nearly all property in California—public or otherwise—is off-limits to marijuana use. There are a few small pockets of legal use, and the largest of those legal locations for use are private residences.
There is no restriction for Californians or their guests to smoke in their private homes if they are the owner of the residence. However, for those that are renters of their homes, or short-term lodging guests, the property owner or landlord can ban marijuana use on their property. And many do. If you are in the unfortunate position to be living or staying in a property that bans use of marijuana, there are a few options left.
The law legalizing marijuana in California made use within smoking lounges legal. Most lounges are connected to dispensaries. California cities can outlaw smoking lounges within their limits, and many have, but most California smoking lounges are clustered around the largest cities and tourist areas, like Los Angeles.
More and more, lounges are being planned as cities determine whether to allow them. Further, a growing location for legal use is marijuana-accepted lodging. There are many resorts, Airbnb listings, and events that allow marijuana smoking on their premises. A quick Google search will point out a host of providers marketing themselves to pot smokers.
What Else Should Users Know?
Transporting marijuana will be an issue for most users, and the law is strict in this area. Users cannot smoke in their vehicles, or any type of transportation vehicle, for that matter. If someone is going to transport his or her pot or edible, it must be in the unbroken, sealed container it was purchased in—or in an acceptable childproof container. Otherwise, an open container must be stored in a locked space outside the cab, such as a vehicle's trunk.
If police suspect use while driving, they will treat it like driving under the influence of alcohol (DUI)—a very serious offense. There is no developed testing method for determining whether a driver is impaired by marijuana. Police will look for certain signs of marijuana impairment from a driver—signs that, unfortunately, are sometimes present in unimpaired drivers.
Anyone using or transporting marijuana should be cautious and consider public transportation or taxis to get themselves around while using. Users leaving a smoking lounge or legal smoking event and getting in their vehicles may be sitting ducks for law enforcement.
There is still the concern with federal law enforcement, as any possession of marijuana is still illegal under the federal Controlled Substances Act. However, there appears to be little effort by federal law enforcement to step in.
Residents and tourists should ensure they are prepared for any questioning from law enforcement while possessing, transporting, or using marijuana. They should bookmark experienced southern California criminal defense attorneys, or their counterparts in northern California and San Diego, all of whom are ready to step in and protect someone facing trouble.
For more information on this area of law, see our overviews of criminal defense and cannabis law.
What do I do next?
Enter your location below to get connected with a qualified attorney today.
Related topics
Attorney directory searches
Find top lawyers with confidence
The Super Lawyers patented selection process is peer influenced and research driven, selecting the top 5% of attorneys to the Super Lawyers lists each year. We know lawyers and make it easy to connect with them.
Find a lawyer near you