Proving Workplace Discrimination in Missouri is Tougher Than it Used to Be
How a change in wording has impacted employment law 
By Katelyn Vue | Last updated on May 12, 2022
When it comes to proving a workplace discrimination claim, things aren't always as easy as they seem. "Whenever somebody calls me, they always say they've got the greatest case ever," says David Heimos, an employment litigator in St. Louis. "All I can say in response is: These cases are a lot harder to prove than clients perceive."
Previously, Heimos says, the Missouri Human Rights Act allowed cases to proceed if race, religion, national origin, gender, disability, or age was a contributing factor to any discriminatory conduct—like a firing. However, in 2017, that changed—raising the standard to "because of" instead of "contributing." 
"When the standard was 'contributing factor,' you had a greater chance of having the case go to trial," he says. "When it was changed, the judge could be more inclined to grant summary judgment if they don't believe the 'because of' standard has been met."
Even if it does get to trial, the jury must also keep that standard in mind. "It made it a lot more difficult for employees to prevail in their claims," says Heimos. "For there to be an actionable case, it really has to be overt discrimination. The gray areas have gotten a lot less gray, for lack of better words." 
So how can you prove overt discrimination? It helps to have strong evidence, such as text messages, screenshots or recordings. Heimos also looks at whether comparable employees were treated differently while doing the same job and reporting to the same decision-makers.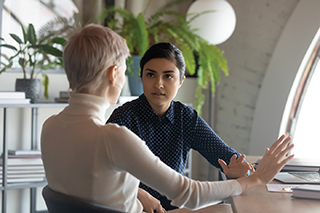 In 2000, he represented Richard Dailey, a one-time general manager at Park Place Airport Parking in St. Louis. Dailey, who is Black, alleged that the owner of Park Place consistently pressured him to hire white employees and fire Black ones. He further alleged that the owner confronted him after he hired a new Black employee, resulting in Dailey's termination that very day. Later, the position was filled by a white employee. 
"It was very overt," Heimos says. "For [Park Place] to require a Black managerial employee to do what he was asked to do was egregious, and I think the jury agreed." Dailey was awarded $119,000 in lost wages, emotional distress and punitive damages.  
When you first meet with an attorney about your potential case, you will be asked specific questions about what happened to determine if you were indeed discriminated against. "If the person believes that it happened to them because of their race, sex, religion, national origin or their age, then I have a basis on which to probe why they believe that," says Ferne Wolf, an employment litigator at Silverstein Wolf in St. Louis. "It usually can boil down to just a few words: 'I was harassed;' 'I was fired.'" 
Sexual orientation isn't recognized as a protected class under the Missouri Human Rights Act, but the U.S. Supreme Court decided in 2020 to include it under the federal protections of Title VII. Wolf's firm also helped on a landmark case in which Harold Lampley and Rene Frost were discriminated against for nonconformity to gender stereotypes, and the Missouri Supreme Court ruled in their favor.
Once an employment law attorney agrees to take your case, they'll help you file a charge of discrimination with the Equal Employment Opportunity Commission or the Missouri Commission on Human Rights. If you were discriminated against due to your race, you don't need to file with these agencies to proceed, but Wolf says it's often the next step anyway. 
"Eventually, hopefully, we get to trial," she adds. "Then the jury issues its decision, then maybe after that, there's an appeal to one of the court of appeals—that's how a case typically goes. It can take a couple of years. That's something I don't think a lot of people understand: Cases take a while." 
Costs are dependent on your specific case and how long it takes. Discrimination attorneys work on contingency, meaning you don't pay them unless they win—after which they'll take a percentage from the verdict amount. "In addition," Wolf says, "there's fee-shifting. So, if there's a verdict in favor of the plaintiff, the defendant also pays attorney's fees on top of the verdict."
"It's a difficult area of law to begin with. It's got a lot of nuances," adds Heimos. "But it's also a very rewarding area of law when I can help a client to either right a wrong or to achieve a favorable outcome or resolution." 
What do I do next?
Enter your location below to get connected with a qualified attorney today.
Attorney directory searches
Find top lawyers with confidence
The Super Lawyers patented selection process is peer influenced and research driven, selecting the top 5% of attorneys to the Super Lawyers lists each year. We know lawyers and make it easy to connect with them.
Find a lawyer near you