Helping Employees Succeed
The ins and outs of reasonable accommodation
By Nancy Henderson | Last updated on October 6, 2022
A few years ago, Boston attorney Denise Murphy represented an employer with a worker who was so sensitive to light that she requested a complete replacement of the lighting system where she worked because it impeded her vision.
"That's not really a reasonable accommodation to change the entire lighting structure of a building," says Murphy, who chairs the employment practice at Rubin and Rudman. "But what they were able to do was provide the employee with light-sensitive glasses that helped filter the light so she was able to perform the essential functions of the job."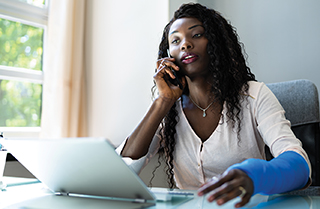 The 1990 Americans with Disabilities Act (ADA) requires employers with 15 or more employees to make "reasonable accommodations" for qualified workers with special challenges to help them successfully navigate the hiring process and perform their job tasks. The Massachusetts antidiscrimination law, enacted several years before the ADA, expands this even more, to businesses with six or more employees. Accommodations can range from installing an accessibility ramp or screen reader software to granting a few days' extra leave after an accident.
Every situation is different, says Murphy: "Every single case—and I do mean every single one—has to be looked at on a case-by-case basis."
In every case, however, it's up to the employee to ask for what they need. Management then assesses the request and, if necessary, asks for a medical certification or more information from the health care provider before discussing options with the worker.
The biggest mistake employers make is shirking this all-important conversation, according to William Hannum III, an employment and labor attorney with Schwartz Hannum in Andover. "The lack of a fair, reasonable, interactive process is what gets a lot of employers in trouble," he says. "Employers kind of shy away from that because they're afraid of saying the wrong thing. They want the issue to go away without having to address it."
That discussion can also keep you from getting bogged down in tedious ADA "legalese" trying to figure out how to accommodate your employee. Hannum recalls an X-ray technician client who suffered a shoulder injury. Her supervisors at the hospital were able to rearrange her assignments to give her a temporary break from performing mammograms.
"At the end of the day, if you think the employee is failing because of some kind of physical or mental health problem, you need to try to help them be successful," Hannum says. "Listen to what they have to say and come up with something that you can do to help them."
That said, there's a limit on the extent of what an employer must provide. "What the employee asks for isn't necessarily what the employer has to give," Murphy says. "It has to be something that wouldn't impose an undue burden on the employer."
The word "reasonable" says it all. Unless local laws dictate otherwise, business owners aren't necessarily obliged to install an elevator for a person who uses a wheelchair. And just because an employee wants a $1,000 desk chair doesn't mean it's the only option. One that costs $300 may provide the same back support.
Says Hannum: "I think the employer should have a conversation with a legal advisor to try to figure out: What can I offer that won't turn my business upside down and would help this person be successful?"
If you fail to work with the employee to come up with an equitable solution, you might end up defending a lawsuit and racking up thousands of dollars in legal fees, plus damages if you lose. "A court won't look at whether or not you made the right business decision," says Murphy. "The court is going to look at whether or not you followed the law and the process. So don't skip over the process. That's crucial."
For more on this area of law, see our employer overview on employment law.
What do I do next?
Enter your location below to get connected with a qualified attorney today.
Attorney directory searches
Find top lawyers with confidence
The Super Lawyers patented selection process is peer influenced and research driven, selecting the top 5% of attorneys to the Super Lawyers lists each year. We know lawyers and make it easy to connect with them.
Find a lawyer near you