Contesting a Will in Colorado Isn't Easy
It's an uphill battle, but attorneys say it's possible
By Andrew Brandt | Last updated on August 12, 2022
Will contests are often a culmination of a lifetime of perceptions about family interactions. Many cases arise from blended families—be it a second spouse inherits more than the decedent's children think they should, or the kids believe the stepsiblings should have been left out altogether.
"Will contests usually get started when people have expectations based on what their parent has told them will happen with their estate that are different than what that parent wrote in his or her will," says Jane Ebisch, an estate and trust litigator at The Ebisch Law Firm in Lakewood.
But you can't simply contest a will or trust because you think what's been designated is unfair. Or, rather, you can, but you likely won't succeed.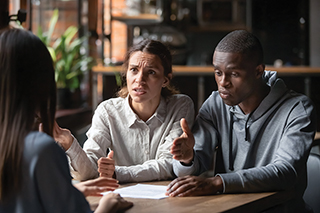 "The law requires we prove that the will is not valid by clear and convincing evidence," says Alison Zinn, an estate and trust litigator at Lathrop GPM in Denver. "Maybe the will doesn't contain an actual signature, or it's a copy—not an original. More common reasons are the will is a product of undue influence, lack of capacity, or both. A lot of times we see cases involving forgery.
"That can be really challenging in some circumstances, especially because undue influence is often proven through circumstantial evidence," she continues. "Very seldom do you have direct evidence of someone unduly influencing someone else. It's really small examples, when taken together, that paint a picture of what actually happened."
When a client hopes to contest a will, Ebisch first looks at the will to determine whether it was witnessed and if the signature by the creator (known also as a testator or decedent) was notarized, as well as when it was executed. "If you have an older will that hasn't been changed, was prepared by a professional, and had two witnesses and a notary, that is going to be a very hard will to challenge," she says. "It gets a little dicier when you have a will that was drafted very close to the time of death, that's handwritten, and doesn't have any witnesses or notary. That's when you start your inquiry into the testamentary capacity of the person who is executing that will."
If the decedent had some notation of dementia in their records, this frequently provides a toehold for someone to challenge their capacity. In this instance, the most critical witnesses will be the drafting attorney and the medical treatment provider, who will need to speak to how the decedent was the day they signed the document.
However, most cases won't get that far. Zinn estimates that 98% of will contests settle before trial, and both attorneys note that cost, time and stress all play a role. A fourth factor is that judges will often force parties into mediation early on. Sometimes, an abbreviated discovery will take place beforehand, so there is enough information exchanged to induce a settlement. "Even if you don't settle, you get to walk away with far more knowledge about your case than you had going in," Zinn says. "Mediation is about learning your risk, and what's going on on the other side of the table."
If you are looking to contest a will, know that a settlement typically occurs within one year of filing, but a trial can last longer, maybe even up to three. "The statutes of limitations really depend on the circumstance, which is why consulting with an attorney about your case is critically important," says Zinn, adding that attorneys know what you have to file and when, and can help with discovery and issuing subpoenas. "Medical records, financial records—hospitals and banks don't just turn that stuff over to anybody. It may seem like it's easy to get that information, but that's not always the case."
"It's hard to be successful," adds Ebisch. "It's a very uphill battle to contest a will—especially one that has been formally prepared by a professional, notarized, and signed by two witnesses."
For more information on the probate process and probate court, estate planning attorneys, living trusts, fiduciaries and beneficiaries, powers of attorney, and last will and testaments, see our overviews of estate planning, wills, trusts, probate and estate administration, and estate and trust litigation, or reach out to an experienced estate and trust litigator.
What do I do next?
Enter your location below to get connected with a qualified attorney today.
Attorney directory searches
Find top lawyers with confidence
The Super Lawyers patented selection process is peer influenced and research driven, selecting the top 5% of attorneys to the Super Lawyers lists each year. We know lawyers and make it easy to connect with them.
Find a lawyer near you