Why You Should Establish a Health Care Proxy
Save time and money while preparing for the worst in Massachusetts
By Judy Malmon, J.D. | Last updated on June 23, 2022
Use these links to jump to different sections:
"Often when I see clients who want to develop an estate plan, they're thinking about what happens to their wealth at their death. They want to be mindful of how that's distributed," says Melissa Langa, an attorney with Bove & Langa in Boston. "But what they're not thinking about is something short of death: incapacity. When you talk about what happens to their wealth during incapacity, they get nervous because they don't want to make their family go into court to get a conservator and a guardian appointed. They're usually very happy to learn they can avoid that by executing incapacity documents, which are a durable power of attorney and health care proxy."
What a Health Care Proxy Does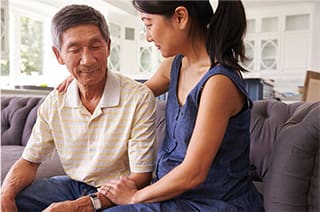 While a durable power of attorney can put your mind at ease that your affairs will be managed if something happens to you, it will not allow your attorney-in-fact to make health care decisions for you in the event of your incapacity. For that, you need a
health care proxy
(also known as a Durable Power of Attorney for Health Care in several other states). A health care proxy allows you to name individual(s) as decisions makers for medical treatment decisions should you become unable to do so yourself, whether due to brief illness or long-term loss of capacity.
A standard power of attorney (POA) ceases to be in effect should you become legally incapacitated. If something were to happen leaving you unable to make your own decisions or give legal consent, the only way to manage your affairs would be for your family members and loved ones to seek a conservatorship or guardianship. "Those are time consuming and costly," Langa says. With a health care proxy, you save money and "eliminate people fighting over the position, which can happen. Multiple people want to handle the money or decide what happens in a medical arena. If you can do those documents in advance, it goes a long way to stopping a fight."
Consider Medical Care and End-of-Life Care Decisions
When you appoint an agent to make decisions for you, it's important that you discuss your decision-making preferences with this person. Massachusetts is one of only three states that does not recognize the legal authority of an advance health care directive, or living will, in which you provide detailed instructions about your health care wishes in specific circumstances, such as types of treatment preferences, or when you wish for resuscitation efforts or life support to be suspended.
"It's where you talk about end-of-life considerations," Langa says. "In Massachusetts, we don't have a law that permits you to do living wills, but we do them anyway because medical establishments like to see them." While no statute makes a living will binding, it serves as a series of guidelines to follow so long as someone doesn't challenge them.
Another common companion document to the health care proxy, Langa says, is a HIPAA Authorization. This grants someone permission to your medical information. "I always put it as: Who can call the hospital and talk to the doctor to see how mom is doing?"
Setting Up a Health Care Proxy 
Setting up a health care proxy doesn't require much time or money, Langa says. An attorney will set up a conference with you and ask several questions before drafting the legal documents. "Sometimes they have to make decisions and think about it, but once I have all the answers, drafting the documents is not that time-consuming," Langa says. From there the attorney will review the document with you, ask you to sign it, and at that point it's effective.
If you plan to do a health care proxy form on your own, there are some red flags. "A lot of people think it's an off-the-shelf document where all you're doing is inserting names, but it's beyond that. There's a lot of important issues to think through," Langa says. "I've spent a lot of time fixing mistakes because someone was doing it through a document preparation site online. There's not always a problem, but I've done it several times."
Your assets and other variables in your circumstances can make these document filings more difficult, but a reputable
Massachusetts estate planning attorney
works on these regularly and knows how to cover all the bases. "For example, sometimes you may want your spouse to have very broad powers, but if for some reason they become incapacitated or die, you might not want the successor to have as broad of powers. All of these things need to be thought through," Langa says. "All families are different."
Capacity to execute a health care proxy is similar to the standard for a will: you must be 18 or older and understand the nature of your property and of the documents you're signing. It must be signed in the presence of two adult witnesses to be legally binding. If you change your mind and want to name someone else or want to revoke either document, you may do so while you still have capacity. If you name your spouse as your health care agent, the proxy will be automatically revoked if you divorce.
Make sure that your agent(s) has copies of the signed documents and that they know where to find the originals. Don't keep your originals in a safety deposit box or safe that can't be accessed immediately if something happens to you.
What do I do next?
Enter your location below to get connected with a qualified attorney today.
Additional Estate Planning & Probate articles
Related topics
Attorney directory searches
Find top lawyers with confidence
The Super Lawyers patented selection process is peer influenced and research driven, selecting the top 5% of attorneys to the Super Lawyers lists each year. We know lawyers and make it easy to connect with them.
Find a lawyer near you