Does Your Case Belong in Civil or Criminal Court?
Sometimes it's both. Here's a helpful guide to know for sure
By Marisa Bowe | Last updated on April 25, 2022
Use these links to jump to different sections:
Someone has done you wrong, and you're looking for justice. Should you head for criminal or civil court?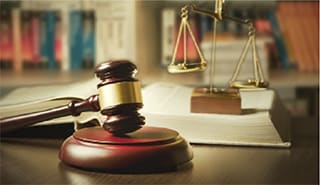 Civil might work; any individual or entity can file a civil lawsuit. Criminal, the rules are different. "A person cannot bring a criminal case. Only the government or a grand jury can," says Carrie Cohen, a white-collar criminal defense attorney at Morrison & Foerster. 
Differences in the Types of Cases
"A criminal case is not primarily always about money," she adds, noting it may, however, include forfeiture of the proceeds of a crime and restitution to victims. "It's also about deterring crime. The loss of liberty is at stake in a criminal case, and not in a civil case."
The loser in a criminal case is found guilty; in a civil case, liable. "At the end of the day, what's at stake [in a civil case] is money and pride," says Theresa Trzaskoma, who practices white-collar criminal defense and business litigation at Sher Tremonte. "In a criminal case, what's at stake is liberty."
Some kinds of cases, of course, can be tried in both civil and criminal trial court. The O.J. Simpson murder case is a famous example. 
"A key difference" between civil and criminal cases, says Sarah E. Aberg, a white-collar criminal defense attorney at Sheppard, Mullin, Richter & Hampton, is the standard of proof. "It's far more difficult to convict criminally than to be held civilly liable."
Cohen explains, "In a civil case, the burden of proof is: 'Is it more likely than not? Is it 51 percent likely?' For a criminal case, you need proof 'beyond a reasonable doubt.' It's a very high standard." Again, the O.J. Simpson case is instructive: He was exonerated in criminal court, and found liable in civil. 
"In a civil action, the burden of proof is a preponderance of the evidence," says Aberg. "So all I have to do is convince the jury that it's more likely than not that my version of the events at issue is correct. The jury can draw inferences from circumstantial evidence that wouldn't carry the same weight—or may not even be admissible—in a criminal case."
Defendants also have many more protections in criminal court. In federal court cases, those rights fall under the U.S. Constitution. "For a state crime, the defendant has the protections of both constitutions: state and federal," explains Priya Chaudhry, a criminal defense attorney at Harris, St. Laurent & Chaudhry. "They have the right to hear all the witnesses, cross-examine them, and to be found guilty only by a unanimous jury."
And the defendant is presumed innocent. 
"The government has to disclose evidence it's gathered with the defense at some stage in the proceedings, but the defense does not have that same obligation," notes Cohen. "[And] there are procedural differences: In criminal cases there is a right to a speedy trial, whereas civil cases can take very long. Parties can spend a significant amount of time producing documents, taking depositions and answering interrogatories before they get to the trial."
A Civil Court Case Can Help Criminal Charges
If someone is found guilty of committing a crime, that verdict can be used as evidence in a civil law trial.
But Silvia Serpe, a white-collar criminal defense attorney at Serpe Ryan, has found it beneficial for her clients to settle a parallel civil case before a criminal sentencing. "When facing a criminal trial, it is not always in your client's best interest to agree to a stay of a parallel civil proceeding," she says. "There can be gems discovered via civil discovery, and more and more judges seem to be granting only limited stays." Meaning some civil discovery is allowed to proceed while a criminal case is pending.
Trzaskoma also points out that surprises can sabotage any strategy. "Sometimes a civil case will prompt an investigation. I have had clients who've been sued civilly and fight it. Then the adversary makes a presentation, and the next thing you know you're fighting a criminal case."
Criminal Law is in District Attorneys' Hands
Another big difference? You can withdraw a civil complaint—less so, a criminal one. 
"If you call the police, it's out of your hands," Chaudhry says. "Once you call 911, the police will investigate, write up a report and go to the DA. The DA will decide whether or not to proceed. People think they can call the police and then call it off. They can't." 
For more information on this area of law, see our general litigation overview.
What do I do next?
Enter your location below to get connected with a qualified attorney today.
Additional General Litigation articles
Attorney directory searches
Find top lawyers with confidence
The Super Lawyers patented selection process is peer influenced and research driven, selecting the top 5% of attorneys to the Super Lawyers lists each year. We know lawyers and make it easy to connect with them.
Find a lawyer near you