Do I Need a Lawyer for Health Care Licensing or Credentialing in Maryland?
What the proceedings involve in Maryland
By Super Lawyers staff | Reviewed by Canaan Suitt, J.D. | Last updated on May 4, 2023 Featuring practical insights from contributing attorney M. Natalie McSherry
Use these links to jump to different sections:
While there are federal standards regarding health care training, each state has its own licensing board and credentialing system for medical professionals.
Maryland has a comprehensive licensing and credentialing process in place for physicians and other medical professionals.
In this article, you will find an overview of the key things to know about health care licensing and credentialing in Maryland, including the circumstances in which it might be best to seek legal counsel.
An Overview of Maryland's Health Care Licensing Proceedings
Becoming a doctor is not easy. In the United States, physicians are generally required to complete four years of undergraduate training, four years of medical school, and then between three and seven years of residency—depending on several factors, including area of specialization.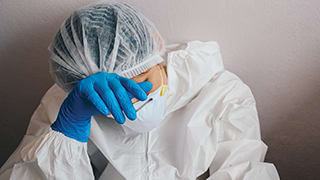 Getting a medical license in Maryland can also feel like a daunting process. Although there is a state policy of acting on applications within four months, it can sometimes take longer if there are issues or incomplete documentation. The Maryland Board of Physicians notes that an American Medical Graduate (AMG) must satisfy the following six licensing requirements to obtain a medical license:
Be at least 18 years of age
Pay the appropriate application fee ($790 as of 2023)
Complete an M.D. (Doctor of Medicine) or D.O. (Doctor of Osteopathic Medicine)
Complete a minimum of one-year of approved postgraduate training
Pass the Maryland medical licensing exam
Demonstrate good moral character
So Do I Need a Lawyer for My Application?
"If it's routine, you probably don't," says M. Natalie McSherry, a health care attorney at Kramon & Graham in Baltimore. But you may encounter questions that aren't a straightforward yes-or-no answer, or other circumstances where you feel the need to explain.
"They may have something in their background, like a drug or alcohol abuse issue, even if it's in another state, and in that case, they probably should talk to a lawyer," she says, adding that background checks are routine in this process.
"Let's say you have a DUI. That counts as a criminal conviction. That's the kind of thing where you can benefit from legal advice in responding to that initial application. Another is a previous substance abuse problem, which counts for the medical condition question. I would encourage you to answer yes to these, but I'd would also work with you as to how to explain it best."
Even if your application seems routine, McSherry warns that it can still end badly.
"Most doctors, nurses and other health care professionals rely on their practice groups and administrative assistants to handle their licensing and credentialing, and in my humble opinion that can be a huge mistake," she says.
"A shocking number of people never read what they're signing, for example when they're submitting an application for licensure in the state. For a lot of it, anyone with their CV could probably fill it out, but I've seen a number times where it turned out to be wrong, just because they didn't look it over, and that honest mistake can lead to horrific results."
Factors to Consider in Getting a Lawyer
In general, there are three main reasons why Maryland physicians work with a health care professional licensing and credentialing lawyer:
General Questions: Applying for a medical license is a big step. You may want help with some general guidance and support with the application.
Unique Background Issue: You may have a unique issue in your background that you are worried could result in a delay or denial. It is better to be proactive with these matters. A Maryland health care law attorney can help you address the issue as part of your licensure requirements application.
Denial of a Medical License: If your application for a medical license in Maryland was denied, you have the right to file an appeal. The Maryland Board of Physicians does deny some applications with adequate justification. A health care lawyer can represent you during a hearing and appeal.
"In Maryland, if any health care provider gets a letter from the licensing board, they should immediately contact counsel—especially if it says they are subject to a complaint," McSherry says.
"Sometimes it's a patient or family member or even another physician. If they file a complaint, the Maryland Board of Physicians sends out a letter during their investigation that asks you to respond. A surprising number of physicians think, 'Well I'm responding to a group of my peers, so they'll understand when they hear my side of the story.' That's not the case, so you should reach out to an attorney or your malpractice carrier, who will sometimes appoint an attorney for you."
If you're worried about the cost, you may already have coverage that pays your legal fees. "Check to see if your malpractice insurance policy provides coverage for legal fees on disciplinary actions," McSherry says. "Many do in Maryland."
Finding a Good Lawyer
Your career matters. Becoming a doctor takes a tremendous amount of work. An attorney can help you take action to deal with licensing issues.
If you have any specific questions about licensing and credentialing, an experienced Maryland health care law attorney.
For more information on this area of law, see our overview of health care law.
What do I do next?
Enter your location below to get connected with a qualified attorney today.
Attorney directory searches
Helpful links
Find top lawyers with confidence
The Super Lawyers patented selection process is peer influenced and research driven, selecting the top 5% of attorneys to the Super Lawyers lists each year. We know lawyers and make it easy to connect with them.
Find a lawyer near you