How to Obtain a Work Visa in California
What does it take for a foreign worker to be admitted to the United States?
By S.M. Oliva | Last updated on January 26, 2023
Use these links to jump to different sections:
Carl Shusterman
has been helping individuals seek work visas since the '70s. The immigration and naturalization attorney with The Law Offices of Carl Shusterman in Los Angeles says it was much simpler back then, especially for H-1Bs—one of the most common and sought after work visas in California.
"It was pretty straightforward. You had a foreign-born person with a degree and a professional job, and it was that easy. We would take in a couple a week and it would be done in one day; they'd have a visa and that was it," Shusterman says. "Now it couldn't be more complicated."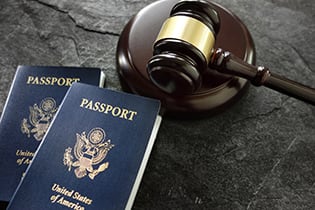 Any citizen of a foreign country wishing to legally enter and
work in California
first needs to obtain a work visa. These temporary visas allow a recipient to stay for a fixed period of time, and do not confer any citizenship or permanent resident status. In general, a U.S. employer who wishes to hire a non-U.S. citizen must first file a petition with U.S. Citizenship and Immigration Services; if approved, the foreign national may then apply for a work visa.
What Types of Work Visas Are Available?
Not everyone obtains eligibility for a work visa. The U.S. Department of Labor maintains a number of different visa classifications. Each restricts visa applications to specific industries or types of workers.
Here are some of the more popular visa categories:
H-1B – This is for a worker in a "specialty occupation." This visa is only available to highly qualified professionals, typically individuals with the equivalent of a four-year college degree related to the position they are seeking. These U.S. visas are commonly sought by technology companies in Silicon Valley.
H-2A – This is a temporary visa for "temporary agricultural workers." California is a major agricultural exporter, and given the seasonal nature of the industry, there is often a shortage of workers. If an employer can demonstrate there are insufficient U.S. workers to meet seasonal demand, they can seek to admit foreign nationals under an H-2A visa.
H-2B – A H-2B visa is similar to an H-2A visa except that it applies to temporary non-agricultural workers.
L-1A & L-1B – If a foreign company wishes to establish an office in the U.S.—or an American firm wishes to transfer an executive or manager from one of its overseas branches—it can seek to admit a senior executive or manager under an L-1A employment visa. There is also an L-1B visa for professional employees with "specialized knowledge." Keep in mind, these visas are only available for existing employees of the petitioning employer.
There are many other types of work visas available, many applicable to specific professions or particular countries. A qualified California immigration lawyer can advise you if there is a visa that meets your particular needs. For example, Shusterman often works with physicians looking to practice in the U.S. under the J-1 visa. "It's kind of a three-dimensional chess game that you play," he says of the many options. "Depending on whether they're a doctor, a teacher, a computer person or even fashion models, you really have to know how each visa applies to each profession."
It's Complicated, So Seek Help
Another difficult factor to navigate is the lottery system with H-1Bs, which came about as a result of a cap on the number of visas allowed in California each year. The cap is typically 65,000, plus 20,000 for master's degree-level and higher. Certain employers are exempt from the cap—universities, for instance—and everyone else, from teachers to tech specialists, compete for slots. The applications open in April, selectees are notified by June, and they're allowed to work by October. More than 200,000 applications for H-1B visas are submitted each year in the state.
This includes thousands of students who go to U.S. universities and, seeking employment after graduation, must return home if they weren't selected in the lottery, Shusterman says. "It gets really complicated for a lot of people, and we lose a lot of great talent."
Shusterman helps guide people through this complicated process and, where applicable, explore other visa options. It takes someone who works with these systems every day to know the nuances and how to get through them. The amount of time for the process depends largely on the type of visa and individual circumstances, but expect anywhere from several months to possibly many years.
After the employer's petition is approved and the employee files a formal visa application, the employee must be interviewed at the U.S. embassy or consulate in their country of residence. The employee will need to pay an application and issuance fee, plus provide additional documentation, including a passport valid for travel to the United States.
What do I do next?
Enter your location below to get connected with a qualified attorney today.
Attorney directory searches
Helpful links
Find top lawyers with confidence
The Super Lawyers patented selection process is peer influenced and research driven, selecting the top 5% of attorneys to the Super Lawyers lists each year. We know lawyers and make it easy to connect with them.
Find a lawyer near you