How Long do I Have to Wait for Naturalization?
And other questions, answered, about the U.S. citizenship process
By Andrew Brandt | Last updated on February 8, 2021
One of the most common misconceptions Christine V. Troy hears about naturalization is that if you marry a U.S. citizen, you automatically get citizenship.
"Instead, they first have to apply for a green card through that spouse, and then have that status for two years and nine months before they're able to actually file for naturalization through that marriage," says Troy, an immigration attorney at the Law Office of Troy & Neils in San Francisco.
In fact, the naturalization process, which ends with you becoming a lawful, permanent U.S. citizen, takes nothing if not time; Troy notes that it could very easily take less than one year, or more than one year—most of which is spent waiting for documents to process.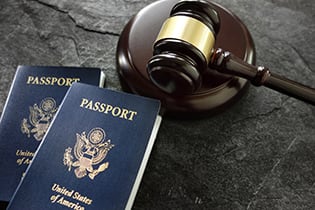 To start, most often, an applicant must already have their green card, which can be obtained through: other family members, an employer, self-petition, or asylum. If you already have your green card, you've probably already made it through the toughest part. "Normally, the green card process is going to be more complicated than the naturalization process. You've been vetted a few times before," Troy says.
If you're working with an experienced immigration attorney to obtain your citizenship, you will then meet with that attorney. "On a very basic level, people who do things on their own make mistakes," says Troy. "Applications get lost in the mail. Immigration trends change all the time, and so attorneys are able to work with clients to make sure things are done properly, that they receive their fingerprint appointment notice, that they understand what to bring to interview, what to expect."
To start, an attorney will analyze your case to ensure all the legal criteria are met, Troy says, "in terms of intent, good moral turpitude, and physical presence in the U.S." Next, the attorney will prepare and file the application with the government. Depending on what country the applicant is from, it can take a few weeks or more. After filing, you will be scheduled for a fingerprint appointment and background checks.
"Then they just wait until they're scheduled for an interview," Troy says. "Processing times are a tricky prediction process, and that's really hard for people to understand. I can tell you: 'Right now it's processing at nine months, but tomorrow it could be at 12 months or six months.'"
At the interview, a United States Citizenship and Immigration Services officer will review the entire application with the applicant, and then administer a civics exam. "[Before the interview] we go over everything with our clients, refresh their memory of where they were working or living … just to make sure that they are accurately able to answer all those questions," Troy says.
An attorney will also help the client study the bank of 100 exam questions. Of those 100, 10 will be administered during the interview. The applicant will have to get at least six of those 10 correct, as well as write a sentence in English. Troy says that, in her 20-plus year career, not a single client has failed the exam.
"Then, sometimes they'll say, 'Oh, you're recommended for citizenship, and here's the date of your swearing-in ceremony.' Other times they mail things to you."
If you're recommended, you'll then participate in a swearing-in ceremony. In Oakland, Troy says, the ceremony takes place at the Paramount Theatre. "At the ceremony, they start at the very beginning of the alphabet for countries, and as they call your name, you stand. And then that is the day you actually become a U.S. citizen. … When you're naturalized, everyone takes a big breath of relief. You're through the process."
"People are so excited when they become U.S. citizens," she adds. "They have lived here for a long time. They identify the United States as their primary home. And this really allows them to fully participate in our democracy."
For more information about this area, see our overview on immigration law.
What do I do next?
Enter your location below to get connected with a qualified attorney today.
Attorney directory searches
Helpful links
Find top lawyers with confidence
The Super Lawyers patented selection process is peer influenced and research driven, selecting the top 5% of attorneys to the Super Lawyers lists each year. We know lawyers and make it easy to connect with them.
Find a lawyer near you