Even Legal Immigration Carries Risks in New York
Coming to America has its legal obstacles
By Mary Pilon | Last updated on July 27, 2022
Editor's Note: This article was written before President Trump's Jan. 27 executive order regarding refugees and immigrants.
We've been talking about immigration seemingly forever, but generally of the illegal variety. So what about legal immigration—professionals coming to the U.S. to work and possibly live? Surely that's going OK.
Nope.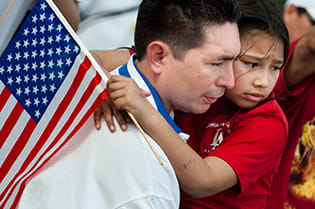 "It comes as a big shock to a lot of companies and startups that it can be so difficult to come or stay here," says
Anastasia Tonello
, with Laura Devine Attorneys in New York. 
Silicon Valley leaders have lobbied for years to hire more highly skilled immigrants for their own firms and also to give foreign entrepreneurs the opportunity to establish American-based businesses. But, says Tonello, there was "a complete abandonment of trying to get things done in Congress" on immigration during the Obama administration.
Unless things change dramatically, immigrants should expect long wait times, thick applications and gridlock. 
The problem isn't necessarily what has changed in recent years, but what hasn't—an old framework strained by a growing demand. 
The H-1B visa lets companies sponsor foreign workers to come here, but the federal government caps the number distributed each year at 85,000—far short of the roughly 200,000 applications. Even a stellar application may not get read under the lottery system. Many lawyers advise a back-up plan—such as moving a foreign worker to a branch office in another country while waiting on U.S. immigration.
At least student visas allow graduates 12 months of work after finishing their education, but that doesn't leave much time to figure out a path to residence, says
Tsui Yee
, with Guerrero Yee in New York.
Immigration lawyers
suggest allowing at least several months to file for work visas. "The number one concern is usually time," says Yee, "and also finding a company that's willing to go through the sponsorship process.
"The chances for the H-1B are so low, it has forced employees and employers to look at other options." 
Those include the O-1, or "extraordinary ability or achievement" route, also known as the movie-star visa. An applicant must prove an extraordinary talent and a need to stay in the U.S. to pursue it. Applicants sometimes submit hundreds of pages of recommendations, résumés, press coverage and other documents. "You can't just submit an application," says Yee. "It's more like collecting evidence, bundling it and presenting it." 
"It's difficult because applicants often feel powerless," notes
Dana A. DiRaimondo
, with DiRaimondo & Schroeder in Brooklyn. "We try to remind people that this is the way the system works." 
The election of Donald Trump has added more uncertainty, says Yee. Some of the programs Trump criticized on the campaign trail, DiRaimondo adds, are "lawful immigration programs his businesses have used in the past, which is hard to reconcile with his anti-immigration positions." She says she's concerned about some of the president's statements about further limiting employment-based green cards, increasing the required wage for H-1B workers or eliminating NAFTA, a basis for professionals coming to the U.S. from Canada and Mexico. 
Tonello adds, "I found it interesting that on his video of what he will do in the first 100 days, it was to deal with the Department of Labor violations on immigration. Not the kind of undocumented border crossing that was the hallmark of his campaign, but now it's moving to the business side of immigration—what we consider documented and legal workers."
For now, the green-card system has remained relatively unchanged, DiRaimondo says. Green cards—which require jumping through many hoops—are primarily obtained either through investment, family, a job, or refugee or asylum status; and green-card holders can live and work in the U.S. permanently. There are humanitarian categories, which include victims of trafficking, Afghani and Iraqi translators, and children born in the U.S. to foreign diplomats. Processing time for green cards can take years, but after acquiring a green card and living in the U.S. for five years, one can apply for citizenship. 
However, it's a path more and more clients are trying to pursue in hopes of avoiding deportation or paperwork headaches in the long-term, adds DiRaimondo. 
"In this political climate, we've seen a lot of people wanting to naturalize," she says. "The tone of the conversation is changing. People are worried about what it means to be an immigrant in this country." 
What do I do next?
Enter your location below to get connected with a qualified attorney today.
Additional Immigration articles
Attorney directory searches
Helpful links
Find top lawyers with confidence
The Super Lawyers patented selection process is peer influenced and research driven, selecting the top 5% of attorneys to the Super Lawyers lists each year. We know lawyers and make it easy to connect with them.
Find a lawyer near you