The Deciding Factors for a Business Interruption Insurance Claim
How Maryland law sorts through contract and policy phrasings
By Super Lawyers staff | Reviewed by Canaan Suitt, J.D. | Last updated on May 4, 2023 Featuring practical insights from contributing attorney Michele Hayes Dinterman
Use these links to jump to different sections:
A business interruption policy is a type of commercial insurance coverage that helps companies cover lost income while unable to open or forced to operate at a reduced capacity.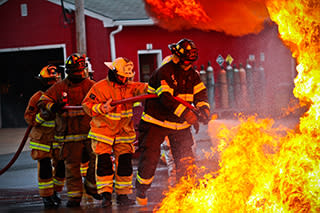 "In 2020, the big topic is COVID-19 and whether or not it's going to be covered," says Michele Hayes, an attorney at Niles, Barton & Wilmer in Baltimore who handles claims, often on behalf of insurers, in Maryland, Pennsylvania, North Carolina, and DC.
Government restrictions during the pandemic put a renewed focus on limits and applicability of business interruption insurance. Plaintiff arguments largely hinged on civil authority clauses, pointing to government orders to not enter the premises. As a result of the high volume of public inquiries, the Maryland Insurance Administration issued an official advisory that mirrors what the courts have largely said.
"I think the courts have mostly ruled in insurers' favor because holding insurance companies retroactively responsible for a global pandemic could potentially bankrupt the insurance industry," Hayes says. "I recently had an oral argument in a Maryland case that has yet to be decided. Courts across the country have so far ruled that COVID 19 is not a direct physical loss. Therefore, we expect that Maryland will follow that logic in the ruling."
Here is an overview of the key factors that determine coverage under Maryland law.
An Overview of Business Interruption Insurance
As described by the Insurance Information Institute (III), business interruption coverage helps a company cover its operating costs and lost profits if a covered peril temporarily closes the small business or materially limits operations.
For example, imagine that a Maryland restaurant sustains major damage in a fire. A policy may provide business income coverage for the repairs. However, the fire damage may also prevent the business from opening while restoration is occurring. That could mean weeks or months of lost profits—all while certain expenses, such as rent and loan payments, are still due. Business interruption coverage could be triggered if fire is a covered peril and the company suffers financial loss of net income.
"The big thing, the gateway into the policy, is there needs to be direct physical loss at the property—something to trigger the insurance, initially," Hayes explains. "A lot of times you see it being some kind of peril—a fire, a flood, a hurricane."
Is My Loss Covered? Three Key Factors in Maryland
Business interruption insurance is not automatically triggered when a company shuts down. To bring a claim, all terms and requirements of the business interruption insurance policy must be satisfied.
Scope of Coverage: The scope of coverage is defined by the policy's terms. When a company files a business interruption claim, it must specify the cause of loss. Most policies only provide coverage if the root cause of loss is physical damages from a covered peril that required the business to suspend operations.
Policy Exclusions: Most business interruption policies have predefined exclusions. A properly drafted exclusion is binding under Maryland state law. As an example, many business interruption policies exclude coverage for losses related to pandemics. A COVID-19 claim may be denied on these grounds.
Extent of Damage: Finally, the nature and extent of the damage must be carefully assessed. If a covered peril causes a loss, a Maryland business can claim compensation for losses that are within the scope of coverage up to the policy limit. As lost income can be somewhat speculative, comprehensive financial records should be provided to support a claim.
These claims tend to vary state to state—"some are more expansive than others," Hayes explains. For example, a Maryland court ruled that a Ransomware attack on a business' computers could be allowed as part of a claim. To make matters more complicated, these claims also vary from case to case.
"There's a lot of grey area, and it's totally up to interpretation, because most policies don't define what a direct physical loss is. Most policies don't even include examples," Hayes says.
Getting Legal Help
Given these complexities, Hayes recommends seeking legal counsel. That's even the case after the physical loss question has been argued and decided, she adds—"especially for things like the valuation of your property and the period of restoration. That's the period of time you need to perform the repairs to your property. Those kinds of things are frequently negotiated."
Much like tax deductions, there are items in every business operation that owners might not be aware can be covered by an insurance claim. "Things like your internet bill would likely be covered under the extra expense coverage that provides money for the expenses involved in getting operations back up and running," Hayes says. "There are things you might not be prepared to ask for from your insurance company. So it's important to have an attorney help you evaluate and fight for those coverages."
What do I do next?
Enter your location below to get connected with a qualified attorney today.
Related topics
Attorney directory searches
Helpful links
Find top lawyers with confidence
The Super Lawyers patented selection process is peer influenced and research driven, selecting the top 5% of attorneys to the Super Lawyers lists each year. We know lawyers and make it easy to connect with them.
Find a lawyer near you