What If I Disagree With the Insurance Adjuster?
Consider a public adjuster assessment and legal counsel
By S.M. Oliva | Last updated on January 26, 2023
Use these links to jump to different sections:
Jonathan M. Feigenbaum
's home froze and likely cracked. The following day, when it had warmed up, the pipe leaked water from the second floor to the first, then down to the basement. His insurance company sent over an claims adjuster, who estimated the fixes would cost around $7,500. Feigenbaum wasn't so sure, so he asked a general contractor friend for his opinion. "He said, 'No way,'" Feigenbaum recalls. "So I called a public adjuster, who haggled with the insurer, and they agreed to pay, ultimately, about $30,000. The vast amount of the work was done by my adjuster, who I paid 10%, and it was well worth it."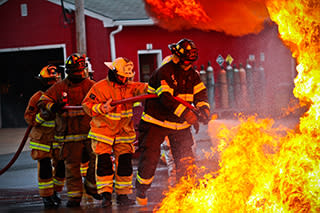 When you have suffered property damage due to a storm or an accident, your first thought is normally to contact your homeowners' insurance company. The insurer then sends an adjuster to take a look and the damage and estimate the value of your claim. But rather than blindly accepting your insurer's assessment, says Feigenbaum, an employee benefits and insurance coverage attorney in Boston, consider asking for a second opinion on a damage claim. "You can hire a public adjuster to get your own opinion. He or she works for you, the policyholder. And does it make sense to do it? Often, it does."
What Is a Public Insurance Adjuster?
These are adjusters who work for the insured party rather than the insurance company. When you hire them, they will give you an impartial opinion from that of the insurance company's adjusters. "Public adjusters do things for the homeowner that the insurance company may not," Feigenbaum says. "They write down and document everything that's lost. If they see a roll of toilet paper or box of pencils, they write it down. Your typical homeowner is too overwhelmed and traumatized with everything they've went through to account for everything, so they probably won't document as well. The adjuster also knows the ins and outs, what it covered, what is a holdback, and how to deal with the adjusters on the other side. The ones that are good are worth the 7 to 12 percent of what they recover for you." Keep in mind, however, that not anyone can call themselves a public insurance adjuster. It is a licensed occupation. In fact, Massachusetts was one of the first states to license public insurance adjusters, starting in the late 19th century. Public insurance adjusters must renew their license every three years. The Massachusetts Division of Insurance maintains an
updated list of all current license holders
.
How Much Does It Cost to Hire a Public Insurance Adjuster?
If you decide to hire a public insurance adjuster following a loss, you must always get a signed, written contract. This is required by law. In addition, you have the right to cancel the contract within three days of signing without penalty. However, in the event of cancellation, the adjuster may still charge you for any "reasonable and necessary emergency out-of-pocket expenses" it paid for during the three-day period to protect your interests. Assuming you decide to keep the public insurance adjuster for the duration of the claims process, the contract will specify the adjuster's fee, which is typically a percentage of the final claim settlement. Unlike other states, Massachusetts does not expressly cap an adjuster's fees. But the typical fee is around 10 percent. Also keep in mind: Just because you hire a public insurance adjuster, that does not compel your insurance company to accept their valuation of your claim. A public adjuster can give you a second opinion and valuable evidence to support your valuation. But if your insurance company refuses to budge on its offer, then your only recourse may be legal action. At that point you need to strongly consider hiring
an experienced Massachusetts insurance lawyer
. It's not unusual for Feigenbaum to field a call from a homeowner who feels their insurance company isn't giving them what they're due after a loss. "I always recommend to those people to get a public adjuster early," he says. "Often they can get the problem resolved, and way more efficiently than through arbitration or the court system. They're also often less expensive than lawyers." Even if you don't feel like you're being low-balled, Feigenbaum says, "On a huge loss, it probably makes sense to hire a public adjuster from Day One." For more information on this area, see our
insurance coverage law overview
.
What do I do next?
Enter your location below to get connected with a qualified attorney today.
Attorney directory searches
Helpful links
Find top lawyers with confidence
The Super Lawyers patented selection process is peer influenced and research driven, selecting the top 5% of attorneys to the Super Lawyers lists each year. We know lawyers and make it easy to connect with them.
Find a lawyer near you