If a U.S. Company is Overseas, Whose Employment Laws Matter?
Sorting out international legal issues for foreign operations
on September 23, 2021
Updated on January 26, 2023

Businesses and organizations must comply with all applicable federal, state, and local employment regulations. Employers of any size in Minnesota are subject to the anti-discrimination provisions covered by the Minnesota Human Rights Act (MHRA). Depending on the size of a company, a number of different federal employment laws may apply.
This raises an important question: What labor laws and employment laws apply if a Minnesota company is overseas? The answer depends on a number of different factors, including the specific location and the citizenship status of workers. In this article, you will find a guide to employment law for U.S. companies with international operations in a foreign country.
Starting Point: The Laws of the Host Country Always Matter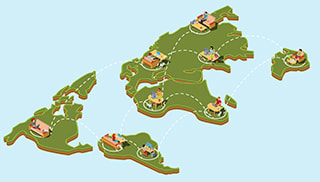 To start, it is important to emphasize that the laws in the location where a person is "employed" must be followed. As a general rule, a worker's labor and employment protections come primarily from the jurisdiction that they are located in. If you own or manage an American business and you have operations and/or a location internationally, it is imperative that you strictly comply with the laws of the host country. Failure to follow their labor/employment rules and regulations could result in serious sanctions.
Some U.S. Employment Laws Apply Extraterritorially (American Citizen, U.S. Employer)
If you are a United States employer and you employ U.S. citizens internationally, you may be required to comply with certain federal employment laws. The reason for this is that some (but not all) apply extraterritorially. Most notably, Minnesota employers that work with eligible employees overseas should be prepared to follow the anti-discrimination and anti-harassment provisions of Title VII of the Civil Rights Act of 1964. Other laws, including the Americans with Disabilities Act (ADA), may also apply as well. Though not all federal employment regulations apply internationally. For example, the Fair Labor Standards Act (FLSA) does not apply outside of the United States.
Note: Federal employment laws such as Title VII and the ADA only apply extraterritorially when there is a "U.S. employer" and an "American citizen." Non-U.S. employers are not subject to these laws, even when they hire American citizens.
Non-American Citizens Working Abroad are Not Covered by U.S. Employment Laws
When American employers work overseas, they are generally not required to comply with U.S. employment laws when they hire non-American citizen employees. The federal labor regulations that have extraterritorial reach—such as Title VII and the ADA—cannot be applied to non-American workers.
For Minnesota companies that work across borders, navigating the overlapping state, federal, and international labor and employment laws can be complicated. Professional guidance and support are available. If your company operates abroad and you have questions about local laws and employment regulations an experienced Minnesota international law attorney can help.
For more information about employment law, see our overviews for employers and employees, contracts, and international law.
Other Featured Articles
The laws that govern the dealings between nations