Your Legal Defenses to Wrongful Eviction
A Connecticut attorney's advice for tenants against the landlords that want them out
By Trevor Kupfer | Last updated on January 26, 2023
Use these links to jump to different sections:
When a tenant reaches out to
Venoal Fountain
, it's likely that their landlord has done one of three things:
interfered with their use of a dwelling
withheld their security deposit
sent them a notice to quit, in order to evict them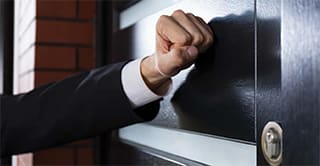 Fountain is an attorney at Hirsch, Levy & Fountain in Fairfield who handles real estate matters on behalf of both landlords and tenants. If you call him, or another
experienced landlord-tenant attorney in Connecticut
, here is how they might be able to help:
If You're Locked Out or Your Utilities Are Shut Off
If a landlord locks you out, turns off your utilities, moves your belongings, or interferes with your use of the dwelling without proper notification, they are breaking the law. When one or more of these occur, you have a few options—including writing a demand letter and filing a complaint with police. But the option that may yield the fastest result, according to Fountain, is going to court. "One of the things I would advise is to go to the court and file paperwork for an illegal lockout. Generally, there are orders for the landlord to give access to the tenant immediately, then the case is scheduled for any damage claims that the tenant may have in terms of that lockout," he says. "From what I understand, those hearings happen pretty quickly."
If You're Being Evicted
If you've received a notice to quit, consider having an initial consultation with an attorney. Fountain says he would want to see the notice as well as the marshal's return of service. "A notice to evict is a prerequisite required by Connecticut law for a landlord to evict. I would then look into if the grounds stated are valid, and speak to the tenant as to whether or not those are fair allegations. If they are, they then have the choice to vacate the premises or let the case be filed with the superior court." Like so many things, the devil is in the details of this kind of legal work. If the landlord has dotted all their i's and crossed all their t's in that paperwork, you may not have a case. "In Connecticut, there are statutory grounds that are enumerated for a landlord's right to evict a tenant, and they have to be stated within that notice to quit document," Fountain says. But it's not unusual for a landlord to have missed a detail, thus leaving the door open for your case. "At least 50 percent of our cases, if not more, are nonpayment cases," Fountain says, meaning the landlord seeks eviction on the grounds that rent is not being paid. "The biggest misconception that many tenants have is they believe if the landlord is unresponsive or neglecting the terms of their duties—making sure the premises are habitable, doing all the necessary repairs, et cetera—the tenant can withhold the rent. Connecticut is not a self-help state, so a tenant who does that will find themselves in a lot of trouble." Instead, you'd be better off pursuing one of the many other legal avenues Connecticut has on the books for a noncompliant landlord. "Having no knowledge of the laws is not a valid excuse in the views of the courts. … If a tenant calls because they've been served with paperwork and they haven't paid the rent, my response is, 'You probably need to prepare to move. You can buy yourself some time, but inevitably your landlord is going to seek a judgment for possession and will, in fact, succeed,'" Fountain says.
Illegal Forms of Eviction
It's is illegal for a landlord to evict a tenant on the grounds of discrimination or retaliation. It is considered retaliatory if the landlord evicts someone due to actions they have taken to protect their rights—such as reporting violations with health inspectors or police, or organizing or joining a tenants' organization. They likewise can't kick out a tenant after subjecting them to unwanted sexual attention or harassment. Much like an employer, a landlord cannot discriminate against a tenant on grounds of race, color, religion, national origin, sex, gender identity, sexual orientation, age, genetic information, ancestry, marital status, disability, or military status. It is also illegal for a landlord to evict someone because they receive a rent subsidy or public assistance.
How Much Money and Time it Takes
There are a lot of little nuances in this area of law, Fountain says, and as such it's advisable to consult an attorney. Often they will offer an initial consultation that is free of charge and, by the end, they will know if you have a case. "I can usually assess whether or not there's a case within the first 10 minutes of our discussion," Fountain says. Generally these tenant cases should not be expensive, Fountain adds, but it largely depends on the alleged offense, the parties involved, and what you're seeking. If it takes more time and the parties fight at every turn, it's going to be more expensive. "If it's a simple case, it may resolve quickly and have a court date within six to eight weeks from the service of notice to quit," Fountain says. "But we also have some cases that drag on for whatever reason—it's not often, but they're out there." A good attorney, though, will outline the potential cost in their first meeting with you. And, in Connecticut, most cases are resolved at a court date within two months. "However, that doesn't mean the judge or court is making a ruling as to what's going to happen. Generally what happens is there's a mediation process," he says. In a mediation, the parties meet to resolve their issues by negotiating terms. When those agreed-upon terms come to the court, the judge often approves them. If mediation does not lead to an agreement, then the judge will make their own decision. This is a riskier path, Fountain says. If you'd like more general information about this area of the law, see our
landlord and tenant law overview
.
What do I do next?
Enter your location below to get connected with a qualified attorney today.
Attorney directory searches
Helpful links
Find top lawyers with confidence
The Super Lawyers patented selection process is peer influenced and research driven, selecting the top 5% of attorneys to the Super Lawyers lists each year. We know lawyers and make it easy to connect with them.
Find a lawyer near you