If You're Uninsured and Get in an Accident in Virginia
An attorney can protect your rights and help you settle the case
on February 6, 2019
Updated on January 26, 2023

Under Virginia law, drivers are required to either obtain the minimum mandated level of auto insurance coverage or pay an uninsured motorist fee to the Virginia Department of Motor Vehicles (DMV).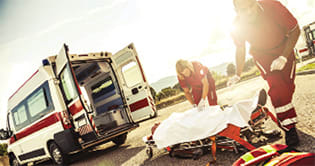 If you decided to pay the uninsured motorist fee, or you allowed your coverage to lapse, you are certainly not alone. In fact, the Insurance Information Institute (III) reports that nearly 10 percent of Virginia drivers are uninsured. That being said, if you are not insured and you get into an accident, dealing with the aftermath can be especially complicated. You could even be held personally liable for another person's damage. Driving uninsured may cost you more than having purchased an auto insurance policy and you may lose your driver's license.
In Virginia, Uninsured Drivers Can Still Hold Negligent Parties Liable
In nearly one dozen U.S. states, there are so-called "no pay, no play" auto insurance laws on the books. Under these somewhat harsh laws, uninsured drivers are legally prohibited from bringing most types of auto accident claims. The purpose of such a law is to encourage the purchase of auto insurance coverage. However, Virginia is not one of these states.
Virginia drivers face a fault-based auto accident state, negligent drivers can be held legally liable for damages that they have caused. If another driver—or any other party—was at fault for your car crash, you have the legal right to hold them responsible for your damages. This is true even if you do not have active auto insurance coverage.
If you find yourself in this situation, it is highly recommended that you consult with an experienced Virginia car accident attorney as soon possible. Your attorney will be able to review the specific nature of your case and help you take the appropriate steps to protect your rights and to pursue full and fair financial compensation for your losses.
You May Face a Lawsuit from Another Driver
Notably, if you do not have car insurance in Virginia—even if you paid the uninsured motorist fee as is required by state regulations—you could be sued by another driver in the event that you are blamed for an accident. If a lawsuit is filed against you, and the plaintiff prevails, a judgement could be entered against you. This is a serious financial risk. You need to be sure to take action to protect your interests. Before the legal process advances, it is highly recommended that you get help from a reputable car accident lawyer. Despite the claims of another driver, you may not actually be legally liable for a crash. You may even have a viable claim of your own. A Virginia personal injury attorney will help you deal with the insurance company and protect your legal rights.
For more information on this area of law, see our overviews of personal injury, trucking accidents, and motor vehicle accidents.