Voting Rights for People in Assisted-Living Facilities
Ensuring the constitutional right to vote for people with disabilities
By Amy White | Reviewed by Canaan Suitt, J.D. | Last updated on October 27, 2023 Featuring practical insights from contributing attorney Valerie B. Geiger
Use these links to jump to different sections:
Since Americans navigated a general election during the coronavirus pandemic, many voting hurdles have been identified—including those impacting the elder population served by lawyers like elder law and estate planning attorney Valerie Geiger.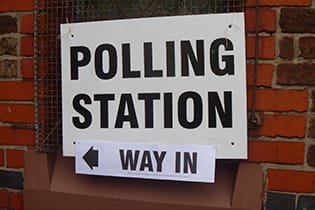 "My partner and I are guardians for individuals in nursing homes and assisted living facilities, as well as people who live in their own homes," Geiger says. "What's interesting to me is, for my facility or nursing-home clients, I get notifications all the time of what's going on in the centers—like, 'It's flu shot season. Please talk to residents about if they want one or not'—but we've never received such information for voting."
Geiger speaks to the myriad issues that may have impacted residents of long-term care facilities who tried to vote through the pandemic, like no uniform policy across residential facilities in Virginia that either restricts or allows visitors to come or residents to leave; the state's hours-long voting lines at polling places for early voting and on Election Day; and the absentee ballot itself.
"I personally filed absentee this year, and when I opened the envelope, all of these other papers fell out, and even for me, I was like, 'Ok, this is a bit much, I'll just deal with this later,'" says Geiger. "The likelihood that that's going to be filled out correctly and returned correctly by someone with cognitive challenges is really high."
What Would Disqualify a Person From Voting?
"This is a hot-button topic for me, actually, so I want to be clear that even if someone is declared incapacitated by the court such that they'd need a guardianship, it's not automatic that they should lose their right to vote," Geiger says. "It's unconstitutional to tie the two together."
Geiger points to the American Bar Association's most recent guidelines on the issue. "The ABA's guidance is that if an individual is able to state a preference, for example, if they can say, 'Biden' or 'Trump,' then that's sufficient."
What Voting Assistance Can Individuals in Nursing Facilities Receive?
"Depending on one's disability, someone [in the center] can assist with reading and with making a mark, and they can even assist them with a discussion about a candidate as a way to support someone with mild cognitive impairment," she says.
"An aide can assist, but he or she can't make the decision, so the discussion must be limited. It can't sway; it's about listening to what a person who wants to vote has to say or thinks about it and help ferret out their decision."
What Steps Can Family Members Concerned About Their Loved One's Voting Rights Take?
Start with a conversation with the family member about if he or she is interested in voting, Geiger says, and, if your loved one happens to have a guardianship, ensure your loved one's wish makes it to his or her guardian.
Dependent on ability, you should also consider giving your family member a crash course in voting technology, she suggests. "You might have to help them figure out how to go online to vote; or, if they want to vote in person, and are able to do so, stand in line with them and be a support system."
Also account for vision or hearing issues, which could require walking a family member through the entirety of a mail-in ballot for absentee voting.
"This pandemic has really changed how I'll approach voting with my clients and their families in the future," Geiger says. "It's hard for me to admit this, but I don't think I've spent much time in the past building this voting conversation into the other important conversations I have with clients and families. And it's not that hard to do."
Find an Experienced Disability Rights Attorney
If you have concerns about a nursing home resident's rights or questions about voter registration or the voting process in a nursing facility, an experienced Virginia elder law attorney can help.
For more general information about this area of law, see our overviews on elder law and civil rights.
What do I do next?
Enter your location below to get connected with a qualified attorney today.
Attorney directory searches
Helpful links
Find top lawyers with confidence
The Super Lawyers patented selection process is peer influenced and research driven, selecting the top 5% of attorneys to the Super Lawyers lists each year. We know lawyers and make it easy to connect with them.
Find a lawyer near you