Suing Dicamba for Causing Crop Damage
How Missouri farmers can take action against herbicides
By Judy Malmon, J.D. | Reviewed by Canaan Suitt, J.D. | Last updated on August 8, 2023
Use these links to jump to different sections:
The summer of 2017 brought epic hurricanes and wildfires, as well as a lesser-known crisis that struck the nation's farm belt. Use of the herbicide dicamba resulted in unprecedented soybean crop damage to an estimated 3.6 million acres throughout 25 states.
This data reflects just the reported cases, though—an Environmental Protection Agency (EPA) official estimates actual impact could be as much as five times higher.
Damage from Dicamba
St. Louis attorney Paul Lesko, of Peiffer Rosca Wolf, represented farmers in a class action lawsuit against the producers of dicamba.
"In the agricultural industry, in order for a seed to sell, it has to be a GMO with some type of resistance to an herbicide, and designed to go with a particular product," Lesko says.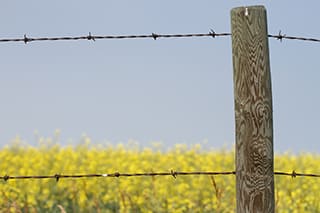 "The first ones out there were the Roundup Ready soybeans, which allowed you to spray Roundup and what you'd get were clean, weedless fields. Over the years, some weeds have developed resistance to Roundup. So, it's become contingent on manufacturers to develop seeds that have additional herbicide resistance.
"That's where we get to this case," he continues. "Xtend seeds have a resistance to dicamba. Dicamba's not a new herbicide—it's been around for 50 years, and was typically only used in April or May, for burn-downs, getting the fields ready. It drifts, and it's hard to control, so the best time to use it is when there's nothing else green around for it to damage."
Dicamba was previously disallowed for use on crops due to its toxicity and volatility, but the EPA allowed three specific formulations in the 2017 growing year pursuant to company claims that these versions were less harmful than prior dicamba products. They were then sold to growers without undergoing the rigorous testing usually required of herbicides and pesticides.
Early in the season, complaints began to come in—particularly in Arkansas and Missouri, where weather conditions allow for temperature inversion.
"During the day, it's cooler in the air and warmer on the ground," explains Lesko. "But at night, it flips, and is warmer in the air and cooler on the ground. Since dicamba volatilizes, that inversion picks up an entire cloud of it, moves it, and then when the temperature rises the next day, drops it down in a different location. Also, because there was so much more used in these places, it led to a process called atmospheric loading. There is just so much dicamba, it loaded the atmosphere with it."
The result? Dicamba went places it wasn't intended, like onto fields of non-resistant soybeans. Farmers planting non-GMO seeds or operating organic farms were subject to damage from dicamba sprayed anywhere in the vicinity (commonly called dicamba drift). "Crops have varying sensitivity to dicamba, and soybeans are the most sensitive crop," says Lesko. "So basically, if you had soybean crops that were not resistant to dicamba, you had damage last year."
Class Action Against Dicamba Producers
Peiffer Rosca Wolf currently has state class cases pending for farmers whose crops were damaged in Arkansas, Missouri, Illinois, Nebraska and Kansas. There's also a nationwide antitrust class action against the makers of the products, including Bayer.
"Right now, if you're a soybean farmer and your neighbor or anyone nearby is planting Xtend seeds, your only choice is to plant Xtend seeds too, or you risk damage," says Lesko. "In our minds, this clearly interferes with competition; it reduces the ability to buy seeds that compete with these seeds."
As for the 2018 growing season, Lesko observes that many farmers are taking a wait-and-see approach. The EPA has approved dicamba for the year, subject to more restrictive—use instructions, but many are skeptical that this will rein in its volatility. "The last three years have shown that as long as you use dicamba, off-target damage is going to occur," Lesko says, recommending that farmers document any damage as best they can. "The second damage shows up, start taking pictures, call the plant board and have them come out and investigate right away."
Seeking Legal Help
If you or someone you know experienced dicamba-related damage or other adverse effects, contact a personal injury attorney familiar with this product.
If you'd like more general information about this area of the law, see our products liability law overview.
What do I do next?
Enter your location below to get connected with a qualified attorney today.
Additional Products Liability articles
Attorney directory searches
Helpful links
Find top lawyers with confidence
The Super Lawyers patented selection process is peer influenced and research driven, selecting the top 5% of attorneys to the Super Lawyers lists each year. We know lawyers and make it easy to connect with them.
Find a lawyer near you