Can Florida Police Search Your Car in a Traffic Stop?
Maybe—that's why knowing your rights is key
By Steph Weber | Last updated on August 4, 2022
Use these links to jump to different sections:
Routine traffic stops are common in Florida. In 2020, police officers issued 250,000 citations in Miami-Dade County alone for moving vehicle offenses ranging from speeding to broken taillights. But when it happens to you, it can be an unnerving experience, especially when the officer catches you off guard by requesting to search your vehicle.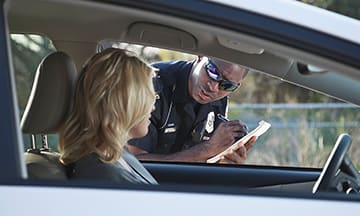 "Generally, the Fourth Amendment to the U.S. Constitution requires police to obtain a warrant prior to conducting a search," says Mark Eiglarsh, a criminal defense attorney at the Law Offices of Mark Eiglarsh in Fort Lauderdale. However, for vehicle searches during a traffic stop, he says, a search warrant is not necessary if one of three scenarios exists:
the driver/motorist consents,
the officer has probable cause or
an occupant is being arrested and the search is related to that.
"It's completely legal for officers to ask people to consent to a search," even if there is no immediate evidence of any additional crime, says Eiglarsh. "The problem is that officers will often create a coercive and intimidating environment, which makes the driver feel that he/she doesn't have an option."
Do You Consent to a Search of Your Vehicle?
Consenting may seem harmless if you have nothing to hide. But it can have unexpected repercussions, as it did for one of Eiglarsh's clients. 
"Officers seized his caffeine powder from a backpack and a container of creatine from his gym bag," he says. Despite both substances being readily available over the counter, a field test incorrectly flagged them as cocaine. The driver was subsequently arrested and charged with trafficking. 
"He was facing decades in prison," says Eiglarsh. Months later, more accurate lab testing cleared the man of wrongdoing. Nonetheless, the entire experience might have been avoided had the driver exercised his right to respectfully decline the search. 
Probable Cause: Another Warrantless Search Option
And here's a bit of a caveat: Law enforcement officers have probable cause to search your vehicle if "they believe that there's evidence of a crime in the car," says Sam Rabin, a criminal defense lawyer at Rabin & Lopez in Miami. For example, officers may spot drug paraphernalia or a weapon, or catch a whiff of alcohol or marijuana.
Officers do not have to provide a driver with a reason for the search. So, if an officer smells alcohol after pulling you over for speeding, "they can ask you to step out of your vehicle for further investigation," says Rabin. "If you refuse, they could arrest you, based upon the observation that you appear to be intoxicated, and search your vehicle [in connection with] that arrest and inventory it for impoundment." 
Before the legalization of medical marijuana in Florida, the odor was enough to establish probable cause, says Rabin—a rule that federal officers still follow. If you're in a national park, like the Everglades, and a federal game officer smells marijuana, he says, "he can search your car and, if he finds marijuana, then arrest you."
Florida Law for Search of the Vehicle
However, most vehicle stops are conducted by city, county and state officers, so state law applies, but Rabin says a split among Florida's courts has created "a confusing landscape" at the state level. Some district courts say the smell of marijuana alone meets the probable cause threshold, yet others do not consider that sufficient and say the odor must be combined with another indicator of illegal activity, such as signs of impairment.
"Nine out of 10 police officers are going to search a vehicle if they smell marijuana and let the courts sort it out," says Rabin. 
When declining a search, both Eiglarsh and Rabin recommend doing so respectfully. The interaction should end there, assuming no probable cause or reason for arrest has been determined. 
"An officer who understands and obeys the law is going to abide by your denials," says Rabin, and most fall into this category. "But if an officer is hell-bent on searching your vehicle, he's going to find a reason to do it, legally or illegally. He's just going to say he saw what appeared to be a weapon or drugs in your car, or some other made-up reason to justify the search. That's the unfortunate truth." 
In situations like these, the truth will need to be sorted out through the justice system.
For more information on this area of law, see our overviews of traffic violations, criminal law, or civil rights, otherwise reach out to a law firm for legal advice.
What do I do next?
Enter your location below to get connected with a qualified attorney today.
Related topics
Attorney directory searches
Helpful links
Find top lawyers with confidence
The Super Lawyers patented selection process is peer influenced and research driven, selecting the top 5% of attorneys to the Super Lawyers lists each year. We know lawyers and make it easy to connect with them.
Find a lawyer near you