Who Is Liable in a Utah Trucking Accident?
How to sort out the multiple parties involved in a commercial vehicle crash
By Super Lawyers staff | Reviewed by Canaan Suitt, J.D. | Last updated on May 4, 2023 Featuring practical insights from contributing attorney Edward B. Havas
Use these links to jump to different sections:
Motor vehicle collisions are the leading cause of accidental injuries and fatalities in our region. The Utah Department of Public Safety reports that there were 61,406 traffic collisions in the state in 2021 alone.
A significant share of serious accidents involves large commercial trucks. Tractor trailer accident claims are notoriously complex. Sorting out liability can be challenging, as there are often multiple parties at fault in the same accident. In this article, you will find an overview of the most important things to know about liability and truck accidents in Utah.
Utah Has a 'No-Fault' Car Insurance System (For Minor Collisions)
Utah is one of a minority of "no fault" auto insurance states.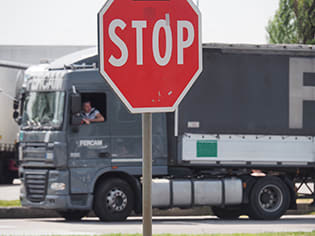 Under Utah state law, all motorists are required to obtain Personal Injury Protection (PIP) policy. Your PIP insurance is no-fault coverage that is responsible for the initial damage after an accident. Under state law, drivers must obtain a mandatory minimum $3,000 in no-fault coverage. With both car accidents and truck accidents, your PIP coverage is responsible for your first $3,000 in medical bills and lost wages.
In Utah, you can step outside of the no-fault system and file a personal injury claim directly against an at-fault insurance company if you were seriously injured in an accident.
You can satisfy the serious injury threshold in a number of different ways—the simplest being medical expenses to a person in excess of $3,000. If you suffered more than $3,000 in medical bills in a truck accident, you can hold the at fault party legally responsible for the full extent of your damages.
"If a victim is seriously hurt, they will qualify to pursue civil liability damages even under Utah's no-fault system," says Edward B. Havas, a personal injury attorney at Dewsnup King Olsen Worel Havas law firm in Salt Lake City.
"If they don't qualify, the injury is not likely one that would be worth pursuing or economically viable to pursue; the no-fault coverage at least makes sure the medical bills are paid and perhaps some time off work or help around the house. That's why no-fault exists: to cover the smaller crashes where someone may need a little bit of treatment and help, but it's more a minor inconvenience than a major catastrophe."
What to Know About Utah's Modified Comparative Negligence Standard
It is not uncommon to have multiple liable parties in the same truck accident case. You might have a claim against the truck driver, the driver's employer, the company that owned or leased the truck, the company that loaded the trailer, the truck manufacturer, or even a third-party motorist.
Under state law, truck accident claims (and other traffic accident claims) are subject to a modified comparative negligence standard. In effect, each party to a trucking accident will be held responsible for their proportional share of the blame. Fault for a crash is based on negligence.
"Utah is a 51/49 comparative negligence state, meaning that the combined negligence of all defendants must exceed that of the claimant," Havas says. "If someone injured in a crash brings suit but also has fault in bringing about their injury, their fault must be less than that of the defendants, or they cannot recover."
Understanding Comparative Fault Through an Example
As an example of how Utah's comparative fault system works, imagine that you were seriously hurt in a commercial truck accident just outside of Salt Lake City. After an investigation, it is determined that the truck company is at fault for 80 percent of the crash and another motorist is at fault for the remaining 20 percent. The truck company could be held liable for 80 percent of your total damages and the other driver would be liable for 20 percent. Notably, an injured victim can be held partially at fault for their own truck accident. When this happens, their financial recovery will be reduced.
"Semis, especially with double or triple trailers, present extraordinary hazards if not properly maintained and driven safely," Havas says.
"They can approach 100 feet in length, weighing tens of thousands of pounds. A vehicle of that mass cannot stop quickly or maneuver as nimbly as a car, so it takes skill and caution to operate it safely in the environment where we put our families and ourselves in close proximity daily. When that skill and caution aren't put into practice, lives can be lost or ruined."
If you have any questions about truck accidents and liability, reach out to an experienced Utah personal injury lawyer.
For more information, see our overview on trucking accident law.
What do I do next?
Enter your location below to get connected with a qualified attorney today.
Attorney directory searches
Helpful links
Find top lawyers with confidence
The Super Lawyers patented selection process is peer influenced and research driven, selecting the top 5% of attorneys to the Super Lawyers lists each year. We know lawyers and make it easy to connect with them.
Find a lawyer near you