Do You Need a Will if You Do Not Have Kids?
Without a will, your wealth might end up with those who don't need it
By Chad Richardson | Last updated on January 29, 2023
Use these links to jump to different sections: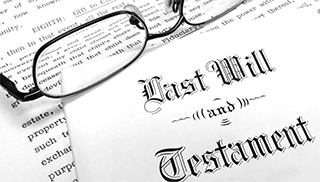 At her Boston law firm,
Melissa Langa
sees it all too often. A single person works hard and builds a nice retirement account, only to have their life cut short before they get a chance to tap into that account and enjoy their golden years. That sad situation is further complicated if the deceased doesn't have an estate plan. "We work so hard to build this wealth," Langa says, "and we're so cavalier about what happens to it after our death." Cases like these make it clear that, yes, even single people without children need a last will and testament. "If you don't have a will, then whatever state you live in provides an estate plan for you," she says. "It's called the laws of intestacy. Those laws determine what happens with your wealth when you die. Most people do not go along with the laws of intestacy. Most people have their own wishes about where they want their money to go after their death." Wills and trusts are legal documents prepared to avoid the state determining what happens with someone's wealth. "If the laws of your state coincide with your wishes, then that is perfectly OK," Langa says. "But if your goal is to get your property and wealth into the right hands, then you need an estate plan. If you're not married and you don't have children, the laws can send your wealth to your parents, who may not need it. There may be a sibling that gets the money who doesn't need it. They may have a charity they want to provide for, or nieces and nephews. Or they have a friend they've had for a long time and they want their friend to get their wealth." Langa said that most people start with a will. It's the most basic. "You definitely would need that," she says. However, wills require probate. That is a process through which state probate courts review wills to ensure they are valid. That court process, though, can take several months to complete. To avoid that probate court process, a trust is the way to go. "You can avoid the probate process with a revocable lifetime trust," Langa says.
A Will Can Help While You're Alive
It's not just the deceased for whom wills are important, according to Langa, but their loved ones, as well. "The other important thing a will can do is keep people out of the courts while they're living," she says. "If you get injured or become incapacitated due to old age, you can have documents where you say, 'If I'm in capacitated, this person will take care of my finances.' A will can help you even if you're alive." Along these same lines, lawyers can help draft incapacity documents which provide direction about the medical care people desire should they become incapacitated and cannot make decisions regarding their care. Laws of intestacy do not provide for pets, Langa says. "You'd be surprised by the amount of people who have beloved pets that they really care about," she says. "You can have a pet trust where you pick out the person who will care for the pet and you can leave assets to care for that pet. Veterinary appointments and things like that." Another consideration is philanthropy. Without an estate plan, it's unlikely that any money will go to a deceased's favorite charity. "There are a lot of small organizations that people do know about," Langa says. "$4,500 might not sound like a lot of money, but that can be a lot to a small organization. It's a nice memory of yourself going forward. When you have a little bit of philanthropy in your plan, it makes everybody feel good." Even if you have a will drafted and leave all of your assets to a nephew, for example, it's not foolproof. If you named a different beneficiary in your retirement account, that person would receive the assets in that account because it has that beneficiary designation. "A will won't have any effect on that," Langa said. As part of doing an estate plan with a lawyer, all of those fine points will be covered.
Do You Need a Lawyer?
It is possible, of course, to skip the lawyer's office, go online and get your will prepared. While it's possible, it isn't advised by Langa. "I'm sure there are lots of people who have successfully used some online will preparation services," she said. "But, I'll tell you, I've got so much business from people who have relied on things like that." One recent case of Langa's involves a client whose spouse tragically died. To save some money, the couple had gone online to do their wills, but the deceased spouse didn't sign the will after it was printed. "She didn't have a will because it wasn't signed," she said. "Can doing it yourself online work? Yes, it can work," Langa says. "But the chance for a big problem is greatly magnified when you try to do it yourself." With all this considered, Langa recommends hiring an
experienced estate planning attorney
.
How Much Will it Cost?
Costs for having an estate plan prepared by a qualified lawyer range in price based on a number of factors, of course. For a single person with no children, Langa estimated a fee of approximately $2,000 to $3,000. "This is for a complete plan that someone can feel good about," Langa says. "It won't need to be changed down the line, unless their goals change. It's less than you pay for a car and it will last you longer. Most lawyers will take payment plans, too." Someone with great wealth and many family members would obviously have a more complicated estate plan and, as such, those fees would be higher. For more information about these areas of law, read our overview articles on
estate planning
,
probate & estate administration
,
trusts
and
wills
.
What do I do next?
Enter your location below to get connected with a qualified attorney today.
Related topics
Attorney directory searches
Helpful links
Find top lawyers with confidence
The Super Lawyers patented selection process is peer influenced and research driven, selecting the top 5% of attorneys to the Super Lawyers lists each year. We know lawyers and make it easy to connect with them.
Find a lawyer near you