What To Do When Employees Claim Stress
Stress-based workers' comp claims in New Jersey face a higher bar
on April 23, 2018
Updated on January 29, 2023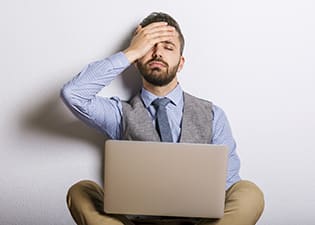 Stress. It's everywhere in our fast-paced modern lives. We know that chronic stress can affect our overall health and well-being, and for many of us, practices like exercise and learning to meditate can help restore balance. It's a given that work will be a primary source of stress, typically related to time management, the weight of responsibility, and managing relationships. But there may be circumstances when work becomes more than an ordinary source of stress, and actually causes a kind of disability for which an individual may be eligible for workers' compensation.
New Jersey attorney Esther Omoloyin represents employers in workers' compensation claims. She notes that, "stress claims are in a bit of a different category; it's a higher standard from the employee side."
Requirements of a New Jersey Stress Claim
New Jersey work-related stress claims are governed by the standard laid out in the 1991 appellate case, Goyden v. State Judiciary. That case established a three-prong test that employees must meet in order to receive workers' compensation benefits for an occupational psychiatric claim (of which stress is one):
The claimant must show objectively verifiable stressful work conditions. "The employee has to provide more than just their own testimony of a stressful work condition," says Omoloyin. "They have to show additional objective evidence."
The work conditions must be unique to the workplace. "It can't just be something that we all see," Omoloyin says. Furthermore, warranted criticism of one's work performance cannot be the basis for a stress claim, nor can being fired.
Medical evidence must show that the work conditions were a material cause of the disability. This typically requires significant documentation regarding the employee's medical, personal, family and work history, as well as information from others documenting their psychiatric background. "This is where a lot of claimants will have a hard time," says Omoloyin, " because often you'll see that employees will have a prior psychiatric history, and it becomes difficult to untangle in terms of what's related to what."
Outcomes in a Stressors Workplace Injury Case
New Jersey workers' compensation law provides for two different categories of recovery:
Under a full and final settlement, a claimant will receive a lump sum, with no ongoing claim for medical care, and no rights to reopen the case if their condition worsens.
Under an order approving settlement, a claimant is awarded a percentage of a permanent disability, and they retain rights to reopen their case (for two years) in the event their condition gets worse or they need additional medical care.
Because the burden is more difficult in a stress claim, Omoloyin says the employee will have a more limited basis for compensation. "They don't often go as far as a more typical orthopedic complaint. They will often settle under a full and final settlement, whereas the typical orthopedic claim is settled under an order approving settlement, and the claimant retains some reopening rights. Stress claims are more problematic in terms of the employee proving causation. It's an uphill battle and they end up settling under full and final."
Work Environments Where Workplace Stress and Emotional Distress Are Common
As a rule, she considers certain types of employment to be more likely to support this type of claim, such as police officers or firefighters. "There may be a stronger case for a police officer who had a lifetime of exposure, where every day brings something new and stressful," she adds, "as opposed to someone who says, 'I didn't like the way my manager spoke to me.'"
Omoloyin recommends that employers who learn of the potential for this type of psychological injury claim to get out in front of it as soon as possible. "If you have an employee who's making a complaint about a manager, it's important to investigate it and get to the bottom of it immediately, find out what truly has happened," she says.
If you have questions about occupational stress workers compensation, talk to an experienced and reputable workers' compensation and employment attorney. If you'd like to know more about this area, read our workers' compensation law overview.