If Insurance Low-Balls You for a Work Injury, Lawyer Up
Call a Vermont workers' compensation attorney if they skimp on your benefits
By Super Lawyers staff | Reviewed by Canaan Suitt, J.D. | Last updated on May 5, 2023 Featuring practical insights from contributing attorney Heidi S. Groff
Use these links to jump to different sections:
Every employee deserves safe, fair working conditions. Unfortunately, accidents in the workplace remain a serious public safety concern. If you or your loved one was hurt on the job, you have the right to seek no-fault benefits through a workers' compensation claim.
Workers' comp insurance policies cover medical care, wage loss, and (potentially) disability benefits. Unfortunately, attorneys say insurance companies do not always offer full and fair benefits to injured people.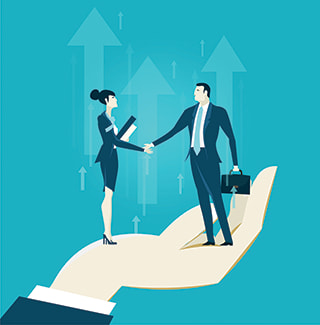 "I think a big reason people contact me is the insurance company calls somebody up and says, 'Hey, I'd like to settle your workers' comp claim for $5,000.' And the workers goes, 'Hmm, why is this happening? Why are they offering me $5,000?' Maybe they think that's a lot of money, or maybe they think it's a little, but either way they're suspicious," says Heidi S. Groff, a workers' comp attorney at Biggam Fox Skinner in Montpelier, Vermont.
"They have no way to gauge if that's a good amount or it's really cheap, and they want to talk to somebody who knows what they should be getting," she continues. "And that's really smart."
In this article, you will find an overview of your right to benefits and your options if the initial offer you receive is a lowball settlement.
An Overview of Workers' Compensation Law in Vermont
As explained by the Vermont Department of Labor, workers' compensation insurance is mandatory for all employers. Businesses and organizations should obtain the proper workers' comp coverage for both full-time and part-time employees.
Workers' comp is generally the exclusive legal remedy that injured workers have against their own employers. An injured worker can claim "no-fault" benefits through workers' compensation insurance. In other words, an injured employee does not need to prove employer negligence or employer misconduct to recover compensation. Workers' comp benefits may include:
Medical Benefits: Full coverage for all reasonable and necessary medical expenses.
Wage Loss: Payment of two-thirds pre-injury earnings for the time a worker is forced to miss on the job—up to the state maximum benefit.
Disability Benefits: If your work injury leaves you with a long-term or permanent disability, you may be entitled to additional compensation.
Compromise Settlement: A Final Resolution of a Vermont Workers' Comp Claim
It is not uncommon for workers' compensation claims in Vermont to be resolved through a "compromise settlement."
With this type of settlement, the insurance company will generally provide the injured worker with a lump payment or a structured settlement that, if accepted, would close their workers' compensation claim.
When settling a workers' comp claim, an injured worker is effectively giving up their right to seek additional medical benefits, wage loss benefits, and/or disability benefits. They are agreeing to reach a final resolution of their claim.
Groff asks clients a series of questions about their injury and their employer's response, as well as medical care and insurance, when they call her. Sometimes, she says, it will appear as though their claim is going well and they may not need representation.
"But if I think they need a lawyer or if they say, 'This is really complicated, and I don't think I'm up for it; I think I can really use someone in my corner,' then we will do a fee agreement at that point."
How Workers' Comp Attorneys are Paid
Lawyers such as Groff work on a contingency fee arrangement. This means, at the conclusion of your claim and case, the attorney will take one-third (33%) of your lump sum settlement.
"We don't take a fee on a lot of things that people get that are ongoing throughout their claims," Groff says. "If someone is getting ongoing wage replacement and medical benefits, I don't get a fee on any of that. The only thing I take a fee on is the new money that I get the person at the so-called settlement stage of the case."
For a more detailed breakdown of attorney's fees, read this overview on what Vermont worker's compensation attorneys charge.
A Vermont Workers' Comp Lawyer Can Help With a Low Settlement Offer
Unfortunately, insurance companies are primarily interested in their own bottom line. They may not offer injured workers nearly as much as they deserve.
A full and fair workers' comp settlement should account for current and future medical bills, time missed at work, and any long-term or permanent disability or impairment and, if the injured worker cannot go back to work again, permanent total disability which can mean a lifetime of wage replacement benefits.
A workers' comp lawyer can help you negotiate for a better settlement from the insurance company. If you or your loved one was seriously hurt on the job and you are working towards a settlement of your claim, contact an experienced Vermont workers' compensation lawyer for immediate assistance. Many attorneys provide free consultations.
"What I tell people is, 'You pay a third whether you hire me at the beginning or end of your case,'" Groff says. "It's the same fee whether they hire me at any point in the process, so it's beneficial to reach out early—or before it might be too late."
Here are some questions to ask an attorney when seeking legal advice:
What is your experience with workers' comp insurance settlement negotiations?
Did my insurance adjuster give a lowball settlement offer for my personal injury claim?
What is a fair settlement? How do I contest a first settlement offer?
Is medical treatment covered in my policy limits?
How does workers' comp payout work?
How do I obtain medical records or other evidence to back up my claim?
For more information on this area of law, see our workers' compensation law overview.
What do I do next?
Enter your location below to get connected with a qualified attorney today.
Additional Workers' Compensation articles
Attorney directory searches
Helpful links
Find top lawyers with confidence
The Super Lawyers patented selection process is peer influenced and research driven, selecting the top 5% of attorneys to the Super Lawyers lists each year. We know lawyers and make it easy to connect with them.
Find a lawyer near you