What Proves Recklessness or Negligence in a Wrongful Death Case?
How Kansas courts typically define it, and what you stand to gain with a wrongful death attorney
By Super Lawyers staff | Reviewed by Canaan Suitt, J.D. | Last updated on May 5, 2023 Featuring practical insights from contributing attorney Matthew Bretz
Use these links to jump to different sections:
Nothing is more heartbreaking or emotionally traumatic than losing a loved one in a deadly accident. While no legal claim could ever come close to making things right for you and your family, the Kansas wrongful death statute helps close loved ones of the victim get justice, accountability, and economic support.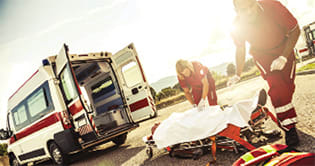 "People often don't realize that a wrongful death claim may be pursued following an accident, and often don't know all of the circumstances surrounding what happened to their loved one," says Matthew Bretz, a personal injury attorney at law firm Bretz Injury Law in Hutchinson, Kansas.
"Also, many people don't realize that most wrongful death claims can be settled without a lawsuit and without a trial."
Under Kansas law, a wrongful death is defined as one that is caused by the "wrongful act or omission" of another party. Below, you will find an overview of what you need to prove to bring a successful wrongful death case in Kansas and what types of compensation can be recovered through this type of claim.
Wrongful Death in Kansas: How to Prove Negligence
Kansas law requires a plaintiff in a wrongful death lawsuit to prove that the fatal accident occurred because of a "wrongful act or omission" on the part of the defendant.
In practice, this means establishing that defendant's negligence contributed to the death. Negligence is the failure to act with the level of care that a person of ordinary prudence would have acted with under similar circumstances. In other words, it is carelessness or recklessness.
The elements of negligence in a Kansas wrongful death claim are the following:
The defendant owed the deceased a duty of care
The defendant failed to live up to the standard of care due to recklessness or carelessness
The defendant's actions or inactions contributed to the accident
The types of actions or inactions considered to be wrongful depend on the circumstances of the case.
For example, if a person was killed in a car accident, negligence could be speeding, distracted driving, or intoxicated driving. Alternatively, if a person was killed in a criminal attack at an apartment building, negligence could be the landlord's failure to provide adequate security. Ultimately, every wrongful death claim must be built on a foundation of supporting evidence. An immediate investigation is required.
"Having litigated wrongful death claims for almost 30 years in multiple different states—and even internationally—we have learned that we have to get to the root cause of an accident or injury," says Bretz, who notes that this will make the negligence claims far more compelling.
"When someone is hit by a drunk driver, the easy claim is against the drunk driver. But there may also be claims against the bar where the driver was over-served. When someone is hit by a semi driver who falls asleep at the wheel, the easy claim is against the driver. But there may be even better claims against the trucking company."
What Compensation Can Be Recovered in a Kansas Wrongful Death Claim?
In Kansas, plaintiffs can seek compensation for both economic and noneconomic damages in a wrongful death lawsuit. Among other types of economic damages, you and your family may be eligible to recover for the following types of losses:
Funeral & burial costs
Medical expenses related to the accident
Lost income, including loss of insurance benefits
Loss of the value of household support services
Noneconomic damages may include mental anguish, bereavement, loss of love, loss of parental care, and loss of emotional support. Notably, Kansas law caps non-economic wrongful death damages at $250,000. There is no statutory cap for economic losses.
Of the noneconomic cap, Bretz says: "I had a sister who was killed when she was just 16. At that time, the cap for killing a young girl was just $100,000. It was outrageous and offensive. At that time, it was worse to kill a registered bull than to kill a 16-year-old girl. Today, $250,000 is just as offensive… The public should realize that caps just protect people who cause injuries and their insurance companies, to the detriment of innocent victims."
If your family member was killed due to negligence, you should consult with an Kansas personal injury attorney who has experience handling wrongful death cases.
For more information on wrongful death suits, statutes of limitations, personal injury lawyers, and wrongful death lawyers, please see our wrongful death law overview.
What do I do next?
Enter your location below to get connected with a qualified attorney today.
Attorney directory searches
Helpful links
Find top lawyers with confidence
The Super Lawyers patented selection process is peer influenced and research driven, selecting the top 5% of attorneys to the Super Lawyers lists each year. We know lawyers and make it easy to connect with them.
Find a lawyer near you