'I Was Lucky'
Danny Abir's journey from Iran to building law firms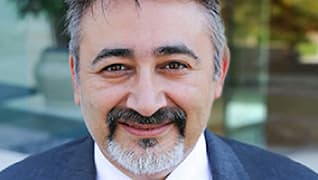 Published in 2023 Southern California Super Lawyers magazine
By Jessica Glynn on January 11, 2023
Danny Abir says he wouldn't change a thing.
Not fleeing Iran at age 16 to avoid being drafted into a war, and leaving behind his family and everything he knew.
Not those first lonely years in the U.S., and working full-time through undergrad, law school and two LLMs.
Not even the failed law partnership that left him restarting in his 40s.
"Everything in my life has a reason," he says of the long road toward founding Abir Cohen Treyzon Salo. "I believe true happiness is finding what you love to do and just doing that over and over again. And I love what I do."
Growing up in Iran, Abir thought he would be an architect alongside his father. But the violence of the Iran-Iraq War, and the likelihood of him being drafted, spurred his family to action. In 1985, his father handed him off to smugglers who hid him and five others in the back of a van and drove them to the foot of the mountains, where they abandoned the vehicle, climbed, reached tents in the middle of the night, then rode motorcycles and camels toward the Pakistani border the next morning. A week later, when they made it to Karachi, Abir was struck by the number of Iranian teenagers waiting for visas. He already had a green card from a previous visit to the U.S. "I was lucky," he says.
At first he stayed with an aunt and uncle in Philadelphia, then was handed off to another aunt and uncle in Los Angeles, where he started 10th grade mid-year at University High School. He played chess with a friend back in Iran by mailing each move and waiting for his rebuttal. His father wrote him every week for two years. It was lonely.
"There was a part of me that loved it and a part of me that realized what I had given up," he says.
Determined to make the best of things, he decided to supercharge his education. He sat his aunt down and presented a calculation of the time and money he'd spend on the last two years of high school when he could just get his GED and start college. That won her over. After one semester at Santa Monica College, he started business school at USC. He was 18.
He supported himself with odd jobs at everywhere from Tower Records to a hot dog stand, and later by starting his own apartment leasing business. Then Abir's life shifted when he took a business law course. Something about the logical, mathematical nature of it clicked for him. His next step was Whittier Law School, which offered a scholarship, but upon graduation he realized his chosen field—international law, with the hope of returning closer to Iran someday—was often about who you know and where you went to school. When doors didn't open for him, he decided to earn an international law LLM at Georgetown.
The highlight was a corporate taxation course with Martin Ginsburg.
"It's incredible how good he was," Abir says of the late husband of Justice Ruth Bader Ginsburg, whose 8:00 a.m. Monday lectures Abir never missed. All of this sparked Abir's interest in international taxation, which brought him to Deloitte & Touche, then Arthur Andersen, while completing his second LLM at NYU, this time in taxation. He was with KPMG in LA when his biggest client, Skechers, asked him to come in-house.
"They were billing me out at $550 an hour," he says. "So I turned around and said, 'How about this, I'll start my own firm and bill you guys half of what you're paying for my time right now.' They said deal. That was the start of figuring out how I was going to do it on my own."
Abir was growing a client list in asset protection, and estate and tax planning, when he started working with a small mass torts firm of 10 people and helped grow it to 100. "Due to partnership disputes in 2013, I decided to leave," he says.
Around that time he had an epiphany. "I realized that most plaintiff lawyers are not very good at running a business," he says. "Most have some sort of BA in art, English, poli sci, history, and in law school they barely teach you how to practice law let alone run a law firm. I figured I would start doing consulting for law firms."
The seeds of what became Abir Cohen Treyzon Salo were planted when Abir sat down with Alexander Cohen, who represented clients in insurance bad faith claims. Cohen had 25 cases then—all through word of mouth—and one employee. "Alex is one of most incredible human beings you'll ever meet," Abir says. "Everybody who knows him loves him. When I realized he wasn't doing any branding or marketing or anything like that, I told him 'I can help you grow with your eyes closed.'"
Then Abir approached trial lawyer Boris Treyzon and catastrophic injury and wrongful death attorney Renata Salo. "That two-person firm eight years ago is now 65 employees and 26 lawyers," Abir says. "We have over 450 cases in the office, and I'm proud to say we're one of the best and largest plaintiff practices in Southern California."
Abir interviews every person hired—from partner level to file clerk—and has a special respect for those, like him, who worked to fund their studies. He takes pride in the firm's unique structure. "If you compare it to other plaintiffs' practices," he says, "we cover pretty much everything other than workers' comp and lemon law. It's not that we are jacks of all trades, it's that we have a master at each area."
This also has a tendency to make people happier. "If you take everybody and put them in a seat where they are handling areas of law that they love and enjoy and are good at, not only are they happy but the firm becomes very successful," he says. "Boris Treyzon is a trial lawyer. If you let Boris be Boris, and just try cases and not have to do law and motions, not only would he be happy, but he would be very successful. Same thing with Renata. Renata loves law and motions and is the polar opposite of Boris, and she loves what she does."
The thing Abir loves is building and managing the business.
"If you put me in any practice, I would want to build it," he says. "That's what my nature is. It's the question of putting the Lego pieces together."
He laughs when it's pointed out that it sounds a little like architecture.
"My dad," he says, "would have loved that comment." 
---
Remembering Ginsburg
One day at Georgetown, Abir went to Martin Ginsburg's office to ask a question and noticed a small plaque on the wall behind him. "I looked closely, and it was his high school diploma, nothing else on the walls," he recalls. "He's written treatises on taxation. He's one of the gods of corporate taxation. I said, 'Professor, is that your high school diploma on the wall?' He said, 'You're right. You're one of the few people who noticed.'" Abir asked why, with all his accolades, he would display the high school one. "He said, 'It's just as arbitrary as anything else I could have put on the wall.'" Then Ginsburg pointed out his prized possession: a framed photo on his desk of President Bill Clinton welcoming Ruth Bader Ginsburg to the U.S. Supreme Court, with Martin standing proudly behind her. Abir: "It was such a beautiful way he presented it."
Search attorney feature articles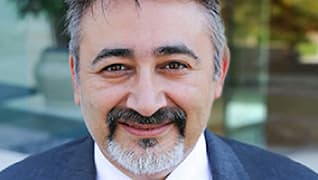 Featured lawyers
Helpful links
Other featured articles
Aida Macedo's search for the perfect practice
Carl Poplar is still tougher than anyone else
Employment lawyer Diane King takes on big companies like Lockheed Martin
View more articles featuring lawyers
Find top lawyers with confidence
The Super Lawyers patented selection process is peer influenced and research driven, selecting the top 5% of attorneys to the Super Lawyers lists each year. We know lawyers and make it easy to connect with them.
Find a lawyer near you