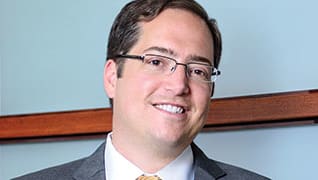 Photo by: Dustin Snipes
Life After Life Without Parole
Marshall Camp successfully argued the first case under the Fair Sentencing for Youth Act
Published in 2014 Southern California Rising Stars magazine
By Joe Mullich on June 6, 2014
John Marshall, the fourth chief justice of the United States, famously said, "The people made the Constitution, and the people can unmake it."
Marshall Camp, who was named after the chief justice and is distantly related to him, has put that thought into action.
Camp, a partner in the Los Angeles office of Irell & Manella, was lead attorney in the first case to test changes to the hard-line stance California has long taken toward juvenile criminals. The Fair Sentencing for Youth Act, signed into law by Gov. Jerry Brown in September 2012, allows inmates who committed offenses while younger than 18, and were sentenced to life in prison without parole, to petition the court for resentencing with the possibility of parole.
"As an advocate, the most difficult thing was that there was no law on this subject," Camp says.
Plus, the original case wasn't pretty.
In 1991, according to testimony at the 1993 trial, a 49-year-old teacher's aide named Janet Bicknell was driving home from a Westminster supermarket when Edel Gonzalez, 16, and a gang member since age 11, stepped in front of her car. He and four other gang members intended to use the car in a drive-by shooting of a rival gang. But as Gonzalez tried to force open the driver's side door and Bicknell attempted to drive away, another gang member fatally shot Bicknell in the head with a .44-caliber pistol.
The murder "shocked county residents and sparked the formation of a multi-agency gang suppression unit in Westminster," the Los Angeles Times reported. Gonzalez was the first of the five defendants to go on trial, and two things worked against him.
Under California law, if a victim is killed during a robbery, everyone committing the crime may be legally responsible for the death. The spirit of the times was also against him. "In the '80s and '90s," Camp says, "there was a national perception that youth involvement in gangs and crime had gotten out of control. The reaction was to favor a throw-away-the-key approach to juvenile justice."
Which is what happened to Gonzalez. In 1993, he became the youngest person in Orange County to receive a life sentence without the possibility of parole.
At the time they were throwing away the key on Gonzalez, Camp was attending Douglas Freeman High School in Richmond, Va. He studied comparative politics at the University of Oklahoma and law at New York University. Upon graduation, he clerked for U.S. District Judge Stephen V. Wilson in LA, worked at Irell & Manella for two years, then returned to New York to join the U.S. attorney's office.
As an assistant U.S. attorney, Camp spent four years handling everything from white-collar fraud to international narco-terrorism to one of the largest criminal tax cases in U.S. history: U.S. v. Coplan et al. Then it was back to LA and Irell & Manella.
In the past year, Camp, who currently serves as co-chair of the American Bar Association's national White Collar Crime/Tax Fraud Subcommittee, has been involved in two big cases besides the Gonzalez matter.
Last spring, he took part in a successful, three-week jury trial in New York federal court on behalf of billionaire William I. Koch, who has long crusaded against counterfeit trophy wine. "I was stunned by the pervasiveness of counterfeiting in the rare and fine wine world," Camp says. "You might think a jury wouldn't care about a rich guy buying fake wine, but we tied into a universal truth: People don't like to see someone get swindled over something they care passionately about." The verdict against Eric Greenberg, who'd sold 17,000 bottles to Koch that allegedly included fakes, resulted in $379,000 in compensation as well as $1,000 per bottle and $12 million in punitive damages for Koch.
A few months earlier, Camp was on the legal team on behalf of Al Hill III, a great-grandson of the legendary Texas oilman H.L. Hunt. Hill was involved in a civil case against Dallas attorney Lisa Blue over millions of dollars in legal fees when he was brought up on criminal charges for mortgage fraud, which Camp and the legal team contended the district attorney brought as a favor to Blue. He credits the firm's aggressive approach to digging up evidence, which exposed the alleged conflict of interest.
"The case was dismissed over the objections of the prosecutor," Camp says. "As a former federal prosecutor, I can tell you that doesn't happen very often."
Occasionally, Camp has worked pro bono cases with Carlos R. Moreno, former associate justice of the California Supreme Court. "I had a pro bono case involving misdemeanor criminal charges brought by the LA City Attorney's office," Camp recalls. "Early in his career, Justice Moreno had worked for the LA City Attorney's office and served as a misdemeanor judge. [So] I asked him for some advice regarding the pro bono case, and, to my surprise, got a lot more." Namely, a partner and mentor. "Judges and prosecutors did a double-take when Justice Moreno came into a courtroom," Camp remembers.
And when Justice Moreno left the firm after being nominated U.S. ambassador to Belize, Camp, because of his criminal law background, inherited the Gonzalez case. 
According to a 2012 Human Rights Watch report, 301 California inmates are currently serving sentences of life without parole for crimes they committed as minors. Under the Fair Sentencing for Youth Act, those who have already served 15 to 25 years for such crimes may apply for resentencing hearings.
"It was gratifying that a prestigious, high-powered firm was willing to spend time on a case like this," says Heidi Rummel, a directing attorney at the USC Gould School of Law Post-Conviction Justice Project, which advised on the Gonzalez case. "It was a serious crime, and there is always another side to a murder case, but Irell & Manella stepped up to the plate."
Camp was relieved that "Gonzalez was as good as advertised," he says. "He lived a model life in prison, avoiding gangs, drugs, and violence, while taking advantage of educational opportunities and finding religion. I can't imagine how someone could do that with no realistic prospect of ever getting out."
Since this was the first case under the Fair Sentencing For Youth Act, Camp was flying blind. He was unsure how Orange County Superior Court Judge Thomas Goethals would apply the law or what form of evidence he would expect. Would he accept video testimony? Or would he require witnesses to make court appearances, giving the state a chance to cross-examine them?
"Marshall had us study the judge's rulings in other types of cases so we could align our presentation with his values and ways of thinking," says Bryant Yang, an associate at Irell & Manella. He adds, "I am constantly amazed at [Camp's] ability to digest complex facts and legal theories and present them in a coherent and understandable argument. His writing is succinct, persuasive and easily decipherable."
One decision the legal team made was what to do after Goethals denied their request to file Gonzalez's institutional record and expert reports—based on confidential information—under seal. Rather than withdraw the reports, Camp said "'Let's be open. Let's give the judge something to hang his hat on,'" Yang recalls. "We wanted to have a robust record demonstrating Mr. Gonzalez's rehabilitation and to establish mitigating factors weighing in his favor."
Gonzalez's mother, and several sisters and brothers, were in the court during the trial. "It's remarkable the number of defendants who have no family members there for them," Camp says. "When talking about a sentence that makes him eligible for parole, judges look for a strong support network. They don't want defendants who will walk out of prison and potentially fall into criminal activity."
If released, Gonzalez told the judge, he hoped to work with children to prevent them from joining gangs. "There isn't a day that goes by when I'm not reminded of the wrong, the harm and the pain I've caused," Gonzalez said.
"A lot of defendants focus on themselves," Camp says. "Edel was very cognizant that another person was affected by his crime, and his sincerity conveyed that. My impression is that judges are inured with people reciting they are sorry for their crime. In Edel's statement, he expressed a personal and sincere regret for the crime, which persuasively conveyed it had been on his mind for a long time. And that's important to a judge, because he wants to know, if he gives parole eligibility, that [the parolee] will be a model citizen."
A number of law professors and students came to watch the new law being tested, as did advocates for other prisoners seeking relief. "A lot was riding on this case," Camp says.
Ultimately, in December 2013, Judge Goethals changed Gonzalez's sentence to 25 years to life with parole. Since Gonzalez has served 22 years, he could be eligible for parole in less than three years.
Camp is proud of the outcome and the chance it offers for redemption. "If someone commits a crime at age 15, by age 41 they can be a fundamentally different person," he says.
Search attorney feature articles