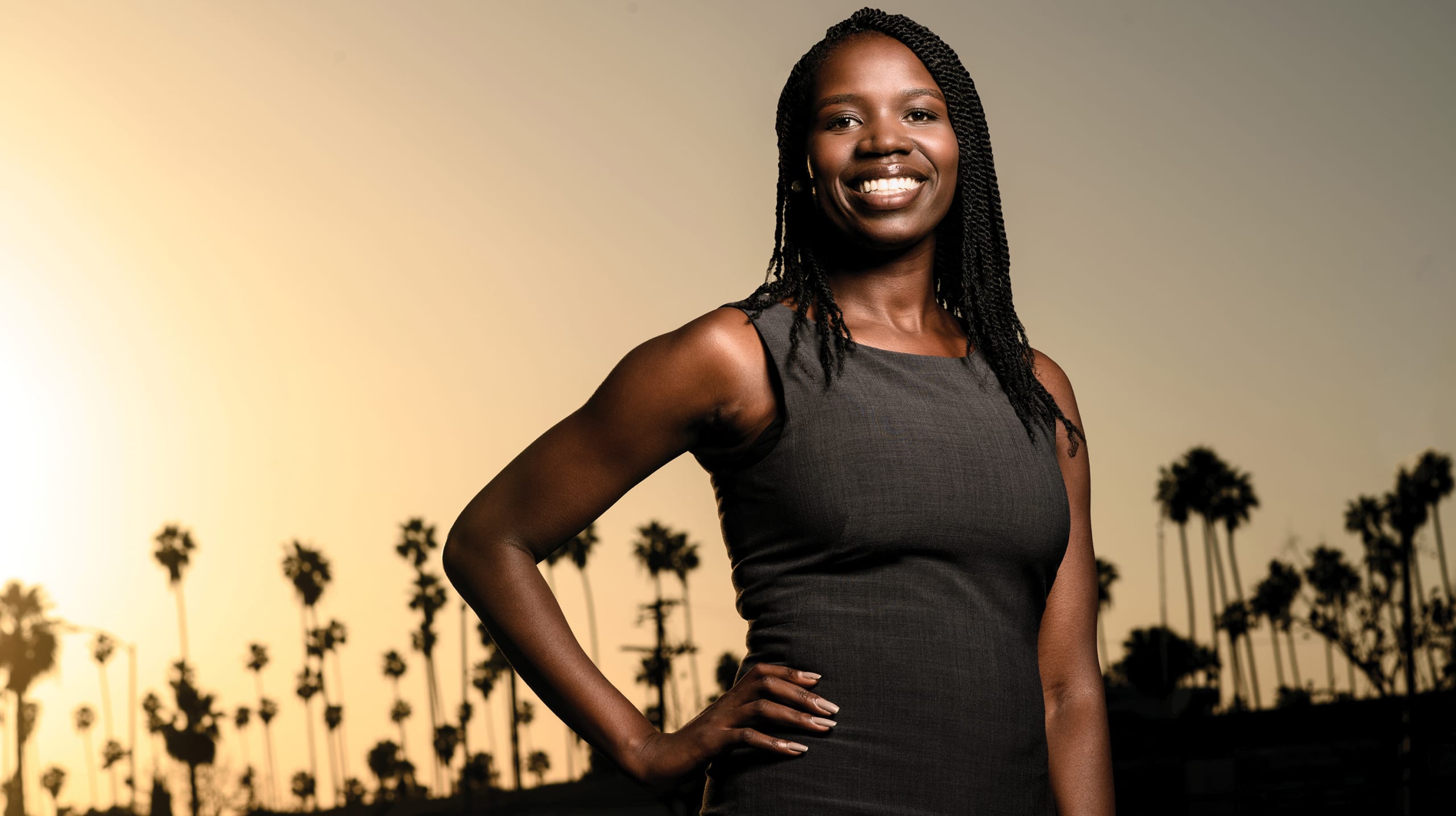 Next Gen
Ibiere Seck follows in some big footsteps
Published in 2018 Southern California Rising Stars magazine
By Jessica Ogilvie on June 7, 2018
In 1995, the trial of O.J. Simpson riveted the nation, and Ibiere Seck, a teenager in Washington state, was no different. One person in particular mesmerized her: Johnnie Cochran.
"He had a way about him," she says. "I felt like: That's what I want to do."
More, she became determined to follow in his footsteps. She wound up doing a better job at that than she could have possibly imagined—not only attending Cochran's alma mater, not only practicing in his city, but working at his firm: The Cochran Law Firm in Los Angeles.
"Johnnie Cochran's office is still in the same condition it was when he passed away [in 2005], and my office is right next door to his," she says. "To be able to go into work and know that just on the other side of that wall, Mr. Cochran sat—it's humbling. It never gets old for me."
Seck's parents raised their large family—10 children in all—in Seattle. They were artists: Her mother was a jeweler, her father a musician and painter. Originally from Senegal, her father was also a griot (pronounced GREE-oh)—a West African storyteller.
"These were people in the community who were tasked with maintaining the history of the community," says Seck. "Whenever there was a significant event, it had to be passed on in a responsible way. … It was their responsibility to share with the community what had occurred [in their family] up until this point. My father was born into that."
Seck's parents instilled a strong sense of family and self. Her mother, seeing Seck's promise from a young age, encouraged her to become an attorney. "My mother planted the seed," she says. "I think she recognized when I was young that I could have this amazing opportunity to have an incredible education, and do good work in my community."
Although she did well in school, she eventually found herself self-conscious about being one of the few students of color in her class. As a result, when she was a preteen, she was homeschooled for two years, then enrolled in American Indian Heritage, a small, largely Native American school specializing in arts and culture. For Seck, it was eye-opening.
Recognizing how much her classmates knew their own family histories, she became determined to do the same with hers. Upon graduation, Seck left for Senegal for a year, staying with relatives, and meeting aunts, uncles and a grandmother she'd never known. For the first time, she was surrounded by people who "looked like me," she says, "and I saw the beauty in them and in myself."
It was also the first time she realized how much opportunity she had been born into. Seck had seen poverty in America, she says, but nothing like what she saw in Senegal.
"Something awoke in me," Seck says. "That's really when I started to see that I have all of these incredible opportunities, that I truly am privileged, and that I was going to do everything in my power to take advantage of it."
At Northeastern University in Boston, Seck planned to become an attorney—just not the specifics. "Something along the lines of civil rights," she says. "I felt like the criminal justice system was corrupt in a sense … just based on what I saw in my communities—how I felt like people of color were targeted. I had a strong sense of this injustice; I knew I wanted to be an advocate."
She became one sooner than she expected. In her junior year, as part of a campus expansion, the school announced plans to tear down the freestanding John D. O'Bryant African-American Institute and relocate it into an existing building. It had been a system of support for students of color since the 1960s, and Seck, president of both the black student union and black student newspaper, found herself in the middle of a fight. Students, teachers and staff marched, protested and staged a 40-day sleep-in. Eventually, university officials acquiesced: The building remains to this day. For Seck, the experience was a turning point.
"I learned that if you believe in something and you are selfless, good things can come," she says. "And I remember thinking how much more I could accomplish with a law degree."
After the LSATs, law school brochures flooded Seck's mailbox. One of the schools, Loyola, had launched a program that spotlighted illustrious alumni in outreach to prospective students. When Seck opened the brochure, the face staring back at her was Johnnie Cochran.
"I said, 'Oh my gosh, I've got to find out more about this school,'" she says. "I found out that Loyola has one of the best trial advocacy programs in the nation."
She applied and was accepted, and it didn't take long for Seck to home in on her path. In her first year, she became interested in a civil rights symposium taught by Gary C. Williams; for a summer internship, she worked for a big firm.
"I made a ton of money—more money than I'd ever seen in my life," she says. "But I absolutely hated it. I was done. I knew: 'I am going to work for the people and be a trial lawyer for the people.'"
Seeking trial experience after graduation, she applied for a job with a Little Tokyo-based attorney who needed an associate to help with trial prep. She didn't get the job, but the attorney was so impressed he asked if he could recommend her to an attorney at a different firm.
That attorney was Joe Barrett, a partner at The Cochran Firm.
"I was highly impressed," says Barrett, now at Affeld Grivakes. "She was very advanced in her skills and maturity, and had a magnetic personality. She has a thirst for knowledge."
One month later, Seck got the call.
"[It was] The Cochran Firm, saying, 'We're hiring. Do you want a job?'" she remembers. "I've never looked back."
Specializing in catastrophic injury, wrongful death and sexual abuse of minors, Seck has quickly carved out a name for herself in the field of civil rights litigation. She gained national attention for her work on a sex abuse case in which her client, a young teenager, was repeatedly assaulted by a coworker while both did custodial work with U.S. Metro Group, a facilities service. The abuse went on for over a year.
The civil case landed with Robert Simon, co-founder of the Simon Law Group, who was working with attorney Thomas Feher; Simon reached out to see if Seck could help. The two knew each other from board work in LA. "She has always been a star," says Simon.
At first, says Seck, the case didn't look good. When she and the victim first met, the girl was using drugs heavily and was being held at a facility in Orange County. "She was just in a really, really bad state," says Seck. "I was thinking, 'Who is going to believe her?' But once I sat down with her and heard her story and the details that she provided, there was no way you could deny that it occurred."
Over months of meeting with the girl, getting to know her, talking about everything besides the assault case—movies, books, family, school—she began to earn the girl's trust. That was key. "She trusted no one," says Seck. "She had been betrayed in so many ways that she just didn't believe anyone was looking out for her best interests."
After trust was established, Seck says, "We were able to do some really incredible work on her case." This included hiring a private investigator to find other employees who had been victimized by the same man, and building a case to prove that U.S. Metro knew about his actions and kept him on payroll regardless—even once honoring him as employee of the year.
"The strategy was to expose [U.S. Metro] as the liars that they were," says Seck. "They knew from the time they received the first complaint of harassment that they should have shown this man the door. Instead, they [held] him up in the company in such a way that all of his victims felt like they would never be heard, they would never be believed, and they would just have to shut up and take his abuse."
After initially being offered a $5,000 settlement, their client won a $2.6 million verdict in Van Nuys, one of the more conservative districts in the Los Angeles area.
Seck's work didn't stop with the verdict. She reunited her client with a former foster family in the Bay Area and helped her move there. Seck arranged for a financial planner to set up a trust, allowing the girl to finish high school and begin a cosmetology program—the first step in her long-term plan, created with Seck's help and encouragement, toward one day owning her own salon.
"We spent a lot of time mapping out what kind of life she wanted to live," says Seck. "She is now 20 or 21 and doing well."
For their efforts, Simon and Seck won the Consumer Attorneys of California's Street Fighter of the Year Award in 2016. Simon notes that Seck's outstanding efforts hinged on her passion, and, much like her father and relatives back in Senegal, her abilities as a storyteller.
"Ibiere is the most fearless advocate," Simon says. "She will speak up about anything if it's not right. In a courtroom, she comes across as soft and caring. I remember her doing direct questioning with the plaintiff, very powerful and emotional stuff, and incredible storytelling. She speaks from the heart."
Lately, Seck has turned her attentions to her own family, having recently given birth to her second child. She and her husband, who live in the View Park neighborhood of Los Angeles, also have a 6-year-old son. Just weeks after giving birth, Seck was working again while simultaneously caring for her newborn daughter.
"I attended the National Trial Lawyers Summit in Miami [in January]," she says. "I took my daughter on her first flight."
Her current cases include representing victims of sexual abuse across the country, and working with the victims of the Ghost Ship fire in Oakland, in which 36 people were killed when an artist's warehouse burned to the ground.
She tries to visit her parents in Seattle once a year, and her relatives in Senegal every other year, and to involve her children in her work as much as possible. "I have made it a point to talk to my son about my work, in the hopes that he understands why it is that I do the type of work that I do," she says.
Seck was never able to meet Johnnie Cochran. But among those who did know the legendary attorney, she's already made a lasting impression.
"He would be proud," says Barrett, "to know that Ibiere Seck is a leader at his firm."
---
Seck's advice for law students entering the job market
What works
Take every opportunity to expand your network.

Meet lawyers who work in practice areas you're interested in, and learn from them.

Always end a meeting by asking if there's anyone else you should reach out to.
What doesn't
Mailing or emailing your résumé to someone in human resources. Your best bet is to do your own research and make contact with the person in the firm or organization you most want to work with.
Search attorney feature articles