No Summit is Guaranteed
Joseph Chairez's pro bono work has helped immigrants, at-risk kids and Sherpas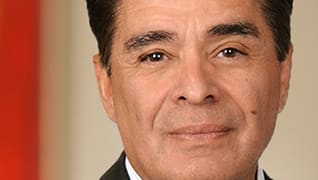 Published in 2023 Southern California Super Lawyers magazine
By Andrew Engelson on January 11, 2023
It wasn't just that an American businessman was suing a mountaineering company for failing to summit Mount Everest; it's that the lawsuit claimed that the Sherpa guides were "lazy and inefficient."
That's when Joseph Chairez, a business litigator based in Costa Mesa, knew he had to get involved.
An avid climber and world traveler, Chairez had trekked to Everest base camp in Nepal (elevation: 17,598 feet) and seen Sherpas at work. "These people are carrying over 100 pounds all together on their backs, up and down the mountain," he says. "So when this case came in and they were saying they were lazy—oh my gosh. If anything, everyone should universally recognize that Sherpas are amazing."
That pro bono effort, coordinated by three offices of Baker Hostetler—where Chairez has practiced for 20 years—is just one of many volunteer endeavors he has taken on. An early career moment exemplifies why he does it. While working for California Rural Legal Assistance, he helped a largely immigrant population navigate Section 8 housing and push back against discriminatory bank-lending practices. One woman he met was living in cardboard boxes. An extension cord powered a tiny refrigerator inside. "I sat down with her, and she opened the refrigerator and there was nothing in it except one 7-Up," Chairez recalls. "And she offered me that."
Chairez was born in Mexico, and his family came to the U.S. when he was 2. Though his father, a Mexican-American World War II vet, was fluent in Spanish, he spoke only English at home, while his mother spoke only Spanish to her children. "My parents both stressed the importance of celebrating our Mexican heritage but also to honor and celebrate the country we lived in and that my father defended as a soldier," Chairez says. He uses both languages in his pro bono work.
At Baker Hostetler, Chairez litigates business, employment, construction liability and insurance policy cases. In one notable case, he served as counsel for the insurance team representing more than 70,000 people affected by wildfires in Northern California, helping secure a $13.5 billion settlement from Pacific Gas & Electric in 2019.
His current volunteer efforts include serving on the executive board of the Public Law Center. In past efforts, he took a leading role in the language barriers committee and served as co-chair of the California Access to Justice Commission. He is a fierce advocate for more interpreters in the courtroom. Serving as a pro tem judge in small claims court helped him realize how frustrating the system can be for those who don't speak English. "There's nothing sadder than sitting there as a judge and seeing someone who didn't understand the forms losing on some technicality," he says.
The Sherpa case was a highly personal one for Chairez. He began mountain climbing in the early 2000s, when he volunteered with Orange County Search and Rescue and wanted to augment his capabilities. For a time he also volunteered with the El Viento Foundation in Huntington Beach, an after-school program that motivates at-risk youth to work toward college and then pays their full tuition.
"For the fourth graders, I wanted to show them you can do whatever you want," Chairez says. So he trained for a climb of Mount Kilimanjaro, and the kids would accompany him on practice hikes. When he eventually summited Africa's highest peak in 2010, Chairez held a banner in honor of his young mentees.
In addition to trekking to Everest Base camp in 2016, Chairez has climbed La Malinche and Pico Orizaba, some of the highest peaks in Mexico. In 2018 he traveled to Argentina to ascend Aconcagua, the tallest mountain in South America, but faced the reality that summits are never guaranteed. Near 17,000 feet, he became ill and had to be helicoptered off. "That's part of mountain climbing," he says. "It's like going fishing. You're not going to always catch fish."
The plaintiff in the Sherpa lawsuit—a Silicon Valley CEO—didn't share that attitude. He claimed the guide service, Madison Mountaineering, was being too cautious when it called off a climb he'd paid nearly $70,000 for in the autumn of 2019. According to court documents, the guiding company determined that apartment-sized blocks of ice, known as seracs, posed an extreme threat on a notoriously dangerous section of the route. Indeed, that fall no other parties successfully reached the summit of Everest. Madison Mountaineering offered the client credit toward a future trip, but he refused and filed suit. Chairez worked with two other offices in the firm to defend Madison Mountaineering.
"The contracts lay out all of these things in terms of safety—that you need to listen to your guides and that's who has the last call," Chairez says. He noted that on his climb of Pico Orizaba, one of his fellow climbers experienced altitude sickness and the group of three, roped together, had to turn around before reaching the summit. "You should never focus on, 'Oh, I spent this money and I've got to get this,'" he says. "It's about safety and coming back."
In the final judgment, all parties agreed that the CEO had no right to a refund, that his attorney should not have used language stating that the Sherpa guides were lazy, and that the CEO had to pay for all of Madison Mountaineering's legal costs.
Chairez hopes this outcome will discourage future "summit fever" lawsuits. "It's not only your life you put in danger when you're climbing at an altitude like that," he says, "but the lives of other people." 
---
Climb Every Mountain
Mountains Chairez has climbed:
Pico de Orizaba
Aconcagua
Everest base camp
Ama Dablam base camp
Whitney
Mountains Chairez has summited:
Kilimanjaro
La Malinche
Longs Peak
Bradley
Search attorney feature articles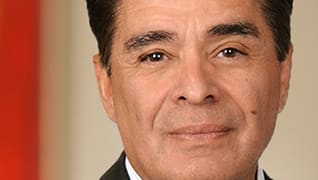 Featured lawyers
Helpful links
Other featured articles
Making a Murderer has brought him, and the justice system, to the national stage
Kostan Lathouris' promise to represent tribal interests and sovereignty 
Philip X. Wang brings a chess-champion mind to patent law
View more articles featuring lawyers
Find top lawyers with confidence
The Super Lawyers patented selection process is peer influenced and research driven, selecting the top 5% of attorneys to the Super Lawyers lists each year. We know lawyers and make it easy to connect with them.
Find a lawyer near you