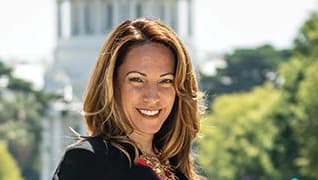 Photo by: Gregory Cowley
The Artful Dance
Jennifer Hartman King brings harmony when developers and state regulators start butting heads
Published in 2018 Northern California Super Lawyers magazine
By Dan Fost on July 10, 2018
After landing an internship with the U.S. State Department, Jennifer Hartman King, an undergrad at UC Davis, went on her first European trip. But this was no sightseeing tour. It was 1997, and she was sent to Bosnia to help run a voter-registration center, hoping to restore some semblance of normality to a region wracked by war and ethnic cleansing.
"It was eye-opening for a kid from California," she says of the town on the Croatian border where she was based. "Nearly every building, if it had not been destroyed, was pockmarked by bullets. Many of the women had suffered sexual assault."
King spent several months registering voters. She returned to the region the next year, after starting law school at UCLA, and ran a polling station. At one point, in a coffee shop filled with heavily armed men, the proprietor leaned in and asked her, "Which side are you on?" 
"My heart was beating a million miles a minute," King says. "I said, 'I'm not on any side. I'm just here to help.' He said, 'Good answer. Thanks for the help.' And everybody relaxed."
King is a natural storyteller, with a warmth that puts people at ease, and a genuine interest in what others say. She spends most days advising clients about the nuances of environmental law to help them understand compliance requirements, and advocates for them with government agencies if they run into problems.
That wasn't her original plan, however. King had thought to use the trip to Bosnia as a springboard into a career in international relations. But life throws curveballs. 
The first came during law school, when she spent a summer in Costa Rica studying human rights law. On her first day, she met her future husband, Lamont King, a student from Case Western Reserve University School of Law in Cleveland, who was there for the same program. It occurred to her that a foreign-service career would greatly complicate any personal relationship. 
Then, in King's third year of law school, she signed up for a clinical course in environmental law. It wasn't her first choice, she says, but "I absolutely fell in love with it. 
"I enjoyed the fact that it was fairly complicated," she says, noting that the practice involves a tangle of state and federal statutes, regulations and court rulings, often at odds with each other. "There's no easy answer to any question. You have to use your analytical skills.
"I also realized it was really important for people to understand environmental laws and do the right thing. That just fired me up." 
Straight out of law school, King landed a job at the LA branch of McCutchen Doyle, Brown & Enersen, which later merged to become Bingham McCutchen, and is now Morgan Lewis. She says she was "a lowly junior associate" when one of the firm's leading lights, Barry Goode, left to become secretary of legal affairs to then-Gov. Gray Davis. Although she didn't know Goode, King took notice when a partner sent a firmwide email that Goode was looking for a deputy legal affairs secretary. 
"I threw my résumé in," she says. "What did I have to lose?
"Lo and behold, they selected me," she says. "It was a difficult decision. I had never contemplated it would become reality. But it was too great an opportunity to pass up." 
She found herself handling not just environmental law, but various legal issues that came the state's way. There were plenty. The job came to a premature end when voters recalled Davis in 2003—while King was on her honeymoon—and put Arnold Schwarzenegger in the governor's mansion. 
"It went by so fast," she says. "I would have loved for it to last longer."
Sacramento felt comfortable, and King stayed, working at several area firms before co-founding her own in 2014.
She met some of her oldest clients during her stints at the Sacramento firms. Bob Logan, an environmental consultant, says King stepped in for a colleague and immediately proved herself. In one complex case, a city was enmeshed in a multiparty lawsuit over pollution from a dry cleaner. 
"By the time she and I got involved, none of the parties were talking to each other. They were just logjammed," says Logan, principal geologist with Kennedy/Jenks Consultants. "In the meantime, the site was not getting cleaned up. Jennifer, with her professionalism, her empathy, her people skills—it took a while, but she got all these folks on regular calls, making progress. With everyone working together, we were able to summon the resources from each party to move forward and develop a plan to clean up the site."
Sacramento developer Mike Heller met King four years ago, as he was embarking on a plan to transform a highly contaminated site that had housed a former ice company into a sleek mixed-use complex with office, retail and housing space. 
One particular challenge: balancing "a demanding private-sector developer guy like me with the bureaucratic process of state regulators," Heller says. "That's not an easy environment for anybody. She did a damn good job. It's an artful dance. She danced that quite wonderfully." 
Heller is speaking from his office in the Ice Blocks, on Sacramento's R Street corridor in Midtown.  
A little over a mile away, Hartman King's firm is ensconced on the seventh floor of an office building a few blocks from the state capitol. "We've had significant growth from day one," says King. 
"I think the companies that tend to hire me really want to understand what the [government] requirements are," she says. "They want to do the right thing and be responsible from a corporate perspective." 
But King believes companies are burdened by too many regulations that make it difficult for them to understand and comply with the requirements.
"There's a real effort at the federal level to carve back environmental laws and regulations," she says. "This is resulting in an increase in regulatory activism in California."
King's husband is an attorney for the California State Teachers' Retirement System. At age 29, shortly before they got married, Lamont—a 6-foot-4 former collegiate football player and all-star athlete—was diagnosed with non-Hodgkin's lymphoma. He developed pain in his elbow that was ultimately diagnosed as a tumor. He underwent both chemotherapy and radiation, having his last treatment only a few days before their wedding. 
Six months later, Lamont was told he was in remission. 
To celebrate his recovery, King joined Team In Training, a program that trains people for endurance events like marathons to raise money for cancer research. "I said, 'We'll raise money and pay homage to the folks who helped save your life,'" she says. Ten years later, King completed a half-marathon to mark Lamont's cancer-free decade. 
King also gets her exercise in other ways. She was always a dancer; she even went to high school outside of her district in suburban Contra Costa County to participate in a dance program. She still dances, she says, "but only for fun these days. Our eldest son is in Sacramento Theater Company's Young Professionals Conservatory, so I can be spotted practicing pirouettes with him now and again." 
She and Lamont also do taekwondo with their sons, ages 13, 10 and 7. Lamont and the oldest boy have black belts, the middle son has a red belt, and King is challenging her youngest son—who started this year—to see who can get a black belt first.
She also set up a home gym "with a ridiculous number of extreme workout videos," she says. "It works out the stress." 
Active in the community, King is a former president of Women Lawyers of Sacramento and served on the board of California Women Lawyers. She has also served on the board of Sacramento Child Advocates. 
Though King opted out of a career in international relations, her first trip to Bosnia instilled a lifelong love of travel. After registering voters, she spent three weeks going through Eastern and Western Europe on a shoestring budget. And in 2000, after taking the Bar exam, she backpacked with Lamont through South America for nearly two months, hiking the Inca Trail and visiting Cusco and Machu Picchu. 
She's now encouraging that love of travel in her sons. In addition to regular vacations, the family started an annual tradition in summer 2016 of letting one child—starting with the oldest—pick any place in the world for a one-week solo trip with just Mom and Dad. 
"I'm picturing the Great Wall of China, the pyramids in Egypt," King says. "The first one wanted to go to Maui, the second to Miami and the third to Disneyland." 
She's hoping to convince them of the value of branching out to more exotic places. "I've got a really long bucket list," she says.
---
Jennifer Hartman King on 5 of Her Favorite Destinations
Plitvice Lakes National Park, Croatia
Visitors hike down into a ravine that holds over a dozen lakes, each of which has a distinctive color, ranging from topaz blue to turquoise, emerald green to gray. The colors change constantly, depending on the minerals in the water and the angle of the sunlight. Wooden-planked footpaths wind through and around hundreds of waterfalls.
Tabacon Hot Springs, Costa Rica
At the base of the Arenal Volcano in the northern region of Costa Rica, thermal mineral springs flow in cascading waterfalls and form streams, ponds and pools surrounded by tropical gardens.
Ushuaia, Argentina
Aptly nicknamed "The End of the World," this resort town is located at the southernmost tip of South America on the Tierra del Fuego. It is perched on a steep hill, with beautiful views of the surrounding Martial Mountains on one side and the Beagle Channel on the other. It is a great launching point to go hiking in Patagonia.
Isle of Skye, Scotland
This island is connected to Scotland's northwest coast by a bridge. The mountainous interior of the island is surrounded by picturesque fishing villages. I witnessed the most spectacular and unforgettable sunset here. The pubs are fantastic.
Bighorn Mountains, Wyoming
This is a beautiful place for backpacking, camping, horseback riding and fishing. During a cross-country road trip, my husband and I camped in the snow in the Bighorn Mountains and woke up to a glorious, crystal-clear, big, blue Wyoming sky.
Search attorney feature articles