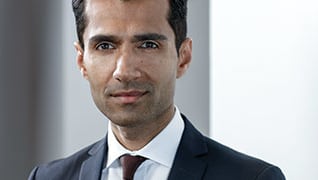 Photo by: Dustin Snipes
The Great Promise
Moez Kaba, a first-generation Pakistani Muslim, reps clients from the LGBT community to a Koch brother
Published in 2016 Southern California Rising Stars magazine
By Jessica Ogilvie on June 6, 2016
In 2002, while completing his undergraduate degree at Cornell University in Ithaca, New York, Moez Kaba was faced with a dilemma most law students wouldn't mind having: Harvard or Columbia?
A first-generation Pakistani Muslim, Kaba was offered scholarships to both law schools; but ultimately his decision didn't come down to the money or even the quality of each university. 
"Deep in my heart," he says, "I really wanted to be in New York, because I wanted to be out. I wanted to be a part of this vibrant community." 
Kaba's family is part of the Ismaili sect of Shia Islam, which, he says, is "focused on the importance of tolerance and plurality, and appreciating the varying experiences of people in the world." In high school in Skokie, Illinois, he helped launch a community outreach program with other children of immigrants. "We'd all go out together and we'd be like, 'Let's go work at a soup kitchen, let's go clean up a park, let's go plant trees.' … [It was] this desire to reimagine the relationship between young Muslim people in the communities in which they were living."
But even as he worked toward inclusion, secretly he felt excluded. "I think my experience was very similar to a lot of people who were gay, and knew they were gay, but weren't able to come out," he says. "I was so scared all the time." At his school, some LGBT students met privately in a group run by the drama teacher, but, he says, "I would never have dared go. … I was terrified that people would find out, that my family would find out." 
Kaba's parents raised Moez and his older sister while working whatever jobs they could find. His father drove a taxi for 20 years, and his mother cleaned factories before finding work as a dispatcher at a phlebotomy lab. "They came on a honeymoon visa, and decided they just could not go back to Pakistan and have a future for themselves or the family that they wanted to have," he says. "America was the great promise."
He adds, "No one in my family knew any gay people. For them, it was something that was so foreign and so unknown, and in some respects unknowable, because they just weren't working in an environment where they were likely to interact with gay people." 
In the end, for him, Columbia won out, and Kaba quickly found the sense of community he was seeking. On his first night in the city, he went to a gay bar in Manhattan's Chelsea neighborhood. "I have this vivid memory of going in and just being completely astonished: 'My God, there are people here who are so comfortable with themselves and with who they are,'" he says. Slowly, he became more comfortable, too. He came out to his friends, then to certain family members, then to his parents and religious community. His earlier fears were allayed; everyone, he says, was supportive. 
"People in my community … love me, and they accept me and my husband," he says. "It's not even something I really think about."
In some sense, though, he does feel he let his mother down. "I'm convinced my mom's still super sad that I went to Columbia instead of Harvard," he says. "The gay thing, she's gotten over."
Kaba is sitting in his office at Hueston Hennigan, located on an industrial-style floor of a historic building in downtown Los Angeles, which opened its doors in January 2015. The walls are sparsely decorated with eye-popping modern art. Much of the in-house décor, as well as the design, was his choice. 
"In addition to being a really wonderful lawyer, Moez has a fine artistic sense," says founding partner Brian Hennigan. "The rest of us had the good sense to step back … and give him a chance to come up with that dream, that plan, and execute on it." 
All of this is the realization of Kaba's long-term ambitions. "I always wanted to be a lawyer," says Kaba, relaxed and cheerful on a Friday afternoon. "It was this perception of lawyers speaking the language of influence, and, for me, I wanted to have influence in my community." With a laugh, he recalls being in an AP class in high school when the teacher asked students what they wanted to be when they grew up. "I'm some 14-, 15-year-old kid and I was like, 'I want to be the president of the United States!'"
Kaba's parents encouraged him in his studies. "They were just incredibly focused on 'You need to go out and get an education, and whatever we need to do to make that happen for you, we will have to do,'" he says. In 2005, both parents watched him graduate from Columbia Law, but soon after, Kaba's father passed away at the age of 50. "He was so proud of being an American," says Kaba. "Within weeks of me graduating law school, he had mentioned to a friend that 'My son has done all I could have ever dreamed for him to do.' He just had such pride and such joy." 
In law school, Kaba served as vice chair of the LGBT student group and chair of the Muslim student group, where he met his future husband, Bjorn Lundberg. After graduating, Kaba moved to California to clerk for 9th Circuit Judge Ray Fisher, then went back to New York for a job at Wachtell Lipton. There, Kaba took on a pro bono asylum case for a Jamaican man who had a criminal record and had missed the statutory filing deadline. The client, who was, according to Kaba, "targeted, harassed and abused in Jamaica because he was a gay man," had also contracted HIV, which amplified his fear of returning.
"It was a complicated case," says Kaba, but "eventually he got asylum, and it was really just an extraordinary thing to be able to do that. Wachtell really put all of its weight and resources behind me and the other associates who worked on his case."
Soon after, he and Lundberg decided to move west for good. "He's from Sweden and he really wanted to be in the sun," Kaba remembers. "And I had, at that point, a connection to California."
Kaba interviewed with a handful of firms but "really hit it off" with Irell & Manella. The partners there, he says, would "give me more responsibility, let me learn more about cases, give me client interaction, get me to court. … I felt, 'I'm home with these people.'" 
While still an associate, Kaba was brought onto a high-profile case. Bill Koch, one of the Koch brothers, and an avid wine collector, had been the victim of wine fraud. "A bottle of wine that was purported to be a 1945 vintage from Château Lafite was not," Kaba says. "We could tell that from the bottle, the paper, the cork—lots of different indicia of authenticity did not match."
Koch sued the seller and the auction houses for fraud. "He wanted to clean up that marketplace," says Kaba. "He wanted people to know you can't commit fraud and get away with it." So the firm launched a multiyear, multifront effort that began with suing a consignor and an auction house. Kaba argued the case in New York, asking for both liability and punitive damages. "At the end of that three-week trial, the jury took about an hour to come back and rule in our favor on all accounts," he says. "They awarded $12 million in punitive damages. We asked for $10 million. That's how convinced the jury was with our presentation."
The effort, which began at Irell and then moved to Hueston Hennigan, and included seven lawyers overall, resulted in a change in New York state law, clarifying, as Kaba puts it, that "an as-is disclaimer does not defeat liability for under these statutory provisions, [and] that reliance is not an element of these claims. Two lawyers have written about it after the opinion came out and called it a game changer."
Around the same time, Proposition 8, banning same-sex marriage in California, had been approved by voters; and with the encouragement of Irell's partners, Kaba worked with Equality California to challenge the law. In a pre-filing, he argued that "you can't change the constitution in a way that discriminates against people just by public vote," he says.
In addition, he became involved in arguments against the Defense of Marriage Act. Working alongside Lambda Legal, he argued that DOMA was a form of sex discrimination. "Bob can't marry John because Bob is a man," he says. "If Bob was Sue, Sue could marry John. The only difference is the gender."
"This was an essential argument to press before the courts," says Tara Borelli, a senior attorney at Lambda Legal, "not only because of its importance to the marriage and DOMA cases, but also because of its importance for our next chapter of work: seeking greater recognition that sex discrimination doctrines protect lesbian, gay, bisexual and transgender people in the workplace." 
Borelli, who worked closely with Kaba for several years, says he was indispensable for his unique ability to "take complex arguments and make them instantly accessible, [and] for harmonizing the viewpoints of co-counsel and clients." 
It was these qualities, too, that led Hennigan and his partner, John Hueston, to invite Kaba on board when they started their firm. "The first time I worked with Moez, we worked pretty closely on a criminal matter," says Hennigan. "We were representing a Hasidic rabbi accused of financial crimes. … The client was a really great person, and we got along extremely well, and he got along extremely well with Moez. Moez is a guy you just open up to. People just enjoy working with him."
Since starting at Hueston Hennigan, Kaba has been working on a high-profile case involving last summer's Gold King Mine spill.
The spill, says Kaba, resulted in "contamination of a river that runs through Navajo land, the San Juan River. We represent the Navajo Nation in all aspects of that catastrophe, and it's quite unfortunate because the Navajo people have repeatedly been ignored and have repeatedly suffered contamination on their lands." 
This is the kind of work Kaba always wanted to do. "What an amazing job: that we could do something that might truly help people in a way that has very significant environmental consequences, and that has very significant consequences for the Navajo nation," he says. "I think about that a lot with my clients. … We're always trying to give them all we have to offer."
---
A Case of Wine Fraud: Koch v. Greenberg
2005 Bill Koch buys vintage wines via Zachys auction house. 
October 2007 Koch files complaint against wine seller Eric Greenberg.
May 2011 Moez Kaba is assigned to case, and to related Koch wine-fraud litigations in New York, California and Florida.
March 2012 In Koch v. Acker, Merrall & Condit Company, Kaba leads briefing before New York Court of Appeals, which unanimously rules in Koch's favor—holding that Koch may state consumer protection claims against auction house notwithstanding the presence of an "as is" clause in conditions of sale. Decision has a significant impact in the Greenberg case and others. 
May 2012 Amended complaint filed in Greenberg, fleshing out factual details.
September 2012 Court denies Greenberg's motion for summary judgment. 
April 2013 After three-week trial, jury rules in Koch's favor on all claims.
June 2013 Greenberg moves for judgment as a matter of law or for a new trial.
March 2014 Court denies request. 
May 2014 Greenberg appeals to the U.S. Court of Appeals for the 2nd Circuit.
September 2015 Kaba argues for Koch before 2nd Circuit.
September 30, 2015 2nd Circuit rules in Koch's favor on all counts.
October 2015 Greenberg satisfies judgment to Koch.
Search attorney feature articles