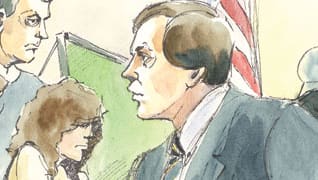 Photo by: Andy Austin
Operation Greylord: Fixing the System
An oral history of the investigation that took down a corrupt Cook County court system
Published in 2014 Illinois Super Lawyers magazine
By Steve Knopper on January 13, 2014
As it turns out, even in Chicago a judge cannot make financial arrangements with a defense attorney to fix a case.
Such bald-faced bribery happened over and over in the Cook County court system in the early '80s, which led a group of U.S. attorneys and FBI agents to begin a long, nuanced investigation they called Operation Greylord. Playing out like scenes from The Wire, Greylord had everything—moles and recording devices, heroes and bagmen, Russian roulette and courtroom drama. By the end, 92 judges, lawyers, court clerks and police officers were indicted; few were acquitted. Scott Lassar, partner with Chicago's Sidley Austin and former U.S. attorney, calls it "the most important thing I've done in my career." Here's the story as told by former prosecutors, U.S. attorneys and a lawyer for the defense.
Daniel Reidy, partner, Jones Day/former assistant U.S. attorney: It was 1978 when a fellow who had just then been made head of our special prosecutions division walked into my office and dropped a file on my desk and said, "This is important. Read it. I want you to take it over. Don't talk to anybody about it." That was the start.
Thomas P. Sullivan, partner, Jenner & Block/U.S. attorney from 1977 to 1981: My attitude was: "This was not right. I'm here. I'm going to do something about it, and if it takes a risk, that's the cards I got dealt." It's not complicated. I don't have a complicated mind.
Charles Sklarsky, partner, Jenner & Block/former assistant U.S. attorney: It was a very small team. At that time, it consisted of Dan and Scott Lassar and me. I don't think anyone else, other than Tom Sullivan, even knew about it. The three of us then began working with [Randall] Lamar Jordan, special agent at the FBI, who was really the one who pushed to have such a project.
Lassar: Greylord was named after a racehorse. People think it had something to do with judges' wigs or something, but that was not the case.
Sklarsky: Lamar Jordan just picked it out of the racing sheets.
The FBI and U.S. attorneys initially considered sending real cases through the Cook County court system, with defense lawyers wearing recording devices and passing information to the FBI. "There were too many downsides to that," recalls Lassar, who was an assistant U.S. attorney at the time, "including that criminals would go free, and they might commit new crimes to hurt people." So the Greylord investigators, in consultation with the Department of Justice, decided to invent bogus cases, sending undercover agents on the streets to be arrested.
Sullivan: There was, at the time, a case called In re Morton Friedman. [Chicago Assistant State Attorney] Mort Friedman had tried to do the same thing [expose corruption through undercover methods], only he got disciplined. There was a divided [Illinois] Supreme Court opinion that we studied carefully. It was a serious problem for our licenses to practice law. But nevertheless, we decided to go ahead with it, because it was too important not to.
Scott Lassar, Sidley Austin/former U.S. attorney: A typical scenario was, someone calls the police and says, "There's somebody selling drugs in the park." And there's an undercover agent sitting on a park bench and underneath the bench, there's a bag with narcotics in it. And then an undercover agent would represent the defendant.
Reidy: We didn't want anybody beaten. It was really a substantial logistical problem.
We were very much afraid we'd have FBI agents put in jail cells with horrible gangbangers. They were all unarmed and uncredentialed.
Sklarsky: On our shoplifting cases, we had to introduce witnesses to go up to a security guard and tell them somebody had just shoplifted. [But] you could shoplift all day and not get arrested. We had to become more efficient about it.
Reidy: If I lend you a gun and you see a serial number on it, and I say, "Go take the serial number off that gun," you'll do it, but in a way that the forensic lab can see the number still. When we take a gun to the FBI, they take off [the serial number], and nobody can re-raise it. If police are paying attention, that alone would be very suspicious. Not many street gangs have the expertise to do this. We did a day when we had two fake cases involving guns on the streets in city of Chicago. Unfortunately, we had chosen a day, well in advance, that turned out to be a day that President Reagan was in town, and that [organized-crime figure] Allen Dorfman was gunned down in suburban Chicago. The police were in a tizzy with all this activity. The fact that two weapons [were seized] with really carefully meticulously erased serial numbers percolated to top levels of the police department. They freaked out. They thought something was going on other than coincidence. One of our guys who'd been arrested was an FBI agent. "Are you working for the FBI? What are you doing? This is serious! You're not who you seem to be. What's going on?" One of the policemen who had one of our undercover agents took him into an interview room, unloaded his gun, put one slug into revolver, clicked the revolver into place, spun the cylinder and clicked into the head of one of our agents.
Sklarsky: Chicago cops smelled a rat and thought this guy was not telling them the truth—which, of course, he wasn't. They were not corrupt; they were overzealous.
Reidy: We had long conversations with Superintendent of Police Dick Brzeczek. I carried a little piece of an index card around in my wallet which had the phone number that rang next to his bed. We had various fail-safes for making sure our agents didn't spend a night in Cook County jail.
Three months out of law school, Terrence Hake landed a job at the Cook County prosecutor's office, and his first assignment took him to the criminal courthouse at 26th and California in Chicago. "It was real obvious these judges had some sort of deals with the attorneys," he recalls. "You'd see weird decisions for cases—not decided based on law or the evidence." Hake became disgusted—even the murder, rape and child-molestation cases appeared to be fixed. He complained to his supervisor in the state attorney's office, and by spring of 1980, he met with Reidy and Sklarsky.
Sklarsky: The whole idea of an undercover project was based on the idea that nobody wanted to testify against judges. You could have lawyer after lawyer tell you how they'd been shaken down by a judge, and not one of them would want to stand up and testify about that, for obvious reasons. It became clear we had to do this with undercover FBI agents who could provide the testimony. The biggest break we got, and it happened early on in the project, was the involvement of Terry Hake.
Scott Turow, partner at Dentons and bestselling author/former assistant U.S. attorney: [Hake] is very clean-cut, and he's got a surprisingly disarming manner. Affable.
Reidy: Lamar Jordan, who we introduced to Terry Hake, immediately tried to get him to grow a moustache, because he looked too honest and boyish. And it was a terrible failure, I might add.
Lassar: We were looking for someone who looked sleazy. But he turned out to be effective because he was so seemingly guileless that he gained people's trust. Crooked defense attorneys would take him under their wing and teach him assistance.
Reidy: We basically had Terry Hake outfitted initially with a recording device that allowed him to record conversations. He could turn that on and record the individual lawyers. After we did that for a while, and we built up probable cause to believe there were corrupt conversations occurring in the chambers at 26th and California, we applied for and received permission to put a Title III [tap] into the chambers. As an additional safeguard to make sure we were only recording conversations that were likely to be corrupt—even though our Title III would have allowed us to record more than this—when the FBI put the room bug in the chambers, we did outfit Terry Hake with a switch that he had access to via a hole in his pants pocket that allowed him to turn the Title III room bug on when he saw one of the lawyers go back and talk to a judge [with] whom we had reason to believe [he] was conducting corrupt business.
Turow: There was a moment where Terry was sitting at the table and one of the lawyers who was ultimately convicted said, "If I found out anybody was a fed informant, I'd have him killed"—and nobody thought he was kidding, and nobody thought he couldn't do it.
Hake remembers the first time a defense lawyer gave him a bribe. "He gave me a hundred dollars 'for being a great guy,'" as Hake recalls.
Reidy: We suggested to Terry that he play that up—"Oh, how does it work?" It certainly worked with [attorney James] Costello. It played well with [attorney] Dean Wolfson, who we called "The Dean," because he's so good at fixing cases. There's a piece of tape where Dean is literally saying, "Look, here's how I do it. I don't want anybody to be unhappy. If the policeman wants something, I give the policeman something. If the judge wants something, I give the judge something." He starts explaining everything to Terry.
Months later, a bug was installed in Judge Wayne Olson's chambers.
Sklarsky: It turned out on December 1, when our listening device went up, [attorney] Jim Costello was going to be on vacation. We were disappointed, to say the least! We anticipated the first criminal conversation we would get would be between Judge [Wayne] Olson and Costello. We intercepted a conversation where a lawyer named Bruce Roth walked into chambers.
According to court documents, Roth asked the judge if the $200 he had given him was enough and was told, "I got a guy who gives me half of what he gets."
Sklarsky: What was going on was the judge would steer all these cases to Costello, and I guess, in Costello's absence, he was steering them to Roth. Judge Olson would steer the case so the attorney could collect the bond money, then share it with him.
Reidy: The life of an undercover agent was really weird. We let Hake tell his mother and his fiancée what he was doing, and other than that, as far as I know, he never told a soul. That's not a lot of support.
The press was "blowing like the wind," Hake says. Early on, reporters quoted lawyers who questioned the ethics of fake cases. These were usually defense lawyers and other representatives of the indicted judges and attorneys. After Judge John Murphy's conviction, the tone of the news coverage became more Greylord-friendly, emphasizing corruption. It shifted again after Judge John Laurie's acquittal in the second trial.
Sklarsky: Even when [the story] was first broken … we still had undercover people in place that had not been discovered. We had approached someone who was a bagman for a judge, to try to flip him and get his cooperation. He went public on us.
Reidy: We then had an intense period where we now could do historical investigations, bank records, talk to witnesses, grand jury—things we could never do undercover. Now we started doing those as fast as we could. Meantime, there was a huge hue and cry in the press: "Why are they besmirching the reputations of judges without indicting anybody?"
Dan Webb, chairman, Winston & Strawn/U.S. attorney from 1981 to 1985: The biggest priority was that we had to make the decision on whether we were going to indict any additional judges. That was a huge issue. We did not know whether jurors would convict a judge. If we indict a bunch of judges and everything fails, the project is a failure. Because no prosecutor should ever go forward and indict cases that appear to be cases that cannot be won. So there was a lot at stake in that first trial.
When the trials finally began, Hake was a key witness. "That was tough, psychologically," he says. "The defense attorneys are trying to make you out to be the worst human being in the world. They don't want to discuss the evidence. They want to discuss what a rat I was."
Webb: I was in my office, working away for the next day [of the Murphy trial]. The door opened. In walked Scott Lassar. He sat down in the chair and said, "Webb, you're screwing this thing up. You're treating this judge as if he deserves some respect. You need to jump on your horse and go after him." He told me I needed to treat the judge as I would any other defendant being cross-examined in a criminal case. I realized he was right. I stayed up all night, completely redid my cross, got up the next day and approached the defendant … as I would any defendant in a criminal case. By noon, I felt that I had done a good job.
Anton Valukas, chairman, Jenner & Block/U.S. attorney from 1985 to 1989:
I can remember a Sunday afternoon where we had four former judges who were all in their prison jumpsuits in the U.S. Attorney's Office at the same time, interviewing them about their former corruption. So it was kind of a judges' reunion. They had all agreed to being interviewed. It was very strange. I remember at one point walking by and thinking, "This is a photograph worth taking." No one took a photograph, obviously.
Webb: That first trial was a biggie. We were very fortunate Judge Murphy was convicted of all counts. That gave us the freedom to move forward and indict a number of additional judges and lawyers.
Edward M. Genson, Law Offices of Edward M. Genson/criminal defense attorney: Beginning to end, I probably had 20 or 30 people who, to some degree, I represented. And even talking about the people where no charges were brought, it traumatized people. I was continually depressed.
Turow: The second case was [Judge John] Laurie, and [the prosecution] lost. Those were very dark days. The stakes were high.
Sklarsky: After the Laurie case, we were one win, one loss on judges, and it was in the middle of the [Judge John] Devine trial. I happened to run into Tom [Sullivan]. . . . He said, "You've got to win this. Remember what I said: Nothing defeats the critics like success."
Sheldon Zenner, national head of litigation, Katten/former assistant U.S. attorney: I worked hard on that [Devine trial] opening for a long time. I remember Dan Reidy, who was really running the project, coming into my office one day, a couple of weeks before the trial was supposed to start, and asking, "How's it going?" And I said, "I feel pretty good about it." Then he goes, "How about you try it out for me and some of the other people here?" At that point, I had tried a number of cases and I said, naively, "You know, I'm not somebody who rehearses the openings out loud, in front of others." And I remember Reidy saying, "You know, I've never ordered anybody to do anything here in the U.S. Attorney's Office, and I hope I never have to, but I'm going to suggest to you that rehearsing the opening in this case, given where we're at and how important this is to this office, would really be appreciated."
A few days later, I found myself in one of the U.S. attorney's offices doing my opening, but instead of doing it in front of 12 strangers who make up the jury, I was doing it in front of about a dozen of all the supervisors. And I was absolutely petrified. Each of them had their own suggestions of how it might be improved. I just took lots of notes. I finally breathed a sigh of relief: "OK, that's over with." "Now, take the best of those suggestions … and come back and do it again for us tomorrow."
When you've tried a case against Eddie [Genson], you know you've been in a war. His greatest skill was cross-examination. Even the witnesses you thought were not controversial, Eddie would score points left and right. He would just say and do anything to win. He'd come up afterwards and say, "Sheldon, what did you think? Huh? Huh? I thought that was pretty good!" He was a lovable rascal and always tried to maintain friendly relationships, even when he was just saying terrible things about you.
Eddie comes out of the West Side—Jewish old-school. I, too, happen to be Jewish. We all had similar backgrounds. My parents are Holocaust survivors. They came over from Poland after World War II. They had never seen me try a case. My dad was ill at the time, but my mom came to court to watch the closing in the Devine case. It was the first time she'd seen me try a case in the court, and it was a big deal. We're getting ready to do the closings and I'm nervous as hell.
The people are in the pews in the back. I bring my mother in and sit her down, [with her] deep, thick Polish accent. Very nice, elderly woman. And Eddie would always play mind games with you. Anything he could do to throw you off your game, he would do. We're getting ready to do the closings, and Eddie comes up to me and he puts his hand over my shoulder: "Sheldon, I just want to let you know and apologize up front, because I'm going to say some things in the closing that may seem personally insulting to you—maybe question your ethics, stuff like that—but don't take it personally; you know it is just what I've got to do."
He was just trying to mess with me. Before we start, I say, "Eddie, I want to introduce you to my mother." She goes, "Oh, Mr. Genson, nice to meet you! My son says such nice things about you! I've never been in a courtroom!" She sits back down. Eddie pulls me aside and puts his arm around me and goes, "You mother-[expletive]."
Genson: How can you holler at someone in front of his mother?
Reidy: [Devine's conviction] was big time. It was a huge relief.
Operation Greylord-related cases would last through the early '90s. Afterward, other attorneys would use what had been learned from Greylord as they took on local corruption via colorful names such as Operation Silver Shovel and Operation Gambat. "It's hard to imagine more rewarding work than what we did in the Greylord project for prosecutors," Reidy says.
Julian Solotorovsky, partner at Kelley Drye & Warren/former assistant U.S. attorney: How many judges are there in the Circuit Court of Cook County? If it's 400, even if 1 percent are on the take, that's a lot.
Turow: Did I think about it as a novel at the time? No. I was working mornings and weekends on Presumed Innocent. Years later, I wrote a novel called Personal Injuries—I'm not giving any secrets away to say that it's based on Greylord.
Genson: When you hear one sad story after another, that people had started drinking.  … Some of the people who contacted me—not people I represented in court—some of the people who I counseled developed drinking problems, and there were difficulties with their marriages. [Some] people involved in the case, not specifically that I represented or had talked to … committed suicide. It was a sad thing to watch. So I, at the time, at least, didn't take these [convictions] as being something to celebrate.
Reidy: When I left office, the tradition was to get a brass plaque signed from all the U.S. attorneys. My friends put together sort of a mock of that whole process by giving me a not-terribly complimentary brass plaque signed by the lady who was in charge of making coffee. It was meant to be ironic and quite funny, which it was. I gave my wife a plaque at that party. Because my wife had sat in a steam-heated, 110-year-old house with four children and three bedrooms while I was doing some of the most fun and interesting and best-developed stuff you could do as a lawyer—and I never really told her anything about Greylord, because it was not part of the protocol to tell anyone. I don't see myself as having made any sort of giant sacrifice.
Search attorney feature articles